512 Area Code: Essential Information and Insights
As a business owner, you might want to expand your business to different locations. If you are considering offering service in Austin, you might want to consider using the 512 area code. Here are the essential information and insights you might want to know.
Area code 512 helps your business to boost call acceptance rate and sales, advertise your business in Austin, reach more customers, provide top-quality customer experience, and many more.
Let's learn more about area code 512, starting with its introduction.
What is 512 Area Code Phone Number?
An area code is part of a telephone number that contains a three-digit prefix and indicates the geographic location linked with the phone number. Area code 512 is one of the area codes that serve certain areas in the Northern American Numbering Plan (NANP). Area code 512 can be recognized as the Austin area code.
Area code 512 was first introduced in 1947, along with 85 other area codes in the NANP. It covers Central Texas, most notably the city of Austin. 512 area code number helps to create a local presence in Austin, a major hub for the tech industry.
How Does 512 Area Code Work?
Here are the steps on how it works:
Step-1: Dialing the Number: A user dials the entire number, including the area code.
For example, 512-444-4567, where 512 is the area code, 444-4567 is the actual number of a user.
Step-2: Identifying the Area Code: As the call begins, the telecommunication network recognizes the area code.
Step-3: Routing the Call: The telecommunication network uses the area code to route the call to the location where 512 is associated.
Step-4: Identifying the Local Exchange Carrier: Once the location is determined, the network identifies the local exchange carrier (LEC) that provides telecommunication services to that region.
Step-5: Connecting the Call: At last, the telecommunication network hands off the call to the identified local exchange carrier, then connects the call to the dialed number.
Where is Area Code 512?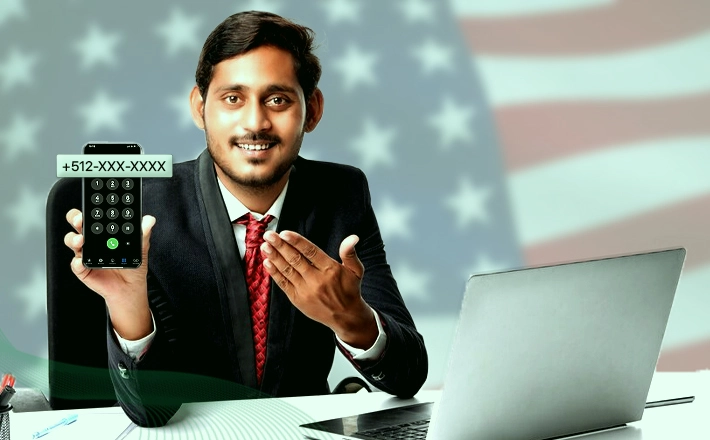 Area code 512 serves the Central part of the US state of Texas. Below is the list of cities in area code 512:
Austin, TX

Barton Creek, TX

Bastrop, TX

Bee Cave, TX

Bertram, TX

Briarcliff, TX

Brushy Creek, TX

Buchanan Dam, TX

Burnet, TX

Camp Swift, TX

Cedar Park, TX

Circle D-KC Estates, TX

Dripping Springs, TX

Elgin, TX

Garfield, TX

Georgetown, TX

Granger, TX

Hornsby Bend, TX

Hudson Bend, TX

Hutto, TX

Jollyville, TX

Jonestown, TX

Kyle, TX

Lago Vista, TX

Lakeway, TX

Lampasas, TX

Leander, TX

Lockhart, TX

Lost Creek, TX

Manchaca, TX

Manor, TX

Martindale, TX

Pflugerville, TX

Redwood, TX

Rockdale, TX

Rollingwood, TX

Round Rock, TX

San Marcos, TX

Serenada, TX

Shady Hollow, TX

Smithville, TX

Taylor, TX

The Hills, TX

Thorndale, TX

Wells Branch, TX

West Lake Hills, TX

Wimberley, TX

Woodcreek, TX

Wyldwood, TX
👉You may also like: 646 Area Code: A Comprehensive Overview
How Does Area Code 512 Help Your Business?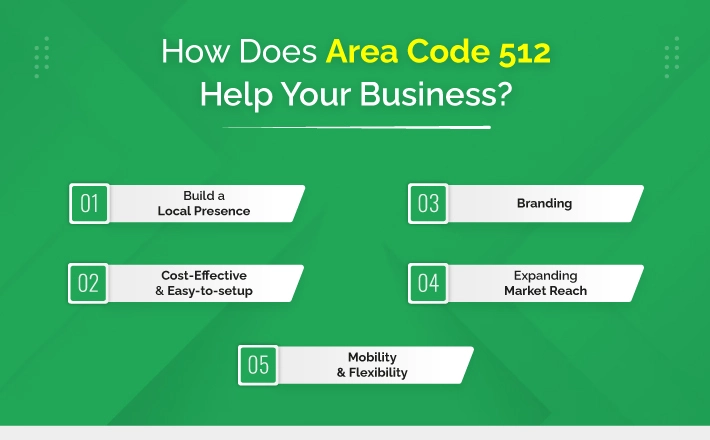 Area code 512 helps businesses in several ways. It helps to establish a local presence in Austin, make your business seem more credible and trustworthy, and create a strong brand identity. Below are the major ways an area code 512 can help your business:
1. Build a Local Presence
512 area code helps your business to build a local presence in the vibrant Central Texas area. By having a local presence, you can gain the trust of local customers and engage them with your business. You can also partner with local businesses and partners to capitalize on your business in local markets.
2. Cost-Effective and Easy-to-setup
Getting an area code 512 is easy; you just need to contact a reliable service provider. Your service provider will do everything from start to end. Setting up hardware or physical equipment is unnecessary, which also saves costs. Once you purchase a subscription, all the costs are included in the plan.
3. Branding
Having a 512 area code can help your business to create a strong brand image among the people of Austin and surrounding areas, as you are giving a local and reliable impression of your business to them. People will perceive your business as a well-built brand because you are associated with the lively culture of Austin City.
4. Expanding Market Reach
If your business is outside Central Texas and you want to target this area, having a 512 area code is a great way to expand your market reach. Acquiring an area code and sharing it in a local market creates a sense of familiarity because people will connect more openly with this type of business.
5. Mobility and Flexibility
If you obtain a 512 area code through a virtual phone system, you will be able to stay connected with your customers anywhere. A virtual phone system allows to use of numerous features, such as call routing, forwarding, call recording, and analytics. By using these features, you can handle the call flexibly and increase productivity.
How to Get 512 Area Code Phone Number?
Getting area code 512 for your business is an easy and straightforward process. Here's a step-by-step guide to assist you in getting a 512 area code number:
Step-1: Choose a Trusted Service Provider: Research and select a reputable virtual phone service provider, who offers area code numbers.
Step-2: Sign Up and Register: Create an account with your chosen service provider.
Step-3: Choose the Number: Look for the available area code 512 and select the best one that suits your needs.
Step-4: Start Calling: Once the setup is complete, you can start calling using your 512 area code number.
You can get an area code 512 for your business by following the above-mentioned steps.
Reasons to Buy 512 Area Code Number From Dialaxy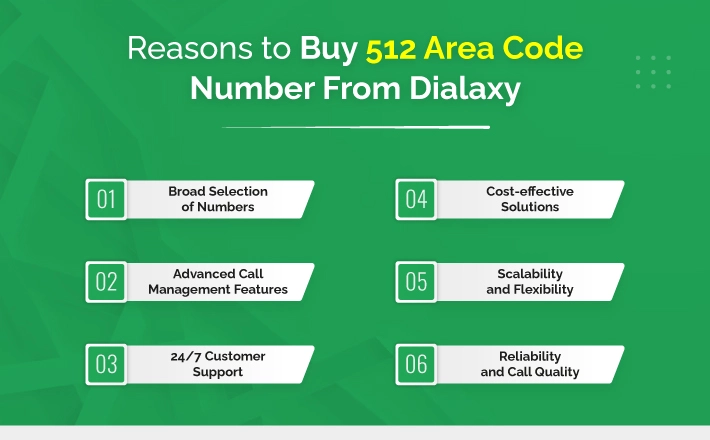 Choosing the right service provider is crucial when it comes to buying a 512 area code number. Dialaxy is a trustworthy virtual business phone service provider that provides many advantages for businesses seeking area code 512. Let's explore the reasons why you should consider buying a 512 area code number from us:
1. Broad Selection of Numbers
We give you the option to choose a variety of 512 area code numbers that match your business's location, brand, and industry. You can choose a perfect number that is easy for your customer to remember and is not difficult to memorize. Our extensive inventory of numbers guarantees you will find the ideal match.
2. Advanced Call Management Features
We offer a wide range of advanced call management features to empower your business communication. With call analytics, you can get valuable insights into call duration, call volume, and busy and free time.
Call forwarding functionality make sure that your calls made to your 512 area code reach the right destination. Additionally, with voicemail, you are allowed to receive and store voice messages from customers when you are unavailable.
3. 24/7 Customer Support
Dialaxy is always at your front to provide customer support. We excel at providing customer-centric solutions. You can contact our customer support team anytime if you encounter any problems. Our team is available 24/7 to address any queries and problems that may arise.
4. Cost-effective Solutions
Our pricing structure is cost-effective for all sizes of businesses. We offer virtual phone services that are more budget-friendly, allowing you to access advanced features without paying high fees. You can choose three distinct subscription plans: essential, standard, and enterprise, whichever best suits your business need.
5. Scalability and Flexibility
We offer a highly flexible and scalable virtual phone system that is adjustable to the changing needs of your business. Whether you are a newbie in the business world or a growing enterprise, we can assist you in your business communication. You can adjust the features and easily add or remove phone lines based on your growing business needs.
6. Reliability and Call Quality
We are well known as a reliable and excellent call-quality service provider. We ensure to provide crisp and clear call services so that your communication with customers goes uninterrupted. Our reliable virtual phone system helps your business to maintain a professional image and enrich trust among your existing and potential customers.
Conclusion
To sum up, area code 512 for your business can be an excellent way to make a local presence and expand market reach in Austin City, one of the coolest and most fabulous cities in the U.S. Area code 512 helps your business by providing you with cost-effective and easy-to-setup solutions and by assisting to create a strong brand image among your customers.
Buying an area code 512 from Dialaxy is a good option. The broad selection of numbers, advanced call management features, 24/7 customer support, and cost-effective solutions are reasons to consider buying area code 512 from us.
FAQs
What state is area code 512 in the USA?
Area code 512 is in the state of Texas. It serves Austin City and surrounding areas, including Cedar Park, Round Rock, Pflugerville, and others.
What County is 512 area code in?
Counties served by the 512 area code are Travis, Bastrop, Caldwell, Milam, Burnet, Williamson, Guadalupe, Lee, and Lampasas.
Is 512 area code still available?
Yes, the 512 area code is still available. You can get one for your business or individual use.
What is the difference between 737 and 512 area codes?
The difference between 737 and 512 area codes is 737 is the overlay of the 512 area code. Both of them serve Austin City.
What is the time zone of area code 512?
Area code 512 is located in the Central time zone, also known as America/Chicago time zone.
Is area code 512 a scam?
No, area code 512 is not a scam because it is established under North American Numbering Plan, a Public Switched Telephone Network.
Is area code 512 available in Canada?
No, area code 512 is not available in Canada. It is located in the state of Texas.