How to buy a US virtual number from Canada?
Are you in Canada but want to use a US virtual number for your business or personal use? Are you wondering how to buy a US virtual number from Canada?
US virtual phone numbers are useful to expand your business in the different cities in the US and create a local presence. But it can be tricky for you if you have no proper idea of providers and how to get one from Canada.
In this blog, we will explore the ways to get a US virtual number from Canada and different factors to consider while choosing, along with legal considerations.
Without wasting any time, let's dive into the article.
A brief overview of US virtual phone number
A US virtual phone number is a telephone number that does not have an associated physical line. It is used to forward incoming calls from one geographic location to another, allowing users to make and receive calls without using their own personal phone numbers.
In a virtual phone number system, calls are routed through a United States server, giving the call a local area code and allowing seamless communication between two parties.
This technology can benefit businesses by allowing them to expand into new markets with minimal setup costs or provide customer support services on any device without having multiple lines or expensive hardware investments.
Reputable providers offering US virtual numbers in Canada
There are different providers that offer US virtual numbers in Canada. Here are some reliable and reputable providers:
1. Dialaxy
Dialaxy provides businesses with the safest, most reliable, and most cost-effective VoIP phone numbers and cloud telephony solutions available in the US and Canada.
Along with US virtual numbers, you can access various business communication services with its integrated call center software.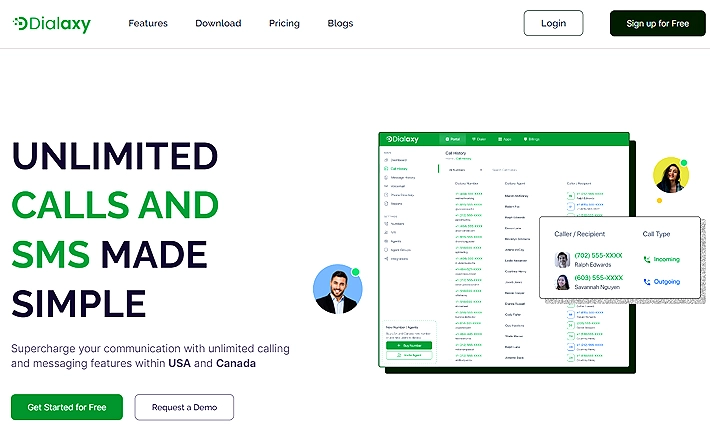 It offers different features such as call history, Interactive Voice Response, intelligent call routing, customizable greetings, call recording, and many other features.
Businesses are now trusting Dialaxy due to its value for money. You can choose the subscription package according to your needs and features. Also, it is easily scalable according to the size of your business needs.
Features
Voicemail

Call routing

Call history

Call forwarding

Call monitoring
2. CallHippo
CallHippo is another VoIP service you can opt for to provide US virtual numbers in Canada. With this VoIP phone system, any business or workflow can be accommodated.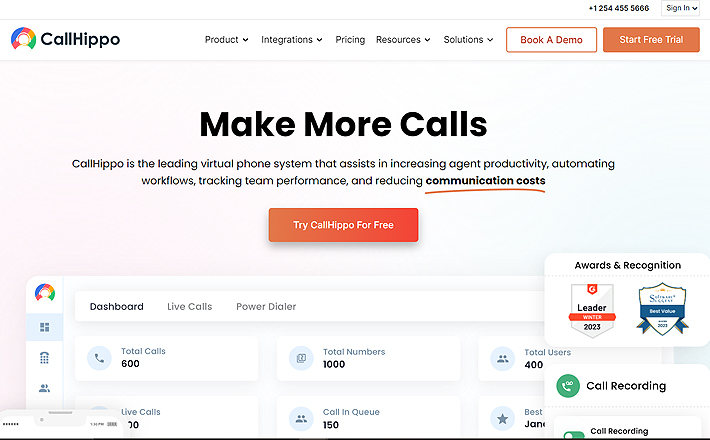 CallHippo's user-friendly interface makes it easy to use, even by inexperienced personnel. Aside from this, consumer data is also secured and protected at an enterprise level.
Features
Power Dialer

Automatic Call Distribution

IVR

Advanced Analytics

Call Monitoring

Warm Transfer
3. Ooma
Ooma is also one of the best US VoIP number providers or virtual PBX for small, medium, or large businesses. Ooma can be a decent choice for a VoIP solution in a commercial or residential setting.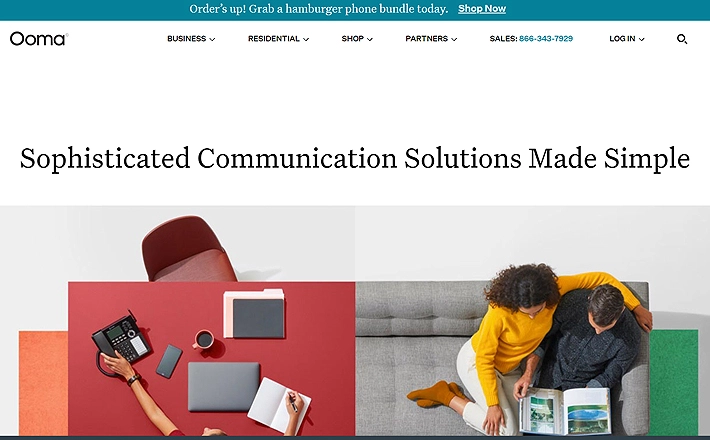 VoIP phone systems from Ooma include over 35 features, including virtual receptionists, mobile apps, and video conferencing. It provides excellent business communication through a variety of channels.
Features
Real-time reporting

Third-party integration

Call routing, Call Monitoring, and Call recording

Automatic Call Distribution

Knowledge base management
4. TollFreeForwarding
With TollFreeForwarding, one of the best hosted PBX providers in the USA, businesses can quickly connect with customers worldwide.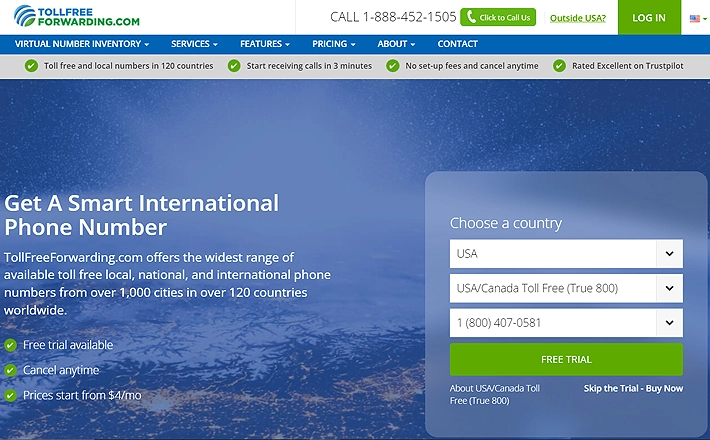 TollFreeForwarding's virtual phone system is easy to set up, requiring only three steps. Register for an account, select a local, national, or toll-free VoIP number from the US inventory, and pay for the number to be activated.
Features
Call screening

Call forwarding

RingOut

Multi-level IVR

Call monitoring
5. RingCentral
RingCentral is another reputable cloud-based business phone system provider in the USA. This provider allows users to add toll-free, local, and vanity numbers from over 300 area codes in the USA.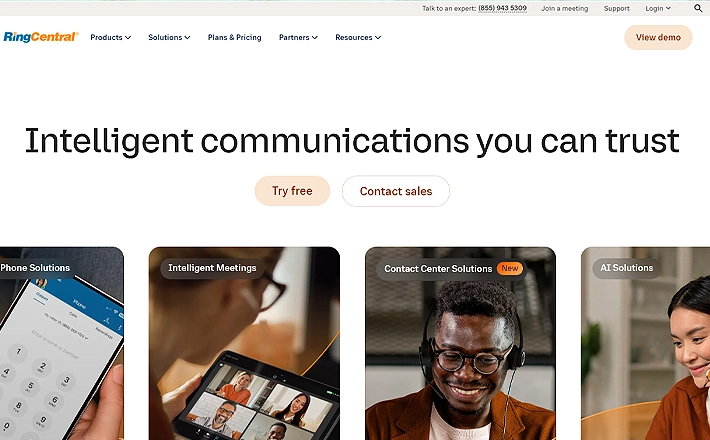 RingCentral has a simple and user-friendly UI and offers flexibility, making it ideal for small and large businesses. Additionally, this service provider lets you rent desks and conference phones through the cloud.
Features
Call recording

Call screening

Call waiting

Call notifications

Call Analytics
Factors to consider when selecting a provider
You need to choose providers carefully while opting for US virtual numbers. Here are some factors to consider before selecting a VoIP service provider.
1. Pricing
Pricing is one of the most important considerations when choosing a provider. You want to ensure that any services or products the company offers fit within your budget without compromising quality or service levels. It's also essential to compare different providers to get an accurate picture of which one offers the best value for money based on what they offer and their respective prices.
2. Features
It is critical to compare features between providers before choosing, since this will significantly impact how successful your business becomes with them on board. Consider areas such as scalability, customization options, and security measures. These factors will determine whether they can meet your specific requirements now and in the future.
3. Customer reviews and ratings
Customer reviews & ratings provide invaluable insight into current users' experiences with particular companies and potential customers who may have had bad experiences elsewhere. Hence, always read through testimonials carefully before committing yourself financially!
Try out free trials where available so you can see first-hand whether their product/service fits seamlessly into your operations or not – if not, then don't waste time going further down this route!
4. Availability of USA area codes
Finally, the availability of USA area codes is worth considering if international calls form part of your daily operations. Some providers may only cover certain countries, whereas others might have broader coverage across multiple regions.
Providers with wide coverage provide more flexibility when dialing numbers abroad (or even locally). This could save costs depending on usage patterns, so bear this in mind during the comparison shopping phase, too!
Sign Up and Registration
Getting a US virtual phone number is easy and can be completed in a few steps. Reputable service providers like Dialaxy provide US phone numbers at an affordable price.
Here is how to sign up and register US virtual phone numbers from Canada.
Choose a reliable virtual phone number provider like

Dialaxy

.

Visit the provider's website and sign up.

Provide personal information, including email, and verify it.

Choose a subscription plan.

Choose the US virtual phone number based on area and the type of number.

Submit necessary documentation to the providers.

Start using your number.
Choose Your US Virtual Phone Number
Choosing your US virtual phone number is crucial to establishing a strong online presence. You should align it with your business goals and make it more accessible.
A. Exploring available USA area codes
Take a look at the available USA area codes. There are hundreds of different area codes in use across the United States today, and each one is linked to its own geographic region or city/state combination.
By selecting your desired area code, you will ensure that incoming calls from people within that specific region will reach your virtual phone system directly without having to dial long-distance
or international numbers first. It makes it easier for customers in those areas to contact you quickly!
B. Picking a memorable or relevant number
Once you have chosen your desired USA area code(s), it's time to select a memorable or relevant number for yourself or a business entity. Many businesses opt for vanity numbers containing letters and digits (e.g ., 1-800-FLOWERS).
Such phone numbers are easy on memory recall and marketing budgets since they tend to stick out more than traditional 10-digit combinations! On the other hand, if all else fails, simply picking something meaningful, such as personal birthdays (or anniversary dates), may prove just right!
C. Confirming the availability of your chosen number
Finally, once all is said and done, don't forget about confirming availability before signing up with any particular provider service; after all, no amount of planning matters unless there's still room left over on their end when ready to purchase/activate whatever option was picked earlier along the way.
So double-check everything twice and proceed when sure about what's being ordered – otherwise, you might find yourself stuck waiting around later down the road due to unexpected delays caused by unforeseen circumstances beyond your control.
Legal and Regulatory Considerations of getting US virtual numbers from Canada
Canadian and US telecommunications laws and international agreements must be carefully followed to obtain US virtual numbers from Canada.
A. Understanding local and international regulations
US virtual phone numbers purchased from Canada must comply with Canadian and American regulations. Their respective telecommunications authorities regulate Calls between two countries (CRTC in Canada; FCC in the USA). Research the taxes that may apply to your purchases of services across borders.
These vary depending on your chosen country's service provider. Additionally, if you plan to use this line for customer service, additional privacy laws apply in each jurisdiction regarding data collection/storage/use – something you should research before purchasing.
B. Compliance with Canadian and US laws
It is crucial that any arrangement involving communication services between two countries comply with applicable Canadian law ( Privacy Act) and US law (Telephone Consumer Protection Act). Companies operating outside of their home country must ensure they have reviewed relevant legislation to know where they stand legally when providing communications services internationally.
Failure to do so could result in hefty fines or other penalties being imposed upon them! Additionally, some states require companies offering telephone numbers within their borders to register themselves accordingly. Further research here would prove invaluable, too!
C. Number portability options if needed
Finally, many providers offer 'number portability' options whereby customers can move existing numbers onto new networks without having those original lines cut off completely. It could save time & money if needed down the road.
Be sure to check out whether additional costs are associated with switching carriers mid-contract period; firstly, some providers may charge extra fees depending upon circumstances surrounding migration requests, etc.
Conclusion
We hope this blog will help you get the best US virtual phone number, although you live in Canada. Virtual phone numbers have wide availability and provide flexibility.
You should have a US virtual number if you are running a business in the USA. It enables your business to establish a local presence in the United States, increase your customer base, improve communications, and create a remote working environment.
If you are considering expanding your reach and business in the US, you can try virtual phone numbers from Dialaxy. Dialaxy provides local mobile and toll-free numbers with an extensive set of features at an affordable price.
FAQs
Can I have a US phone number in Canada?
No, you cannot get a US phone number in Canada as they're different countries. However, you can use VoIP services like Dialaxy and use a US phone number, although you're living in Canada and vice versa.
How to buy a US virtual number from Canada?
You can get a virtual number in Canada by following the given steps:
Choose a reputable VoIP provider like Dialaxy

Sign up and choose the US number number

Select the subscription plan and make payments

Submit necessary documentation for verification.
How can I get a US number from outside the US?
To get a US phone number from outside the US, you have several options:
Choose a virtual phone number provider.

Select your city or area code in the United States.

Choose a phone number of your choice.

Choose a plan that meets your needs.

Once you've made the payment, you're done.
Can I use my Canadian phone number in the US?
You'll need a roaming travel pack if you want access to the United States. Also, you can use virtual phone numbers to avoid additional fees and make calls at regular prices.