How to call Canada from the US?
Do you want to know how to call Canada from the US for free?
Calling Canada from the US can often be challenging and expensive, especially when relying on traditional phone services.
But don't worry. There is a simple and cost-effective solution and alternatives that make your international call efficient and cost-effective.
This blog will guide you through the steps to the process of calling Canada from the US using different methods and alternatives and explore the many benefits this VoIP service provider brings to your communication needs.
How Do I Call Canadian Landlines from the US?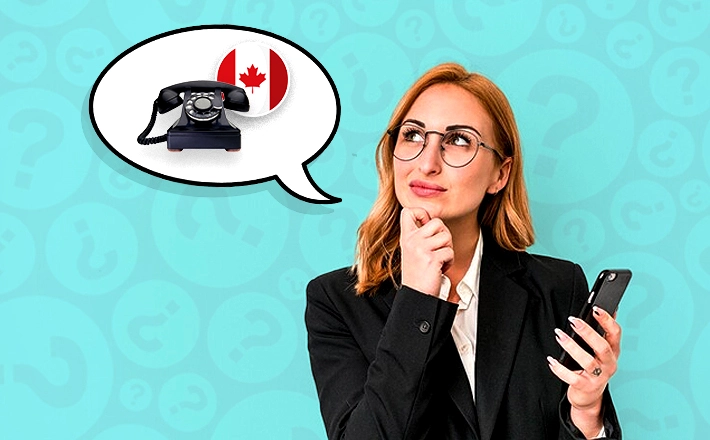 There are three steps to call Canadian landlines from the US. The three main steps involve:
Step #1: Dial 1
You must enter the exit code to make international calls from the US. However, Canada is not required to use the US exit code since it is part of the North American Numbering Plan (NANP).
Therefore, you can reach any Canadian landline by dialing the number with "1" as a prefix. The Canadian country code for US citizens is 1.
Step #2: Dial Area Code
The next step is to dial the area code of the region you wish to reach in Canada from the US. For example, If you want to communicate with British Columbia, dial 1- 250/604/778, where 250/604/778 is the area code for British Columbia. If you want to reach Ottawa from the US, 613 is the area code.
Step #3: Dial the Landline Number
You can then contact any Canadian landline holder by dialing the remaining seven digits. You can connect with any Canadian landline phone in just a few steps.
💡 Here is what your number should look like:
👉1- [Area Code] – [7 Digit landline number]
For example, 1-778-1234567
Note: Unlike other countries, Canada does not require exit or country codes when calling the US from Canada.
How to Make Calls on a Canada Cell Phone Number From the US?
Calling cell phones in Canada is easy, similar to calling landlines. Regardless of the cellular service's carrier, you can reach them using these simple steps.
Steps:
Put 1 before the area code and number.

Input the area code for the region of Canada you wish to call. Find the right region by using the list below.

Press the call button after you have entered the seven-digit number.

As long as your phone provider allows you to call Canada, you should be connected almost instantly.
Make sure you have the list of area codes with you as well. Canada has unique codes for each region, just like other countries. Before making any call, make sure you know your area code. As a result, your process will be much easier to manage.
Canadian area codes you should know
There are different cities and areas in Canada with different area codes. Here is a table of different areas of Canada and their respective area codes:
| | |
| --- | --- |
| Area | Codes |
| Alberta (Northern) | 780 |
| Alberta (Southern) | 403 |
| British Columbia | 250, 604, 778 |
| Edmonton | 780 |
| London | 519 |
| Manitoba | 204 |
| Montreal | 514 |
| New Brunswick | 506 |
| Newfoundland | 709 |
| North Bay | 705 |
| Nova Scotia | 902 |
| Ottawa | 613 |
| Prince Edward Island | 902 |
| Quebec | 450, 819 |
| Quebec City | 418 |
| Saskatchewan | 306 |
| Sherbrooke | 819 |
| Thunder Bay | 807 |
| Toronto (Greater) | 289, 905 |
| Toronto (Metro) | 416, 647 |
| Vancouver | 778 |
| Yukon & NW Territories | 867 |
Is it free to call Canada from the US?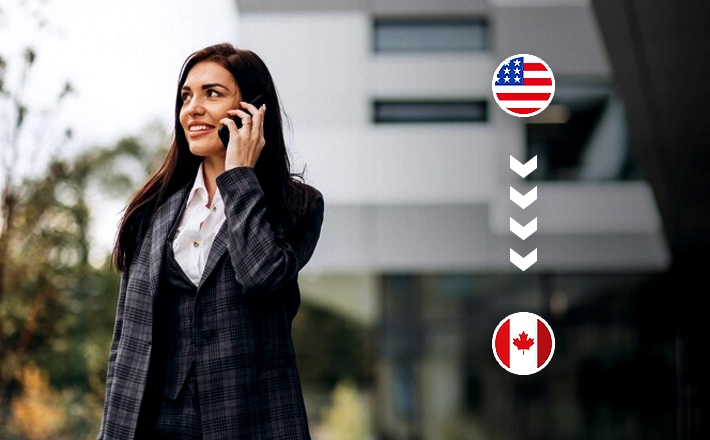 It depends on what type of phone plan you have. Some plans include free international calls to Canada, while others charge per minute.
You may be required to upgrade your Verizon(for example, If you have a Verizon number) plan if you wish to make and receive calls and texts from Canada. Otherwise, you will be charged an additional monthly fee for Canadian calling.
You can also use toll-free numbers for customers; however, the phone number owner has to take care of all the incoming phone bills.
Alternative options to landlines and phone carriers for calling Canada from the US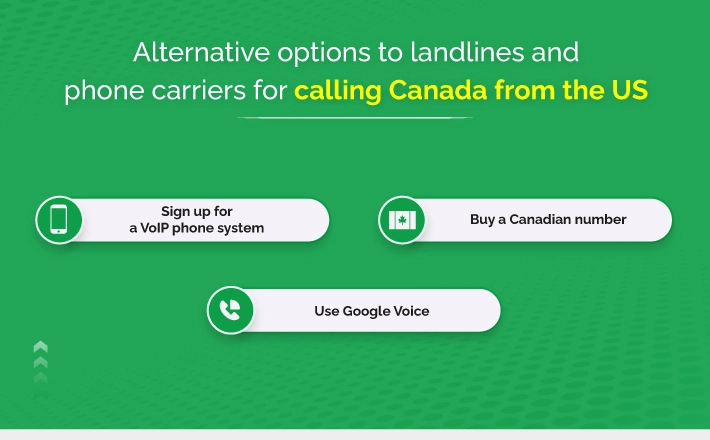 You'll still pay extra for making calls using landlines or mobile phones on international calls. So here are the alternative options for calling Canada from the US.
1. Sign up for a VoIP phone system
When it comes to calling Canada without extra fees, VoIP phone services are a popular choice. Various VoIP providers charge different rates for calls to Canada.
With some VoIP services, you can make calls to Canada for free, so you won't have to pay any international rates.
2. Buy a Canadian number
Local numbers in Canada help you look more familiar to customers in the Great White North. Additionally, if you intend to expand your business, it makes business contact center and communication easier.
You can buy all the Canadian numbers you need with VoIP systems. On your plan, every user gets a free toll-free number in Canada, the US, or North America, and you can purchase more if you need it.
3. Use Google Voice
Google Voice allows you to communicate freely with friends and family in Canada by downloading it for personal use. However, if you wish to use Google Voice as a team, you can't send text messages to anyone outside the US; only one user can access your number.
In order to make business calls with Google Workspace, you must purchase Google Voice. You should know, however, that Google Voice for Business has limited features and some of the major features include:
Call forwarding

SMS capabilities (available in the US only)

Voicemail transcription

Video call

Call routing

Voicemail greeting personalization

Google Calendar and Google Meet integrations
How to call Canada from the US with Dialaxy?
You can find different alternatives to calling Canada from US for free. However, getting a Canadian number from Dialaxy is the most reliable option.
Here are the steps to get a number and call Canada from the US.
Visit our website, sign up, and log in.

Select Canada from the list of countries.

Choose the type of number and enter the city or state of your required number.

Make payment after you've selected the number.

Submit your documents for verification.
We offer business phone system with US and Canadian numbers that serves both Canadian and international customers.
Conclusion
We hope this article helped you to know how to call Canada from the US for free. Dialaxy, an emerging VoIP service provider, makes calling Canada from the US easy and cost-effective. You can enjoy crystal-clear connections and significant savings with our reliable and affordable international calling plans.
Trust us to connect you with your Canadian contacts effortlessly and experience the convenience and value they bring to your communication needs.
FAQs
How can I call Canada from the US for free?
With Dialaxy, you can call Canada from the US for free. Pick your account's US, Canadian, or North American toll-free number. Other alternative options to make calls in Canada are Google Voice and other providers.
Is Canada country code +1 or 001?
Yes, 001, or +1, is the telephone calling code of Canada. The +1 or 001 code is used in North America, which includes Canada, the United States, and the Caribbean.
How do you call Canada internationally?
You can call Canada internationally by the given steps
Dial the International Exit Code

Enter Canada's Country Code

Include the Area Code

Dial the Local Phone Number
Which country code is 011?
011 is the country code for all countries and territories in the North American Numbering Plan: American Samoa. Anguilla. Antigua and Barbuda.
Can I use my cell phone to call Canada from the US?
Yes, you can make international calls to Canada using your cell phone. The connection will be handled by your cell phone provider when you follow the same dialing instructions.