How to Buy a US Virtual Number from India?
Are you looking to expand your business into new territory? If you are thinking about expanding it in the US, getting a US virtual number is a great way to do it.
You may ask, How? Don't worry, in this blog post, we will guide you on how you can buy a US virtual number from India. We will provide complete guidance, starting from understanding what virtual numbers are to a step-by-step process on how to buy a US virtual number from India.
Furthermore, we will discuss how you can configure and manage after getting the US virtual number. So, read till the end to learn everything about getting a US virtual number from India.
What are Virtual Numbers?
Virtual numbers are phone numbers that aren't tied to a specific phone line or physical space rather it is used to make international calls from any part of the world. A virtual phone number operates online with an internet connection or an online account.
Virtual numbers are essential for businesses as it is easy to set up and cost-effective. Businesses can save up a lot of miscellaneous and overhead charges by using virtual phone numbers. Furthermore, it provides flexibility, increases productivity, helps establish a local presence, and lets you access advanced features.
You should buy a US virtual phone number from India to make an international business presence, gain global customer support, expand your market, and get cost-effective communication services.
Overview of Different Virtual Number Service Providers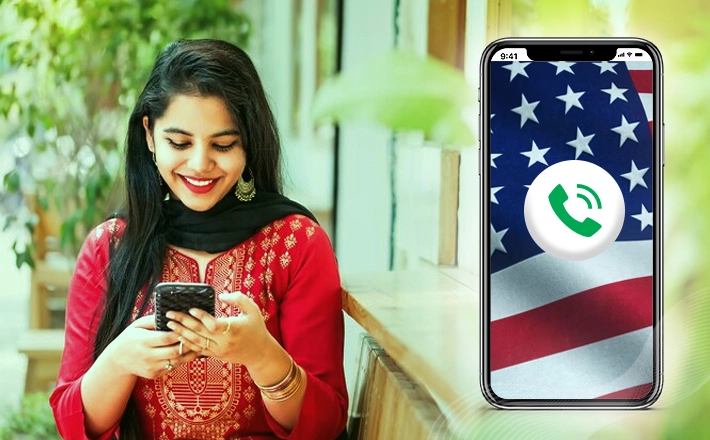 There are many virtual phone number providers in the market. However, choosing the right one could be challenging and time-consuming. You should look at different factors before selecting the one. Some of the common factors are discussed below.
1. Pricing and Plans
Every service provider provides different pricing and subscription plans. Compare all the pricing plans provided by various service providers. You should seek a provider that best suits your business needs and meets your budget plan.
2. Features and Capabilities
The features and capabilities are one of the most significant factors to look for in a service provider. The feature may vary depending on your business type and requirements. You may want a service provider with call routing, forwarding, queuing, and call recording features.
Or, you may want a provider that provides more features like video conferencing, voicemail, Interactive Voice Response (IVR), and call analytics and monitoring.
3. Customer Support
You have to ensure that your chosen service provider has good customer support. If you are a new user of the virtual phone number, you may encounter several errors and problems, so you may need to get in touch with your virtual phone number provider.
Ensure your service provider has a good customer support team always available to address your queries. If they provide late customer support and lack quality customer care service, it will ruin your business operations.
4. User Reviews and Ratings
You must make an extra effort to read reviews and analyze the ratings of the service provider you will take service from. Doing this will help you make a better decision on whether they are worthy of trust. Reading the users' previous experiences can give you a clear picture of what to expect from them.
Reading reviews and testimonials before choosing a virtual phone number provider is always worth your time.
Selecting a US Virtual Service Provider
With plenty of US virtual service providers in the market, it would get confusing to choose the right one. Researching and comparing various features of providers also takes time. So, to make this process easy, we have listed some of the reputable providers in the market.
Here is a tabular illustration of the popular service provider compared based on their pricing structure, key features, and whether they offer free trial/demo or not.
Virtual Phone Number Providers
Pricing
Key Features
Free Trial/Demo
Dialaxy

Contact sales team

-Unlimited Calling and SMS

-Call forwarding

-Voicemail

-Missed call and SMS notification

Free Demo

KrispCall

From $15/month

-Bundle Calling and -SMS rate

Voicemail

-Web, Android, and iOS apps

-Call Handling

Free Demo

RingCentral

From $30/month

-Audio and Video Conferencing

-Automatic Call Distribution (ACD)

-Multi-level IVR

-Analytics Portal

Free Trial

AVOXI

Starting $0

-Automated Attendant

-VoIP Connection

-SIP Trunking

-PBX

N/A

Grasshopper

From $31/month

-Wifi Calling

-Email Integration

-Virtual Receptionist

-Instant response-text

Free Trial

CallHippo

Starting $0

-Interactive Voice Response

-Call Barging

-Call Queueing

-Custom Caller ID

Free Trial

Nextiva

From $18.95/month

-Unlimited Voice Calling

-Voicemail

-Toll-free numbers

-Screen sharing

Free Trial

Ooma

From $19.99/month

-Advanced Call Management

-CRM Integration

-Mobile Apps

-Voicemail-to-Text

30-day-money-back guarantee
Registration and Account Setup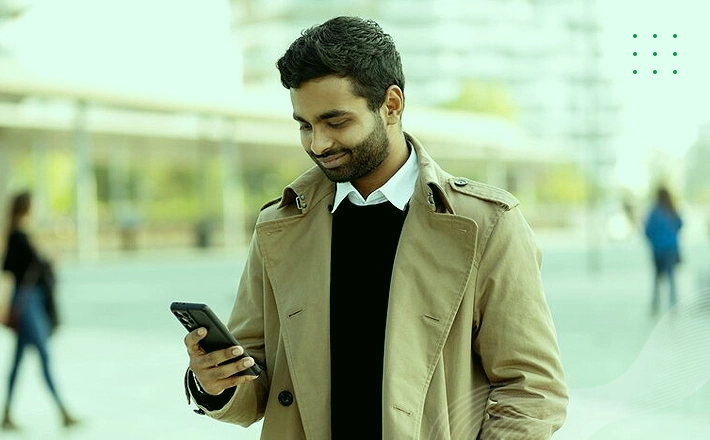 Getting a US virtual phone number from India is an easy process and just takes a few minutes. The first step is to register for an account. If you have chosen a virtual service provider, you can start setting up your account from the chosen provider. Here is how you can register and set up your account.
Sign up using your email address to register for an account.

Verify account details and identity to ensure you have entered the correct personal details.

Provide necessary documents and information if the service provider asks you to submit them.

The service provider will complete the registration process and you will get access to their services.
How to buy a US Virtual Number from India : Steps to buy
After creating an account from your chosen service provider, it's time to buy a virtual phone number. Follow the given steps to purchase it.
Select the desired US virtual number type. It could be a mobile, local, or toll-free virtual number.

Choose the subscription plan provided by the service provider. You may get various pricing plans to choose from. Select the best one that meets your budget plan.

Make the payment through the available methods: Visa, Mastercard, Paypal, or others.

Confirm the purchase and receive a US virtual phone number for your business or personal use.
Configuring and Managing US Virtual Numbers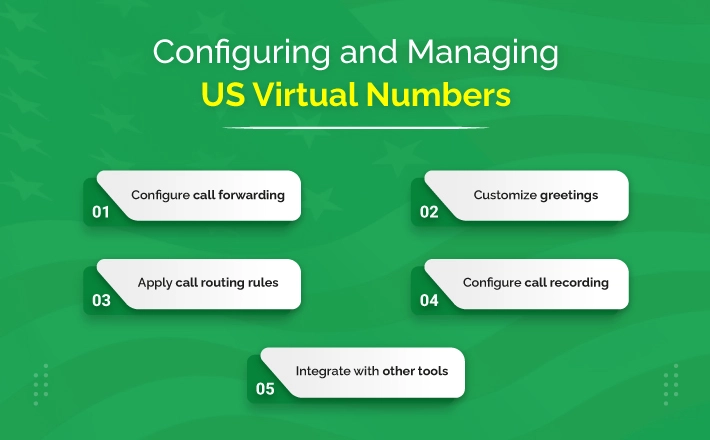 Configuring and managing your US virtual number is essential to effectively handle the calls and utilize its features in the best way. You can do this by customizing the settings and features. Some of the ways are given below.
Configure call forwarding: Implement the call forwarding rules to your US virtual numbers. Decide where you want your calls to be forwarded when someone makes a call to your number.
Customize greetings: Decide how you want to greet your caller and what voice message to play when someone picks up the call.
Apply call routing rules: Set call routing rules based on location, time of day, and caller's identity. For example, you can route the incoming call to a specific department or agent based on the caller's identity.
Configure call recording: Enable call recording option. Record all the calls that are made within your US virtual phone number. You can analyze the call recording data and get useful insights to make improvements and changes.
Integrate with other tools: You can integrate your US virtual number with your existing business tools such as Customer Relationship Management (CRM) systems and other marketing platforms.
Conclusion
Summing up, getting US virtual numbers from India is super easy. You can get them by following a few steps: select a trustworthy service provider, register and set up an account, choose a subscription, and make a payment. You will get a US virtual phone number from your service provider with these simple steps.
A US virtual number is a must if you are running a business. It helps your business to create a local presence in the United States, increase your customer base, enhance business communication, and create a remote working environment.
You can try a US virtual phone number for free by requesting a demo at Dialaxy. You don't have to provide your credit card details or pay any amount.
FAQs
What is a USA virtual number?
A USA virtual number is a phone number that lets you make calls from anywhere in the world with an internet connection. It doesn't need costly additional hardware to operate.
How do I use my USA virtual phone number?
If you have a USA virtual phone number, you can manage it on the cloud. Your customers can call you from anywhere in the world and you also can pick up the call at the same time.
Are USA virtual phone numbers free?
USA virtual phone numbers are not free but you can get them at affordable prices. The price varies on different service providers.
How can I get a USA virtual phone number?
You can get a USA virtual phone number by following the given steps:
Choose a reputable service provider that provides US virtual numbers.

Sign up using your email address to register for an account.

Select the desired US virtual number type.

Choose a subscription plan and make payment through available methods.

Confirm the purchase and receive a US virtual phone number.
What is the best virtual phone number provider?
Dialaxy, KrispCall, RingCentral, and AVOXI are some of the best virtual phone number providers in the United States.