206 Area Code: All You Need to Know
Do you want to expand your market reach in one of the most dynamic and thriving cities in the US? Then you might need to consider getting the 206 area code for business, which will help you to make a local presence in Seattle City, Washington, even if you are not from this region.
From helping you establish a local presence in Seattle to leveraging the benefits of area code 206 to boost your business's sales, it has more to offer.
In this blog post, we have covered all the essential things you need to know. Keep reading till the end to know everything about the 206 area code.
What is 206 Area Code Phone Number?
An area code 206 is part of a phone number that contains a three-digit number. It is one of the most popular area codes in Washington State and is associated with the cities of Seattle, Burien, Mercer Island, SeaTac, and Shoreline.
206 area code is one of the 86 original area codes created in 1947. It initially served the entire state of Washington. Later on, as the state's population grew, it was split into three area codes: 206, 360, and 425.
How Does 206 Area Code Number Work?
Below is a detailed explanation of how the 206 area code number work:
Step-1: Dialing a phone number: A user dials a phone number that includes the 206 area code.
Step-2: Identifying the area code: The telephone network recognizes the 206 area and identifies that the call is intended for a location linked with the city of Seattle.
Step-3: Routing the call: The telephone network then routes the call to the nearest central office or telephone exchange that handles the phone numbers in the Seattle area.
Step-4: Recognizing the recipient's phone number: The telephone exchange identifies the remaining digits of the phone number, which is the recipient's specific phone number.
Step-5: Completing the call: Finally, the telephone exchange completes the call by connecting to the recipient's phone system.
Where is Area Code 206?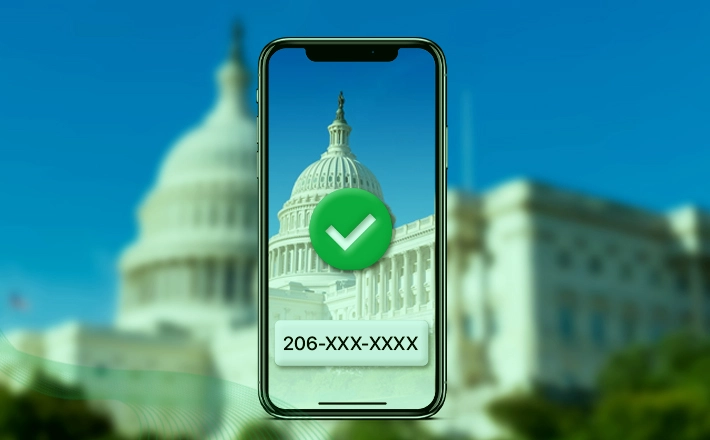 Area code 206 covers Seattle City, a major city in Washington State. It covers other cities as well, which are given below:
Bainbridge Island, WA

Boulevard Park, WA

Bryn Mawr-Skyway, WA

Burien, WA

Des Moines, WA

Edmonds, WA

Lake Forest Park, WA

Mercer Island, WA

Normandy Park, WA

Riverton, WA

SeaTac, WA

Seattle, WA

Shoreline,

Tukwila, WA

Vashon, WA

White Center, WA

Woodway, WA
Why Does Your Business Need a Seattle Area Code?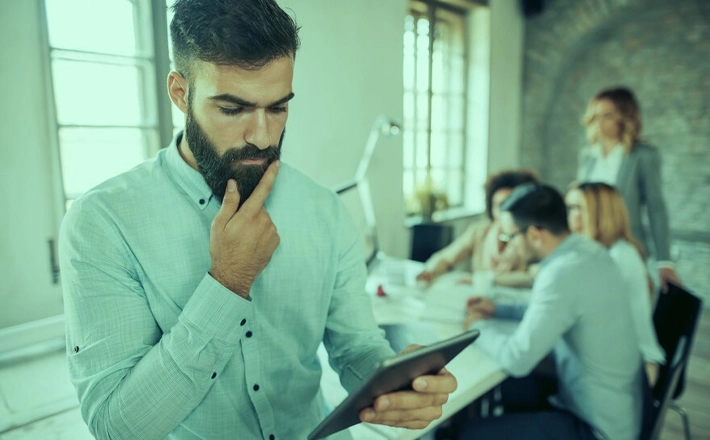 Seattle area code or 206 area code can help your business in various ways. It assists you in building a local presence, reaching more customers, providing higher customer satisfaction, and building credibility among local customers. Below are the reasons your business needs a Seattle area code:
1. Establish a Local Presence
Area code 206 helps to establish a local presence and make a small business seem bigger. You can create a local presence in Seattle without buying or renting physical space there. People are more likely to connect with a local business because it gives them a sense of familiarity.
2. Gain Local Trust and Credibility
Customers will quickly recognize your business as a local Seattle business when they see a phone number with area code 206. This helps to gain trust and credibility among potential customers because you are presenting your business as a local Seattle business. People feel comfortable and easy to do business that is associated with their community.
3. Avoiding Long-Distance Charges
Having a local area code allows customers to reach you for support or inquiries without incurring long-distance charges. This will help to deal with potential customers who don't want to pay long-distance fees. Area code 206 really comes in handy when encountering these kinds of situations.
4. Competitive Advantage
Having an area code 206 sets you apart from your competitors that are located outside the Seattle region because it gives your customer a feeling of proximity. Customers are likely to choose local options rather than non-local ones, which will eventually boost your company's sales.
5. Expanding Market Reach
You can make a virtual presence in Seattle City with an area code 206, even if your business is physically located outside this region. Businesses that are looking to expand their business to multiple locations can hugely benefit by using the 206 area code. By sharing your 206 area code locally, you can attract more customers from the Seattle area.
Steps to Get a 206 Area Code Phone Number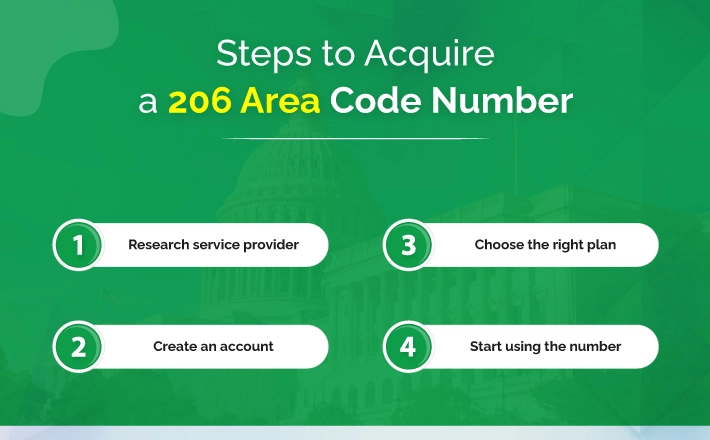 You can easily get a 206 area code number for your business by following some steps. Below are the steps you can take to get one:
Research service provider: Start by researching service providers that offer area code 206. Look for providers that have good customer reviews and testimony.
Create an account: Sign up and create an account with your chosen service provider.
Choose the right plan: Your chosen service provider might offer you different subscription plans. Choose the right plan that is budget-friendly and meets all your business requirements.
Start using the number: After choosing the right plan, the service provider will give you a number that you can use to make calls. You can configure other features, such as call forwarding, recording, and voicemail.
Why Should You Choose Dialaxy?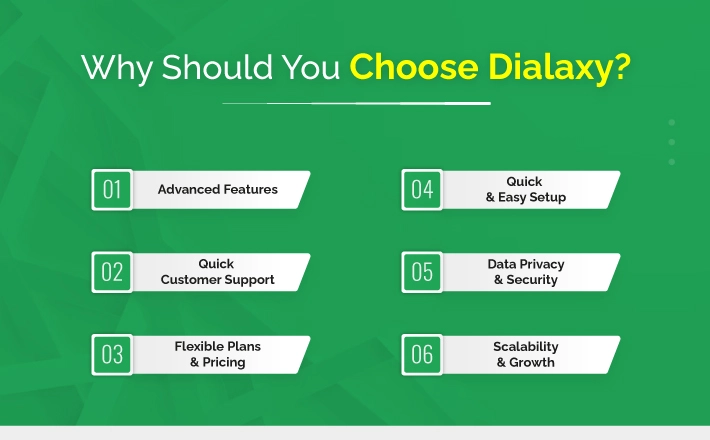 Dialaxy is one of the most reputable service providers in the market. We offer 206 area codes for all sizes of businesses with additional features enabled. We understand that every business is different, and you will get customized solutions from us. Let's discuss more reasons why you should consider choosing us.
1. Advanced Features
We offer a wide range of advanced features, including call recording, forwarding, voicemail, auto attendants, interactive voice response (IVR), and many more. These features assist you in improving your business communication capabilities, and you can provide high-quality call services to your customers.
2. Quick Customer Support
We are a customer-centric service provider, and providing quick customer support is our evergoing effort in every business we do. We don't want our customers to wait for a long time, even in small transactions. Our dedicated team is always ready to address your queries and provide reliable and prompt solutions that may arise during our partnership.
3. Flexible Plans and Pricing
Our pricing structure is simple and straightforward. We offer flexible subscription plans that are tailored to meet your unique business requirements. You can choose three different plans which will be suitable for your business, and the good part is we don't charge hidden fees as well.
4. Quick and Easy Setup
We eliminate all the complex processes and make the setup process as smooth and easy as possible. We understand the value of your time. You can do your part, like choosing a subscription plan and providing essential information, then leave the rest to us. We will handle the remaining process of setting up the system that aligns with your business need.
5. Data Privacy and Security
Securing your data is our top priority. We aim to protect your personal information through a system of organizational and technical security measures. Our robust security measures ensure the safeguarding of your business information. We only keep your personal information for as long as necessary to fulfill the purpose.
6. Scalability and Growth
As your business grows, we will assist you in providing the additional solutions your business requires. Whether you need additional area code or other telecommunication services, we are equipped with these solutions to support your expanding needs. You can rely on our services without worrying about the future.
Conclusion
Summing up, area code 206 helps your business establish a local presence in Seattle, gain local trust and credibility, avoid long-distance costs, gain a competitive advantage, and expand market reach.
Acquiring a 206 area code is pretty straightforward, and you can easily get it from Dialaxy, a trusted and reputable brand. The reasons you should consider choosing us are the availability of advanced features, quick customer support, flexible plans and pricing, quick and easy setup, and the implementation of strong security measures.
FAQs
Is 206 a New York area code?
No, 206 is not a New York area code. Area code 206 is available in Washington state and covers the cities of Seattle, Burien, Mercer Island, SeaTac, and Shoreline.
Can I get a 206 number?
Yes, you can get a 206 area code number. To get one, follow the below-mentioned steps:
Research service providers that provide 206 area code numbers.

Choose one service provider and create an account with them.

Choose the best plan offered by your chosen service provider.

You will get a number from your service provider, and you can start using it.
What area codes are 360 and 206?
Area codes 360 and 206 are both telephone area codes in North American Numbering Plan (NANP). Area code 360 is in Vancouver City, and area code 206 is in Seattle City.
What is the area code in Seattle, Washington?
206 is the area code of Seattle, Washington. Cities and regions served by area code 206 are Seattle, Lake Forest Park, Shoreline, Bainbridge Island, Mercer Island, and Vashon Island.
What is the time zone of area code 206?
Area code 206 is located in the Pacific time zone, also known as America/Los Angeles time zone.
Is 206 a Canadian area code?
No, 206 is not a Canadian area code. It is the area code of Seattle City in Washington State.