How to choose a VoIP phone service for your business?
How to choose a VoIP phone service for your business?
With the advent of Voice over Internet Protocol (VoIP) technology, the way we make phone calls has undergone a significant transformation. VoIP offers cost-effective, flexible, and feature-rich calling solutions, making it a popular choice for business owners and individuals alike.
🫵VoIP has really changed the way we do business – Jeff Thompson
However, the first step in harnessing the power of VoIP business phones is choosing the right VoIP provider that has absolute answers to all your questions and requirements. And mark our words, it is not an easy task to accomplish. 
This article will provide you with a brief overview of VoIP phone services, their importance, why your business needs to switch to it, factors to help you make the decision, and lastly, a list of top VoIP providers.
Here we go!
Brief explanation of VoIP (Voice over Internet Protocol)
Voice over Internet Protocol, or just VoIP, is a modern-day technological marvel that has come out as the 'one for all' solution and has altered the communication landscape. It is a technology that lets anyone who has access to it make and receive phone calls and messages over the Internet.
VoIP is a one-of-a-kind system that has some extraordinary capabilities. To dig a bit deeper in order to understand it's working in a step-by-step process, let's consider you making a call to someone using a VoIP service. 
Firstly, your voice is converted into digital signals and divided into data packets that are then transmitted over the Internet to the receiver device. At the receiver end, the digital signals are converted back to your voice that it responds to, and the procedure is complete. All of this happens instantaneously to enable 2-way conversation.
Does Your Business Need VoIP Business Phone Solution?
If you are reading this, that surely means that you are looking to explore the world of VoIP and take your business communications to the next level. But the real question is, does your business actually need a virtual phone system? And the answer is definitely yes!
As of 2023, VoIP has become the gold standard of business communication solutions, and there are several facts that support that statement. Some of the major ones are innovative features that improve business operations, significant savings on telecommunication bills, in-hand scalability options, enhanced flexibility that can take your business operations to the next level, and lastly, top-notch security that keeps your business details secured.
No matter the size, budget, or specific needs, switching to a cloud phone solution can nail it all and enhance the overall productivity and efficiency of business communication.
Importance of choosing the right VoIP phone service for business
Now that you've made up your mind to switch to a VoIP phone service. Here comes the tough part, which means the selection of a service provider that is good enough to meet the specific needs of your business.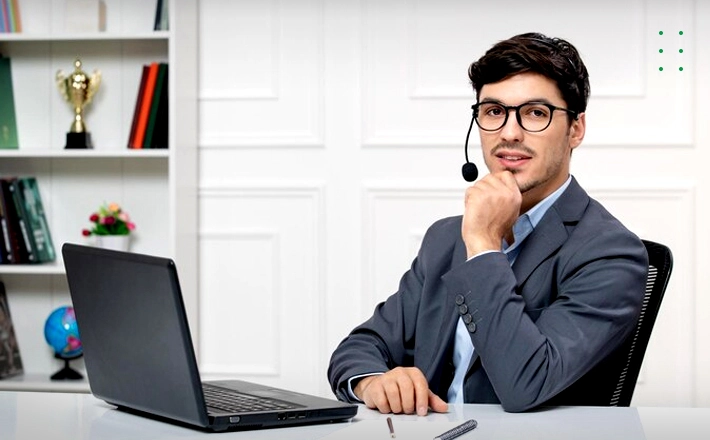 Having the right provider that has everything to offer to your company can prove to be a valuable strategic asset or the one that drags everything down. To prevent the latter outcome from ever occurring, as a business owner, you are the one who has the complete power for that specific decision-making, and to assist you with that, we have listed out some key factors to be considered to determine the best-suited VoIP phone solution provider for your corporation.
Factors to determine the best VoIP phone service provider
Following up with the above-written statement. Here are some important attributes that you must keep in mind before selecting the best virtual phone service provider for your company.
Scalability and Flexibility
To keep up with the growth of your business in the near future, you must opt for a provider that offers scalable products. Similarly, you must consider the flexibility aspects of the service so that it can match the ever-changing necessities of your business.
Compatibility and Integration
Furthermore, before selecting a provider, you must thoroughly study its compatibility capabilities with your current phone system as well as its integration aptitudes with business and other important third-party applications.
Quality of Service (QoS)
QoS is of utmost importance, and it is a must for every VoIP provider to have a high level of it. This simply means that communication operations must be seamless and of the highest quality, even during peak business hours.
Security and Compliance
You should look for a provider who has the most robust security measures and looks like it is taking information safety seriously. On top of that, it should be obliged to be compliant with all the regulatory laws and regulations.
Cost Analysis and Features
Build your own budget and look into every possible nits and bits of the business VoIP phone service pricing and the features included in the plan offered by the provider. Do some swotting and only then pick a provider that is factually value-for-money.
Customer Support and Maintenance
A good provider, by definition, should provide 24/7 customer support and quickly help its clients in case of any problem. Read actual customer reviews from multiple sites to get an insight into the provider's reputation and reliance.
Top VoIP Phone Service Providers
Now, it is time to choose a provider! Keeping in mind the above mentioned factors, we've put together a list of the top virtual phone service providers that are suitable for your business.
Dialaxy
With features like interactive IVR, WiFi calling, Agent Groups, robust security measures, and seamless integration with 50+ essential apps, Dialaxy is one of the top providers that can meet up with all your business needs. To complement the innovative features, it has value-for-money subscription plans with unlimited calls and messages as well as apps for every device for its users in the US and Canada.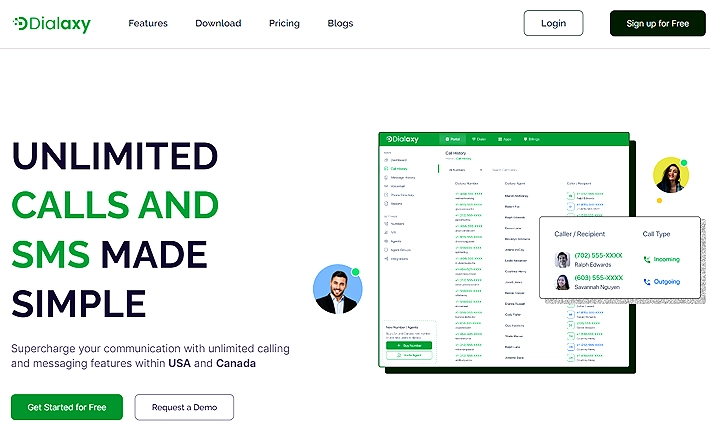 It is a customer-focused company that is driven by innovation and teamwork. Even though it has a short history, Dialaxy has revamped the VoIP landscape. Whether you belong to a small business environment or the big leagues, Dialaxy is the go-to option that can empower every business.
KrispCall
Fitting the needs of businesses of all types and sizes, KrispCall offers features like a unified callbox, number sharing, call forwarding & recording, call analytics, and many more useful features that enable businesses to handle all their communications efficiently. It is ranked as one of the best cloud-based business phone solution providers out in the market.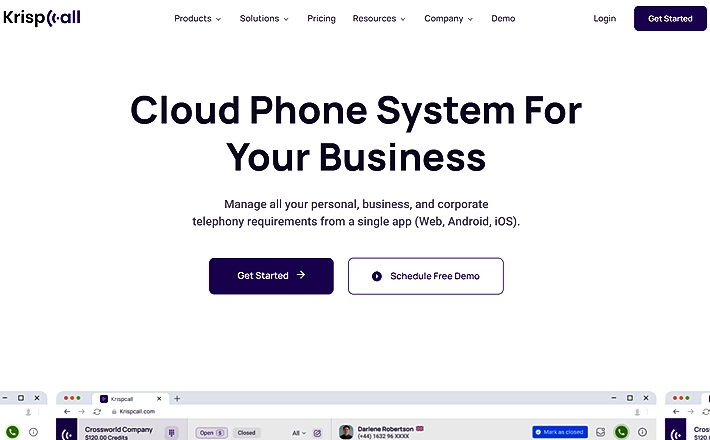 The key factors that set KrispCall apart from the completion are an easy-to-use interface, limitless integration capabilities, and competitive pricing that no other provider offers. 
Vonage
Providing over 40 features, an award-winning mobile app, and a second-to-none reputation among its clients, Vonage is one of the best VoIP service providers out there.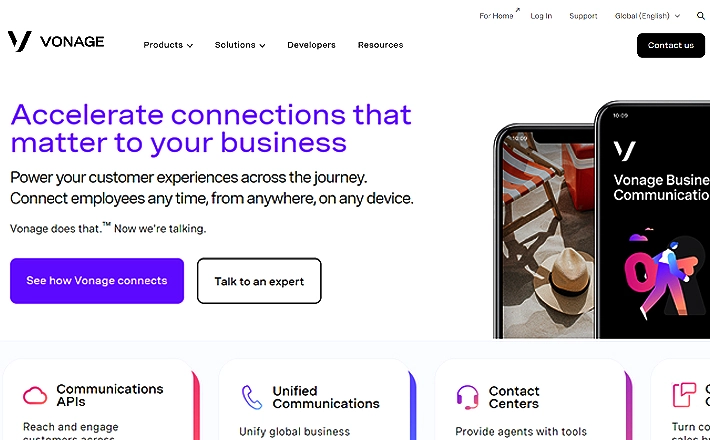 It has top-notch features like call analytics & communication APIs and a versatile unified communication platform that improves not only business communication and collaboration but also overall business productivity and efficiency.
GoogleVoice
With GoogleVoice, Google has a presence in the telecommunication world as well. It provides VoIP numbers in several countries with premium features like call forwarding, screening, and recording.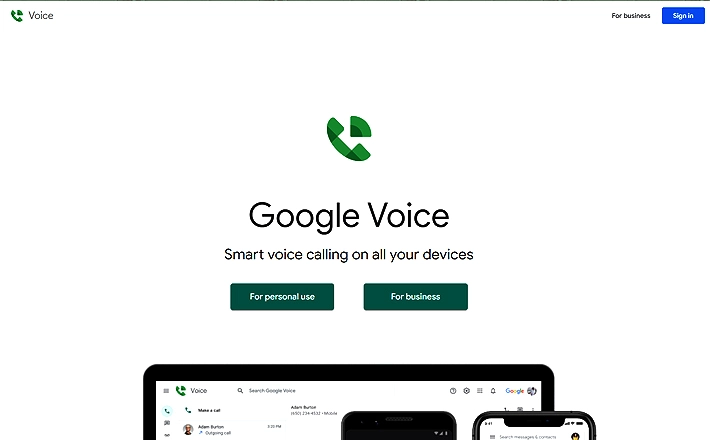 Being convenient and affordable, GoogleVoice is a choice that you should consider if you are looking for a VoIP provider.
Mitel
Mitel is a global leader when it comes to providing virtual services to businesses worldwide. It is renowned for its trustworthiness, innovative solutions, and a variety of support services that assist business operations.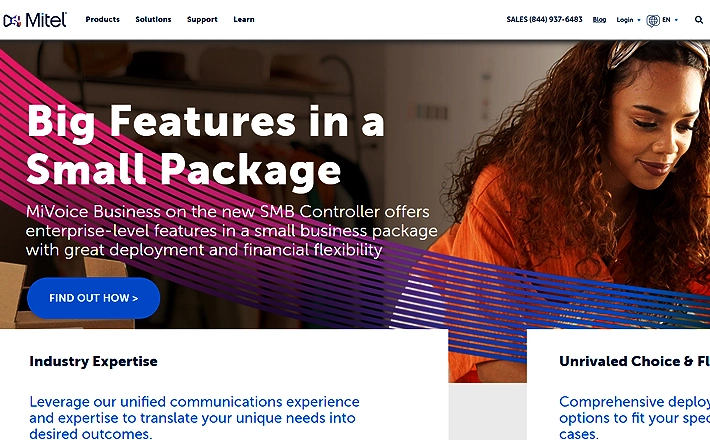 It offers a variety of products with in-demand features like contact centers, VoIP, and unified communications that are specifically designed for companies.
Closing Thoughts
To sum it up, the accelerated development in the virtual world has its effects on the real world, and the imminence of VoIP in the business landscape has been foreseeable. Having said that, businesses want to upgrade their communication operations by switching to VoIP phone services. However, choosing the perfect one is a vital decision that can revamp the business infrastructure.
Nonetheless, by carefully assessing your needs, budget, preferences, and other important factors, you can sort out the top providers that align with your goals. With the right VoIP solution in place and seamless integration, your business can enjoy cost-effective, efficient, and reliable communication.
FAQs
What is the difference between a VoIP phone and a regular phone?
The main difference between a VoIP phone and a regular phone number is the technology involved in the working of both systems. VoIP transmits information via the Internet, on the other hand, traditional phones use specially built physical wired networks to transmit voice signals. Some other notable differences are affordability, utility, and features.
How much does it cost to use a VoIP phone?
Typically, you can expect a VoIP service to cost around $15 to $60 per user per month. However, several factors like the provider, features, and plan pricing heavily impact the cost of using a VoIP phone.
What is the best VoIP phone for small businesses?
Considering the specific needs of small businesses, the best business VoIP phone services are
Dialaxy

KrispCall

GoogleVoice

Vonage

Mitel
Do I need to buy a special phone for VoIP?
VoIP phones, also known as softphones, are designed to work over the Internet. So, you do not need a special phone to access its services. To start using a VoIp phone, all you need to do is choose a desired provider > create an account on its website > choose a phone number from available options > and submit documents if required.
Why are people switching to VoIP phones?
Switching to VoIP phones has become a new trend as it provides more flexibility, functionality, mobility, ease of use, and other advantages like cost-savings, security, and scalability when compared to traditional phone systems.