How to Get a Virtual Phone Number for Telegram in 2023?
The way we communicate with people has changed dramatically over the past 20 years. For decades, we relied on traditional cellular networks to communicate with people living in different geographical regions. But today, we have many online platforms that enable us to connect with people worldwide.
One social media platform that has embraced this change is Telegram. Telegram is an online application that allows us to share messages, videos, photos, and files with others with the help of an internet connection. However, to create a telegram account, it is necessary to provide a real phone number. It is where a virtual phone number for Telegram comes into play.
Virtual numbers let you sign up on Telegram without sharing your personal number. Apart from this, it also offers several other benefits. If you want to know more about the benefits of using a virtual number and how to buy these numbers, continue reading this blog.
What is Telegram?
Telegram is a cloud-based mobile and desktop messaging application that lets users share photos, files, videos, and messages. It is easy and free to use. It is one of the ten most downloaded communication tools or messaging apps worldwide. You can access Telegram on your mobile device, Mac OS, Windows, and Linux.
Here are some interesting facts about Telegram according to skillademia:
Most of the Telegram users are from Asia (38% ).
Men use Telegram at a higher rate (58.6%) than women (41.4%).
By the end of 2022, Telegram recorded over 700 million monthly active users.
Telegram users grow by 40% annually.
Most Telegram users are between the ages of 25 to 34 years old (31%).
Explanation of a Virtual Phone Number for Telegram
A virtual phone number for Telegram is a cloud-based virtual number used to register and create an account on Telegram. You can use it to receive sms verification code. Unlike regular phone numbers, a virtual number for telegram operates without a physical SIM card and doesn't require setting up hardware devices for communication.
It uses an internet connection to make and receive phone calls and text messages. Also, it isn't tied to a specific geographical region. You can use Telegram virtual numbers for both private and professional use. Besides this, the beauty of a virtual number for Telegram is that you can get it from any part of the world.
Why Do You Need to Buy a Virtual Phone Number for Telegram?
You need to buy a virtual number for Telegram because it offers several benefits and functionalities. Those benefits are described below:
Maintain privacy:

A virtual number for Telegram allows you to create a new Telegram account and complete the verification process. Hence, buying a Telegram virtual number means sharing your personal mobile number while registering is unnecessary. As a result, other users on Telegram won't have access to your private number.

Separate personal and professional life:

A cloud-based number will let you separate your personal and business lives if you use Telegram for professional purposes. You can use a virtual number for work-related Telegram business communications and your regular number for personal conversations. Also, you can create multiple Telegram accounts with virtual numbers.

Geographic flexibility:

You can buy virtual numbers of another location or country different from your original location. It is particularly beneficial for individuals who want to appear as a native of another region and communicate with people of that region.

Affordability:

Virtual phone numbers are often affordable to traditional phone numbers. It doesn't require physical infrastructure, offers competitive international calling rates, incurs no roaming charge, and you will only pay for the service you use.

International communication:

Virtual phone numbers enable international communication without roaming charges. Hence, people should buy Telegram virtual numbers to connect with their friends and families located at different locations with high call quality.
Top Virtual Phone Number Providers in 2023
Here is a list of the top virtual phone number providers in 2023:
1. Dialaxy
Dialaxy is the leading USA and Canada virtual number provider. Its virtual number comes with several advanced VoIP features for communication like voicemail, call recording, call and message history, etc.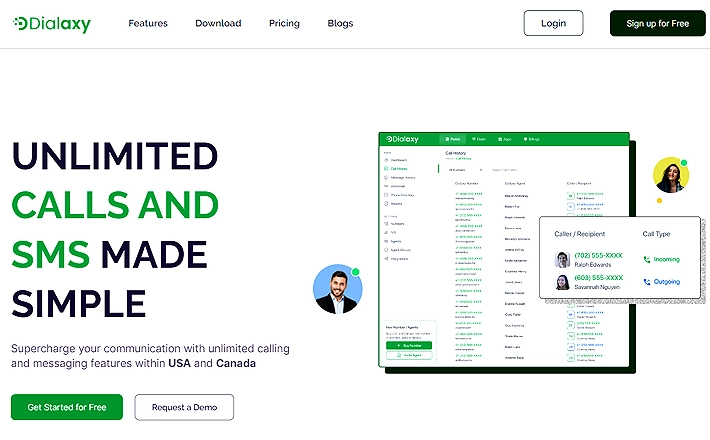 Moreover, Dialaxy provides local, mobile, and international virtual numbers at an affordable cost. There is also a provision of a free trial and demo that allows you to get familiar with the products before purchasing them.
Pros:
Provides different types of US and Canadian virtual numbers.

Available in Android, iOS, Windows, Linux, and Mac.

Affordable.
Cons:
Offer services in only two countries.

Call whispering and call barging features are in progress.
2. KrispCall
KrispCall is another top virtual number provider. It provides cloud-based virtual numbers of more than 100 countries. What sets KrispCall apart from other providers is its pricing plan. Its pricing plan starts from $15 monthly.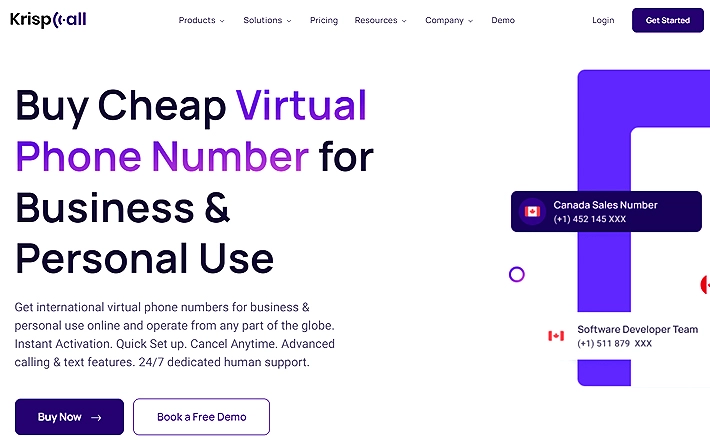 Moreover, Krispcall's virtual number consists of several features, like call filters, greeting voice messages, call-on-hold music, number sharing, call blocking, dnd mode, etc. Among these features, users worldwide have highly appreciated its unified callbox features, where users can see all call logs and message history under a single dashboard with a single click.
Pros:
Affordable.

Wide coverage.

Top-notch customer service.
Cons:
Unavailable in Mac OS.

Limited integration option.
3. Dialpad
Dialpad is another reputable provider. It mainly provides US and Canadian phone numbers. It provides various types of virtual numbers, like toll-free, local, and international virtual numbers. Its virtual number has all the features needed to streamline communication, such as call forwarding, call routing, auto attendant, and video conferencing features.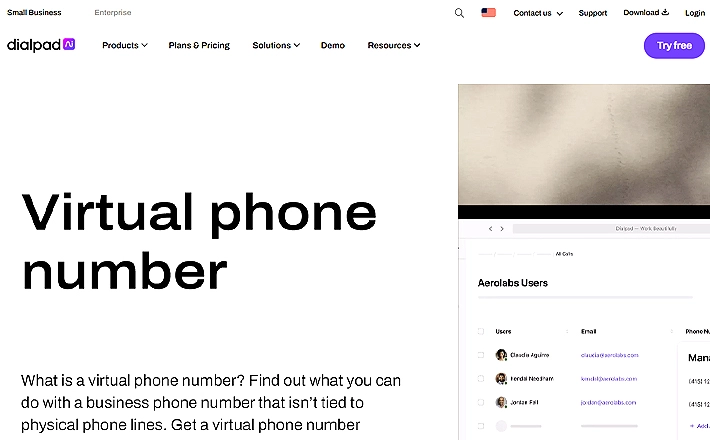 Moreover, Dialpad adheres to various security measures, such as HIPAA, GDPR, SOC2® Type II, and ISO standards. The pricing plan of the Dialpad's virtual number starts from $15 per month. You can also port your existing phone numbers with Dialpad.
Pros:
Cost-effective.

Provision of a 14-day free trial.
Cons:
Offers virtual numbers of only two countries.

Group SMS features are not available.
4. Grasshopper
Another cloud-based virtual number provider on the list is Grasshopper. Currently, Grasshopper provides local, toll-free, and vanity virtual phone numbers in the USA and Canada. It is an application that provides virtual numbers with features like business texting, voicemail, custom greetings, call transfers, call handling, and many more.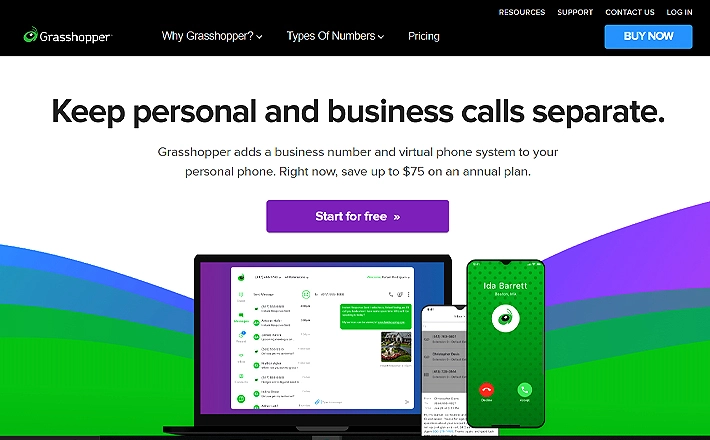 The major disadvantage of Grasshopper is that it provides virtual numbers at a higher cost than other providers. Its pricing plan starts from $31 per month. Hence, it is not the best choice for an individual or a business looking to buy virtual numbers at a low price.
Pros:
Offers a seven-day free trial.

Easy to use.
Cons:
Expensive.

Limited country coverage.
5. Nextiva
Nextiva is another virtual number provider you can count on. It mainly provides US virtual numbers, including over 35 US area code numbers. Its virtual numbers come with unlimited calling and other essential call management features like voicemail transcription, conference calls, multi-level auto attendant, call recording, integration capabilities, etc.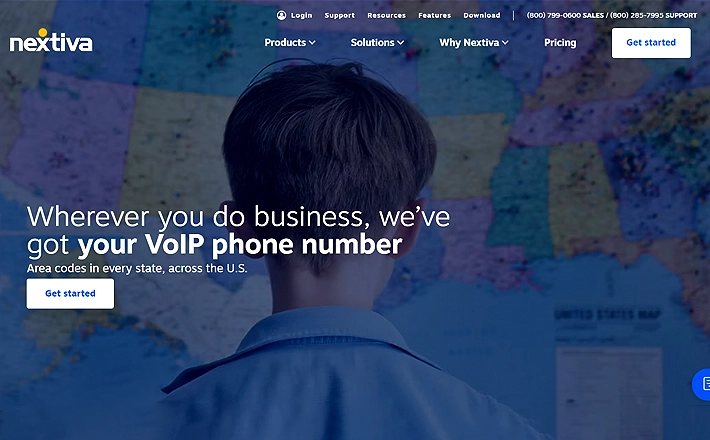 Likewise, Nextiva provides a virtual number starting from $25.95 per user per month, a bit cheaper than Grasshopper. Besides virtual numbers, Nextiva also offers a small business virtual phone system, cloud PBX, and VoIP call center.
Pros:
99.999% uptime.

Excellent customer support.
Cons:
A free trial is unavailable.

Unavailable in Mac and Linux.
6. OpenPhone
You can rely on OpenPhone if you don't find the above-mentioned virtual number provider not satisfying your business needs. With OpenPhone, you can instantly get US, Canadian, and North American toll-free and local virtual numbers. These numbers help businesses create a local presence in the US and Canada, even if their office is not physically located there.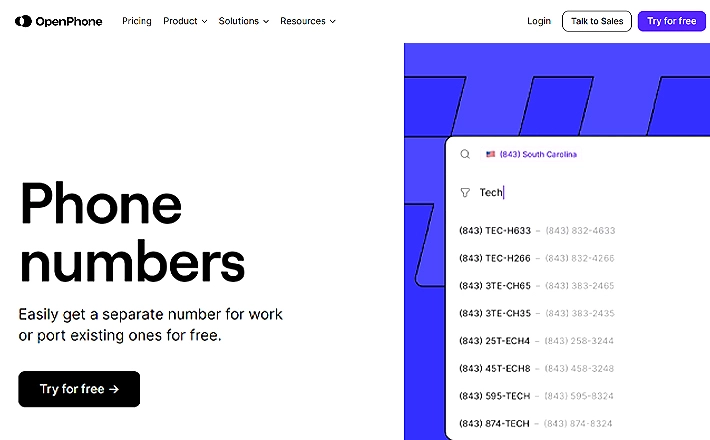 Moreover, you can integrate OpenPhone's virtual number with popular business apps like HubSpot, Zapier, SalesForce, and Slack. Apart from this, its virtual number has several other features, such as group calling, voicemail transcription, call transfer, call analytics, etc.
Pros:
Cheap.

Availability of a seven-day free trial.
Cons:
Few countries' coverage.

Limited advanced VoIP features.
7. CallHippo
The last reliable virtual number provider on our list is CallHippo. It provides local and toll-free virtual phone numbers for more than 50 countries, including Asia, Africa, Europe, North America, South America, and Oceania continent.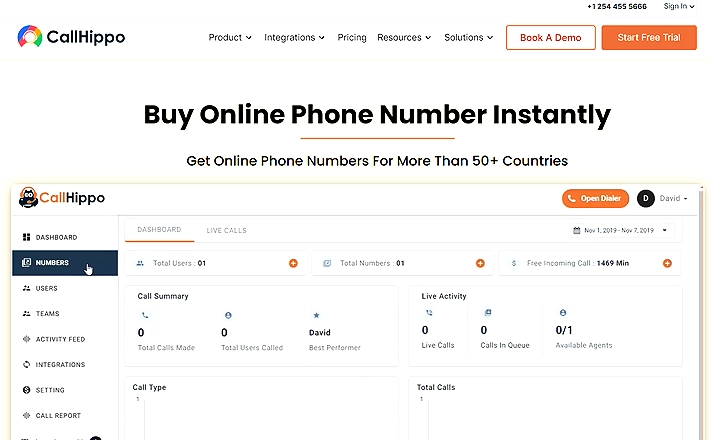 CallHippo's virtual number is packed with features like power dialer, call forwarding, call barging, call queuing, call recording, and many more. It is suitable for both personal and professional use. Hence, regardless of size and type, every business can leverage CallHippo's virtual number.
Pros:
Good customer support.

Wide range of features.
Cons:
Advanced features only available in higher-tier plans.

Occasional call lagging.
Steps to Get a Virtual Phone Number for Telegram
Follow these straightforward steps to get a virtual phone number for Telegram:
Choose a reputable service provider like

Dialaxy

.

Create an account on the provider's website and log in to access the dashboard.

Select the country and the virtual number.

After selecting the virtual phone number, proceed to make payment.

Submit necessary documents if required.
Tips for Using a Virtual Phone Number on Telegram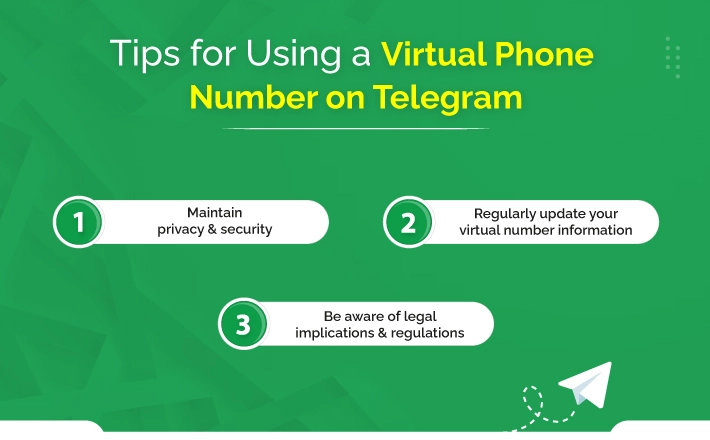 You should follow certain tips and procedures while using a virtual phone number on Telegram to get the maximum benefits of Telegram. Those tips include:
Maintain privacy and security:

While using a virtual number on Telegram, it is essential to maintain the privacy of your virtual number. You should not share it with an unknown person.

Regularly update your virtual number information:

You should update your virtual number occasionally to access the latest features. Also, if specific information about your virtual change is changed, it is essential to update it in Telegram.

Be aware of legal implications and regulations:

Every Telegram user must follow the terms and conditions of Telegram to keep their account for the long term. If you fail to adhere to these rules, your Telegram account may get deactivated. Hence, if you are using a virtual number for Telegram, familiarize yourself with the Telegram laws and rules related to the virtual number and strictly adhere to those.
Conclusion
In this way, a smart way to use Telegram while protecting your privacy is using a virtual phone number while signing up. There are several reasons that justify why you need to buy a virtual Telegram phone number. Those reasons include privacy protection, international communication, and geographical flexibility.
However, it is necessary to choose a dedicated virtual number provider and only buy virtual numbers from them. You can enhance your Telegram experience by selecting the right provider and taking a few safety measures. We recommend you buy a virtual phone number for Telegram from Dialaxy. The app provides cloud-based numbers at an affordable cost with a variety of advanced VoIP communication features.
FAQs
Does Telegram accept virtual numbers?
Yes, telegram accepts virtual numbers. Thus, you can create a new telegram account using a virtual number. It's great news for those who don't want to share their private number while registering on Telegram and are actively looking for another alternative to sign up.
Can I create 2 Telegram accounts with the same number?
No, you can't create two Telegram accounts with the same number. However, suppose you want to create two Telegram accounts-one for personal use and the other for professional use. In that case, you can use your private number for a personal Telegram account and a virtual phone number for a professional account. This way, you can separate your private and business communication.
How can I join Telegram without a mobile number?
You can use a cloud-based virtual phone number to join Telegram without a mobile number. You need to buy a virtual number from a trustworthy virtual number provider and join Telegram using that number.
How is Telegram different from WhatsApp?
In contrast to WhatsApp, Telegram is a cloud-based messenger that allows you to view your messages simultaneously on multiple devices, including tablets and computers. Also, Telegram has no file restrictions. You can share unlimited photos, videos, and up to 2 GB of files each. Likewise, Telegram is available on Mac OS, which Whatsapp is still working on.