Benefits of Using Virtual Phone Number for Remote Team in USA
Do you want to set up a team to expand your business in the USA but are worried about business operations? Virtual phone numbers are the ultimate solution for operating your business in the US. We will discuss the benefits of virtual phone number for remote team in the USA, along with its cutting-edge communication features.
You can find it difficult to remotely operate your business in the US with traditional phone lines as they are expensive and needs a physical setup. To eliminate these problems, a virtual cell phone number plays a crucial role in saving your fortune in business communications for operating remotely.
The Advantages of a Virtual Phone Number for Remote Team in USA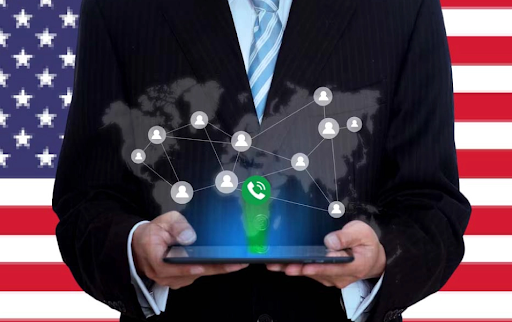 You can gain a lot for your business using a virtual phone number. It gives your team huge flexibility if you want to operate your business in the United States remotely.
Here are the benefits virtual number provides for your business or personal needs.
1. Cost-effective and Easy to set up
Virtual phone numbers are worthwhile as they do not require physical equipment like traditional phone calls. You can assign different numbers to your agents for operating business in the USA.
You can avoid roaming charges for international calls as a virtual phone number can forward calls to the United States or other countries. Also, you can ask your customers to call your business toll-free number that does not charge them extra to make calls.
2. Establishes Local Presence
Virtual phone number improves your local presence and builds bonds with the community of different cities and state. You can gain the trust of local customers from different countries regardless of your physical location.
To increase call acceptance rates in different states, consider using local area codes from various regions, as residents are more likely to answer calls from familiar numbers. By utilizing region-specific numbers, you can not only gather customer data for further analysis of marketing campaigns but also record calls, enabling a comprehensive approach to enhance your business strategies.
3. Flexibility and Scalability
A Virtual phone number offers your business flexibility and scalability to stay competitive in the United States fast-paced market. Virtual numbers are not tied to a physical setup, so you can manage your incoming and outgoing calls, send and receive sms, and video conference with your cell phone while moving or from any place in the globe.
You don't need to invest in new devices or equipment while moving your business from one place to another. It helps you easily manage customer service operations across multiple locations with international calling.
You can easily set up and terminate your virtual phone number according to your will. You can terminate bad performers on the market and add new numbers on the best-performing regions.
4. Increases professionalism
Virtual phone numbers give a professional touch to your business as it provides local, vanity, and toll-free numbers to impact your clients. You can assign multiple phone numbers for different departments such as sales, business development, HR team, Customer service, etc.
A virtual phone number comes with IVR, and auto attendants, which shows professionalism among your customers.
5. Customization
Virtual phone numbers offer customization features for advanced business communications to personalize your calls. You can customize your vanity numbers to reflect the name or other information associated with your business, forward calls, voicemails, greetings, and many other features.
You can use virtual business phone numbers for various purposes, such as customer service lines, business advertising campaigns, or personal use. It is perfect for your businesses to create a local presence and represent brands in different countries.
How virtual phone numbers can help remote teams in the USA?
Virtual phone numbers make it easier for you to conduct business in the United States remotely. You can select and sync your virtual phone number on different employees' devices and make communications.
Here are some of the ways virtual numbers can help remote teams in the USA
Virtual phone services help your business expand in the US without having any physical presence there. It lets your team communicate with customers from anywhere without worrying about expensive international calling fees or complicated setup processes.
Virtual phone numbers make it easier for your agents who travel frequently or work remotely with a good internet connection in other countries since they can still be reached on one number no matter where they are located geographically.
A virtual phone number offers the convenience of connecting with clients and agents from anywhere, anytime, eliminating the limitations of traditional phones confined to office desks. By incorporating virtual phone systems into your business phone system, your team gains exceptional mobility and flexibility in connecting with customers even when they are away from their office desks.
Mobility and flexibility help keep your productivity levels high throughout your organization's workforce while reducing disruptions due to geographical boundaries.
You don't need multiple lines for each department or team in your business if you have a virtual phone system in your business. You can also manage your phone lines with IVR (Interactive Voice Response), allowing customers to determine which department they want to contact.
Your customers each called are queued and routed to your specific business departments, ensuring you don't miss any calls from your customers.
Call Analytics and Tracking
A good virtual phone number provider like Dialaxy will provide you with detailed analytics of incoming and outgoing calls, Caller ID, and call data of the customers, which helps you calculate your business's conversion rate.
Call analytics and Tracking helps you to analyze the performance of the top performers and underperformers in different part of the United States.
Also, you can track employee productivity, track cell phones, and analyze the peak hours of calls, which gives you insights if you need additional employees for busy hours. Your business can get maximum efficiency in the operation, sales, and management departments.
Enhances Call Acceptance rate in the US
The virtual number with US international, local area code, toll-free and vanity numbers allows you to increase your call acceptance rate from different cities. With familiar numbers, you have more acceptance rate, which means you have a higher chance of conversion rate for your business.
It gives you a higher advantage in representing your local brand in the community.
You can increase your marketing, boost your sales and increase revenue in the US market.
Tips for choosing and using a virtual phone number for your remote team in the USA
You should be critical while choosing a virtual phone number. You should do research on the locations and the markets in the United States and choose the virtual phone service and numbers accordingly.
Here are some of the strategies you can apply while choosing a virtual phone number for your remote team:
Select the best VoIP provider
:
There are many virtual phone number providers in the USA numbers who claim to provide a free virtual phone number with the best features and services at affordable prices. Before falling for their words, you should research deeply and check if they're reliable.
When selecting a virtual phone provider, it's important to check their features, reliability, and user reviews, and compare them side-by-side with different providers to find the best fit for your requirements. Additionally, consider choosing a plan for local and toll-free numbers in your business phone system that aligns with your budget to avoid overspending.
When selecting a virtual phone provider, it's important to check their features, reliability, and user reviews, and compare them side-by-side with different providers to find the best fit for your requirements. Additionally, consider choosing a plan for local and toll-free numbers in your business phone system that aligns with your budget to avoid overspending.
Choose Local and Toll-Free Numbers:
You can choose local and toll-free numbers with specific area codes for your target audience. You can choose subscriptions, services, and features according to the size of your business.
Local numbers will help you and your customers to build strong trust and bonds. And Toll-free numbers give the services for your customers to contact you free of charge.
Check Integration Capabilities:
Choose the provider that has integration on the various workspaces your team uses. Look for integration features such as CRM(Customer Relationship Management), help desk, and team collaboration platforms such as Slack, Google Workspace, MS Office 365, etc.
Mobile and Desktop Compatibility
:
Make sure the virtual service providers are compatible with a cell phone and desktop. You should ensure the mobile app is available on iOS and Android, as your agents can have different phones, tablets, or laptops.
It is crucial to look for compatibility as it can cause some problems in the future if the VoIP software is not compatible with your agents' devices.
Check Call Management Features
:
It is important to check the call management features such as Call Forwarding, Call recording, Automated Attendants, Unified Callbox, and other features. These are the main call management features you should look for to streamline smooth communications and enhance the efficiency of your remote team.
Check Call Quality and Reliability
:
To determine whether a VoIP company has a solid track record for call quality and dependability, you should look at its history. Poor call quality and interruptions of your virtual phone can have a negative impact on your business and cause you to lose customers.
You can try a demo or free trials to check call quality and see if they're reliable. Testing demos also helps you test other features and familiarize yourself with their services.
Privacy and Security:
Don't forget to check the virtual service providers prioritize call encryption with high security. Make sure they protect your business and customers' data and comply with the rules and regulations of GDPR(General Data Protection Regulation).
Best practices for configuring and using a virtual phone number
For a virtual phone number for your remote team, here are the instructions to personalize your virtual phone numbers in your business system.
Choose an easy and memorable number
:
Select easy phone numbers that will not be difficult to dial and memorize for customers. Customize your vanity phone numbers with catchy words that make them easier to recall and add an element of branding and advertisement.
Customize professional voicemail greetings
:
Your voicemail should sound professional and friendly, making the first impression on the customers. Make sure to add information about who/what company they have reached and additional instructions to leave information so your agents can get back in touch if needed.
Enable call routing and IVR
:
Call routing allows you to manage and route incoming calls based on specific criteria such as time, day, etc. IVR systems enable automatic menus that guide a caller through their desired activity without requiring manual input from staff employees at every step of the route. This saves both time and resources for customers and agents. Call routing and IVR also help to create a better customer experience with greeting messages and proper instructions.
Integrate with other software:
Your virtual phone system should integrate seamlessly with other software platforms like CRM systems and other workspaces your teams use. It helps to collect data and maintains the flow with accuracy, which helps you to have a clear picture of your business and customers. Furthermore, integration makes it easier to manage large volumes of customers as everything they need is already there when they access their account pages.

Use Analytics and reporting:
Analytics tools will give you insight into how well your system performs over time by providing metrics. With the built-in reporting capabilities of your virtual phone number providers, managers can easily track key performance indicators like response rates/resolution times to make better decisions.
Conclusion
Virtual phone number comes with great features and services you can relish. It has become the top priority of choices among different businesses who like to expand their businesses worldwide.
With the trend of remote work culture, you can easily buy virtual phone numbers for your remote team to conduct business in the US.
Dialaxy provides virtual phone numbers for US and Canada for your businesses with great features and security. You can make a seamless connection with your customers and promote your brand in different parts of the US.