Mastering Call Center Campaigns: A Comprehensive Overview
Do you know that call centers account for 60% of the global customer service market?
In this volatile market of customer service and business interactions, call center campaigns are the essential spice to the success of organizations around the globe. They are the elements that connect companies with their customer bases.
The call center is located in the frontline base for customer engagement, support, and building relationships with customers.
Through this article, you'll gain a clear understanding of call center campaigns and the skills and wisdom needed to craft campaigns that leave a last impression on your customers and drive your organization to achieve goals. So, let's dive more into the article.
What are Call Center Campaigns?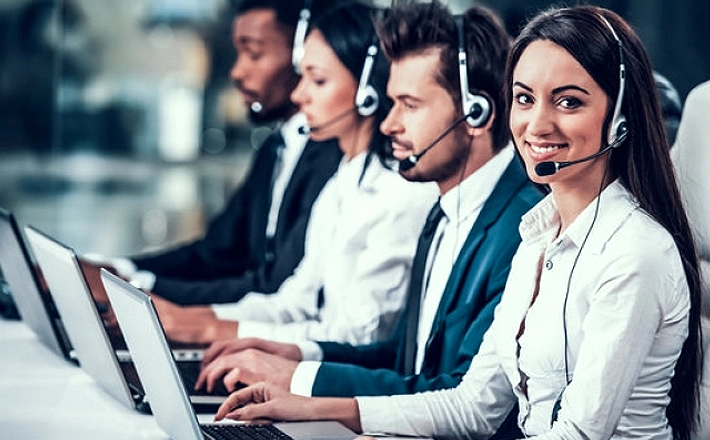 A call center campaign is a sales-driven target marketing call by sales department representatives or call center agents, segmenting into many criteria such as customer basis, objectives or goals, and locations. It aims to promote the product, collect customer feedback, and conduct market research.
Moreover, the call center campaign is hosted to manage resources efficiently and ensure they meet business goals or objectives using different tools and technology, like
CRM tools for managing and tracking interactions,

KPIs to measure performance and

Metrics to measure call resolution times and customer satisfaction.
Why do Businesses Need Call Center Campaigns?
There are various reasons why businesses use call center campaigns to achieve their objectives. Some of them are given below:
Order processing
Today, because of the rise of e-commerce and retail businesses, call centers assist with processing orders, tracking shipments, and handling customer inquiries making the order processes smooth.
Crisis management
A crisis can be caused anywhere at any time, so during crises or emergencies, call centers can provide critical information to customers, stakeholders, or the general public, helping manage the situation effectively, which leads to minimizing misunderstanding.
For businesses with a global or diverse customer base, We can offer multilingual support to serve a wide range of customers.
Social media support
As we can see, call centers often combine with social media platforms to provide support, address customer queries, and maintain the company's image. Social media plays a vital role for any business, as it helps them to create a different customer base there.
Compliance and regulation
Call center compliance refers to following the laws and regulations during daily operations. It is crucial to be aware of compliance and regulations to avoid legal punishments. So you should
Protect customer data

Regulate outbound campaign

Keep safe of health information

Recording calls with consent, etc.
Cost efficiency
Outsourcing call center operations can be cost-effective because it helps to save on hiring and training costs. Call campaigns can be the best way to handle customer service and sales activities, focusing on core functions of business while experts can manage customer interactions.
What are The Types of Call Center Campaigns?
Mastering campaign management is like winning a lottery ticket for any business. There are two types that Call Centers use the most. They are: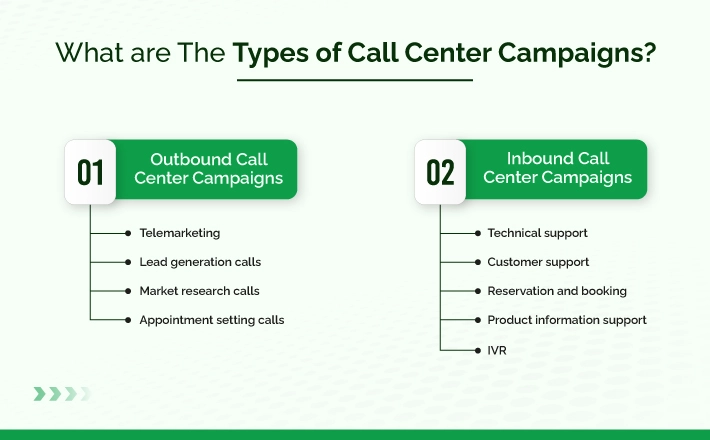 Outbound Call Center Campaigns
Outbound calls are the agent's calls to customers to promote their goods, products, or services. Also, to get results such as customers buying your products or getting a booking. The outbound can be effective with a call script and target market segmented.
The virtual phone number also has a vital role and benefits in outbound call centers.
You can have new business opportunities through the outbound call and build brand awareness, increasing sales and revenue. Outbound is specially done, with some of the best choices being:
Telemarketing:
The sales that are directly done through making calls with the telephone are known as telemarketing. These calls are done to promote businesses or to give services to potential customers. The best practice for telemarketing success involves getting more information about customers, knowledge about products, high empathy, etc.
For example, the calls you have been getting through World Link to use their services are direct sales through the telephone.
Lead generation calls:
If the consumer is interested and comes to your business to use your products or services, it is called a lead generation call. It is an organic consumer who values your brand. Many famous platforms, such as Facebook, Twitter, Linkedin, pay-per-click(PPC), and B2B, are used in lead generation.
This call helps to approach your advertisement to potential customers and gives real-time insight.
Market research calls:
The research calls to collect data from individuals or businesses to gather insights into understanding marketing trends and customer preferences. And work on improvement for their products or services.
Appointment setting calls:
A sales representative or call agent schedules an appointment setting call for a potential client or customer.
Hence, outbound calls can be difficult if not managed well. So, the predictive dialer can also help to manage operations by filtering out unanswered calls, busy lines, etc.
Inbound Call Center Campaigns
Calls made by consumers to your business or organization are called inbound calls. An inbound campaign is a service mainly focused on improving customer satisfaction, revenue, and customer retention.
Technical support:
Technology companies often use call centers to provide technical support to customers, assisting them with troubleshooting issues, product setup, or software-related problems.
Technical support campaigns are designed to assist customers with technical issues, software problems, hardware malfunctions, and troubleshooting. Call Agents or Sales representatives aim to resolve technical problems and guide customers through solutions.
Customer support:
Inbound call centers are often the primary point of contact for customers seeking assistance with product or service-related issues. Agents are trained to provide information, resolve problems, and offer solutions.
Reservation and booking:
The inbound call centers help customers reserve places, hotel bookings, and significant events. In industries like hospitality, call agents to give information about pricing, availability, and accommodations to the customer and ensure top-notch services.
Product information support:
Every customer has the right to know information about any products, so they call the business call center and offer detailed information about products, services, or pricing. So, as a result, potential buyers may call whether they make a purchasing decision or not.
IVR:
Interactive Voice Response(IVR) plays a vital role in a call center by improving call routing and handling features. It provides a self-service option for callers and increases the first call resolution rates, having 24/7 support leading to customer satisfaction. IVR is an automated telephony system that relies on dual-time multi-frequency and speech recognition.
Strategies for Executing a Successful Call Center Campaign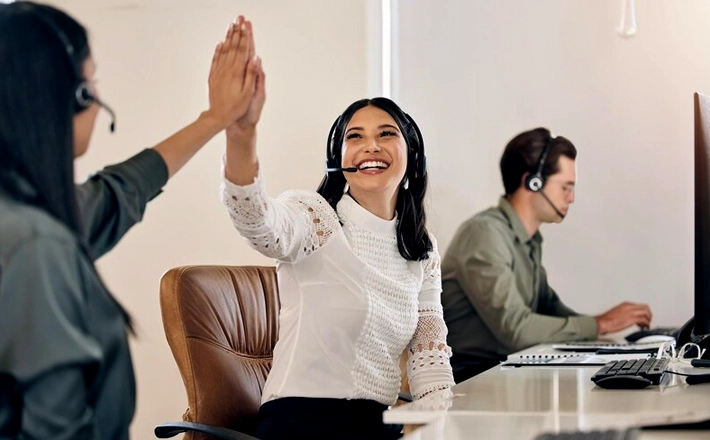 As there are many ways to execute a successful call center campaign, here are some points to focus on for your organization.
Define a clear or specific objective for a campaign, prioritize a consumer's needs as segmented, and deliver the product on time as said by the consumer.

Hire a skilled agent and provide training to enhance their skills and knowledge about the products, such as using cold call tricks and tips in this software.

Use advanced technology such as KPIs, metrics, and CRM systems to boost organizational performance and personal skills.

Encourage call agents to build strong customer relationships, as

74% of customers are loyal

to businesses that engage with them.

Analyze performance effectively and show empathy toward customers to increase effectiveness.

Generate high ROI by using advanced advertisement techniques.

Develop a split test that compares two versions of your performance and determines which one has the better results.

Gather and analyze customer data to identify trends in customer preferences and identify areas for organizational improvement.

Establish a feedback system with agents to enhance campaign effectiveness.
Conclusion
In conclusion, mastering a call center is about making calls and understanding your customers, having significant strategies that always target better improvement, and solving client problems.
You can be successful by changing your business niche according to the consumer preferences and trends in this cutthroat competition in the market. It also means daily checking how your campaign is doing, gathering and studying data, and getting customer feedback.
Hence, Using a Dialaxy helps you to become a master of the Call Center campaign and also increases your call center's productivity. Our call center solution eliminates the need for expensive hardware and automates
FAQs
How do you master a call center?
There are several ways to master your skills in a call center. They are:
You can develop communication skills such as practicing active listening, speaking, using positive language, and avoiding jargon.

You should know about products or services.

Technology friendly

Time management

Learn to manage how to handle difficult conversations

Focus on self-improvement

Develop teamwork
How do you measure success in a call center?
There are several ways to measure success in a call center, such as key performance index(KPIs) and metrics that evaluate the effectiveness and efficiency of the overall performance.
How do you optimize call center performance?
Optimizing call center performance helps deliver exceptional customer services, increase efficiency, and achieve organizational goals. Some strategies are given below:
Setting clear goals

Monitoring KPI's

Implementing call Center softwares

Management of workforce, training, and development

Quality Assurance programs

Customer surveys and feedback, and so on
What is campaign management in a call center?
It is a process of planning, executing, and monitoring outbound calls to achieve goals or objectives. These campaigns are launched for sales, customer outreach, and customer engagement. It uses many tools and strategies to ensure that outbound calls are targeted and organized.
What are the types of Outbound calls?
There are several types of outbound calls. They are:
Cold calling

Lead calling

Warm calling

Referrals of customers