7 Most Essential Call Center Software Features in 2023
As the expectation of customer service constantly evolves, the call center plays a pivotal role in delivering exceptional calling experiences.
In today's competitive business environment, efficient and customer-focused call center operations are more critical than ever. So, owning a solid call center software is a must for every business.
Reach out to your customers quickly and enhance your communication by adding a call center software for your business. Most businesses use call center software, which has proven effective in increasing productivity and providing excellent customer service.
Many call center providers are in the market, and choosing the best one with essential features is hard. So, in this blog, we'll discuss features to be considered while owning a call center software and essential factors for a good call center software. So let's get started.
The Significance of Call Center Software
Call center software is a valuable tool that allows businesses to manage customer interaction across multiple channels like phone calls, chat, emails, and social media platforms. Call center software is a must if you want to enhance business communication and provide exceptional support.
Call centers come with automated and advanced features like call routing, multichannel support, call monitoring, CRM integration, analytics, and reporting, so businesses can efficiently handle large volumes of calls. For your business to remain competitive, you should also consider integrating a call center, as it will increase efficiency, reduce costs, minimize wait times, improve customer service, support remote work, and provide scalability and flexibility.
Overview of the Evolving Landscape of Call Center Technology in 2023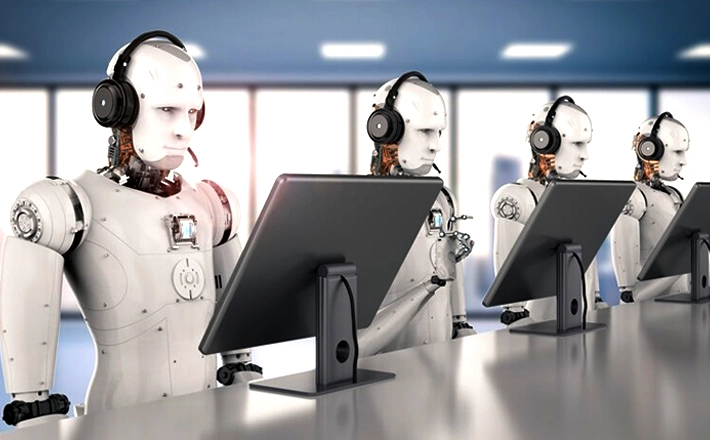 Over the years, call center technology has changed drastically. From old telephone lines to VoIP technologies, the technology has changed how businesses communicate. With technology shifting towards AI and automation, call center software has also evolved along with the changing digital landscape.
To keep up with the modern business, every business must have call center software in 2023. Investing in call center technologies is proven to be a booster for many businesses as it helps to increase workers' productivity and provide an excellent call service experience.
Technologies like VoIP offer businesses extraordinary features like ACD, IVR, Omnichannel support, integration with business tools, call monitoring, performance monitoring, call reporting, and analytics. These features help provide efficient and personalized customer service from multiple channels while optimizing their operations and enhancing the calling experience.
What defines a good call center?
A good call center is defined by its capability to provide a top-notch calling experience to customers. A good call center should meet the business objective and customer's expectations by delivering an excellent calling experience and satisfying customers.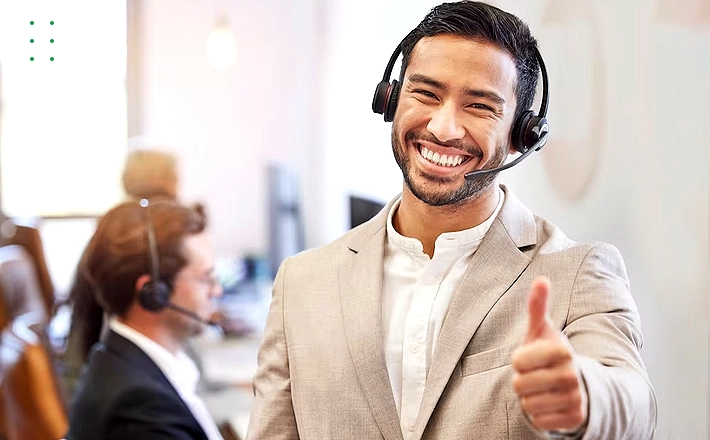 The following factors define a good call center:
Excellent Customer Service
The main aim of having a call center is to provide better customer service to the customer. Good customer service includes answering and handling customer queries efficiently, solving their issues, providing empathy, meeting customer needs, and good calling experience.
Effective Call Routing
A good call center aims to route the calls to the appropriate department based on customer needs and provide timely assistance. This routing helps customers address the issue to the
right person and minimizes wait time. Efficient call routing also reduces abandonment, and call dropout, helping to handle multiple customers at a time.
Optimal First-Call Resolution (FCR) Rate
Ideally, a good call center must have an optimal FCR rate so customers do not have to call for the same issue repeatedly. FCR refers to the percentage of issues or inquiries resolved during the first contact with a customer. This optimal call center matrix helps to deliver efficient customer service.
Skilled Agents
Different kinds of people call at a call center with different issues. So, a good call center must hire skilled or well-trained agents who can handle calls efficiently and have good knowledge about the service and product. This will help answer customer queries better.
Flexibility and Scalability
Considering the changing business needs and demands, a call center should be scalable. This allows businesses to scale up and down according to their wants, saving costs and meeting customer demand. Also, for delivering 24/7 customer service, a call center should be flexible.
Use of technology
A good call center must consist of advanced features and functionality. These advanced features like CRM integration, ACD, and analytical tools help to streamline call operations and provide excellent customer service.
Must-have Call Center Software Features
Keeping up with technology advancements and changing business needs, every business needs a call center solution that includes advanced features and functionality in order to stay competitive. These features help to enhance the calling experience of the customer and deliver excellent customer service.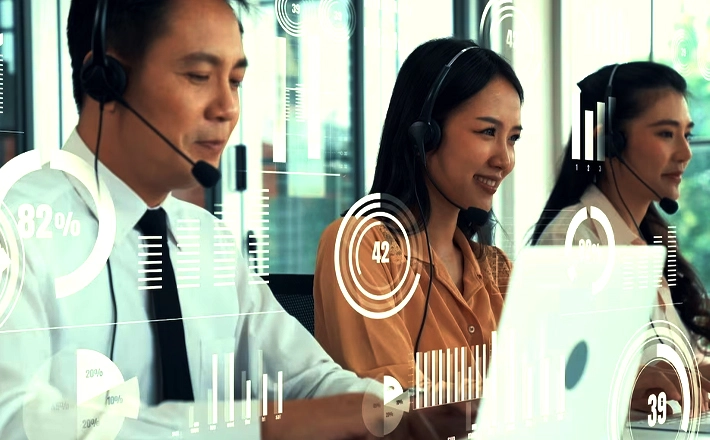 Call center software comes with many features, but here are some must-have features you should have in your call center software:
Automatic Call Distribution (ACD)
An Automatic Call Distribution(ACD) is a must-have feature for any call center, allowing the call center to handle a large volume of inbound calls. With ACD, Calls will be smartly routed to specific departments considering the issues or wants of the customers.
This feature helps the call center handle large volumes of calls, reduce wait time, provide timely support, and ensure the best calling experience. In response to customer queries and problems, the appropriate customer service agent is assigned based on the customer's needs, the availability of the agent, or their skills so that they never miss a call and maintain a good image.
Interactive Voice Response (IVR)
Interactive Voice Response is a very handy feature for any contact center software. it is a virtual Phone operator which uses computer technology to interact with humans. When a customer calls, a prerecorded message plays, assisting you with services like press 1 for pricing and press 2 for technical support. It makes it easy for customers to reach out for the service they want by pressing numbers and contacting the specific department without any hassle.
With this system, customers can manage tickets, check balances, select options, or engage in self-service without requiring the assistance of an agent. It has add-on features like customizable pre-greeting and menu options.
CRM Integration
Integrating contact centers with Customer Relationship Management software allows access to customer information, call history, preference, and call details. By generating leads, emphasizing the customer's needs, and using this information via CRM softwares, the call center is able to increase efficiency and productivity.
CRM integration is one of the must-have features as it helps automatically store customer data and call details which helps agents resolve issues with proper ticket management, reduce costs, increase accuracy, and enhance overall customer experience.
Call Queuing and Routing
The call queueing feature of call center software is very handy. Whenever there are a lot of incoming calls and all the agents are busy assisting customers, the incoming calls are placed in a waiting queue which plays music or provides information until the agent is available. This queuing system allows the call center to answer 100% of calls and ensure no calls are lost.
Call routing helps to direct the call to the appropriate agent with the help of IVR menus. Using the IVR menus, the call is routed to the designated agent based on the criteria and information provided by the customer. This helps to manage calls efficiently, minimizing wait times, solving customer queries, and enhancing overall customer connecting callers with agents who can best assist them.
Multichannel Support
In this digital era of business, multichannel support is a must-have feature for any call center. Earlier the only means of communicating or reaching out to the company was by telephone. Now there are many platforms for customers to get connected to the company.
So having multi-channel support allows agents to handle customer interaction on different platforms like email, chat, phone, social media, and many other communication channels. So, people who are uncomfortable in making phone calls can ask queries with emails and chats,, providing flexibility and making it convenient for users. This allows you to enhance customer experience.
Call reporting
Call reporting is a very useful feature for contact centers as it helps businesses to keep records and analyze key performance indicators(KPIs). With this call reporting, businesses can collect essential data on call volumes, call handling rates, dropped calls, wait times, and agents' performance.
The purpose of call reporting is to measure the efficiency of a call center or to determine whether the center provides better service to customers or not. And try to deliver the best customer service possible.
Call Recording and Monitoring
With increasing technology use, fraud, and scams are also increasing. To prevent fraud scams, having call recording features is a must for any contact center. Call recording features allow you to and record customer interactions for various purposes, future reference, quality assurance, and evidence.
Also, call monitoring is the process of monitoring calls where the supervisor monitors the call live to check whether the agent is delivering good customer support or not. It is a valuable tool for any business as it monitors, analyzes, and provides feedback, necessary assistance, and training to agents to maintain high-quality customer experience.
Conclusion
So, to gain a competitive advantage over your competitors and deliver an excellent calling experience to the customers, adding call center software to your business is a game-changing solution. No matter the size of your business, call center software helps businesses to communicate efficiently and retain possible customers.
Having good call center software creates a professional image of the company. The advanced features and functionality help handle and manage a large volume of calls effectively, provide a good calling experience, and provide customer satisfaction.So, Why not your business? Get game-changing call center software from Dialaxy and transform your business communication to the next level.
FAQs
What is call center software?
Call center software is an application that aims to manage customer interaction over the phone through different communication channels. Call center software is generally used by customer support teams to streamline their call operations, improving the calling experience and delivering excellent customer service.
What are the necessary elements of contact center software?
The necessary elements of contact center software are:
Infrastructures

Location

Technology

Agents

Monitoring, and reporting
What are the new technologies in 2023?
Here are some new technologies in 2023:
Artificial Intelligence(AI)

5G technologies

Virtual Reality (VR) and Augmented Reality (AR)

Machine Learning (ML)

Quantum computing

Robotic Process Automation (RPA)

Internet of Things (IoT)

Blockchain technology
What is CRM call center software?
Customer Relationship Management (CRM) refers to the software or business tool that allow the business to manage customer information, providing the agent with access to customer information, choice, and call history. This information provided via CRM software helps businesses streamline customer call experience, providing excellent support and improving customer satisfaction.