Are Toll-Free Numbers Free to Call Internationally?
In this ever-growing global market, businesses constantly seek ways to enhance their reach and customer service.
A toll-free number has been a cornerstone of customer engagement, providing a free and easy way for consumers to connect with companies. So, with the increase in operations on a global scale, you might question whether toll-free numbers free to call internationally.
In this article, let's dive into the potential hurdles and expenses customers might face and businesses looking to connect a worldwide customer base associated with international toll-free numbers. Now, join us as we explore the effect of this essential communication tool, enabling businesses to make informed decisions regarding international customer outreach strategies.
What Are Toll-Free Numbers?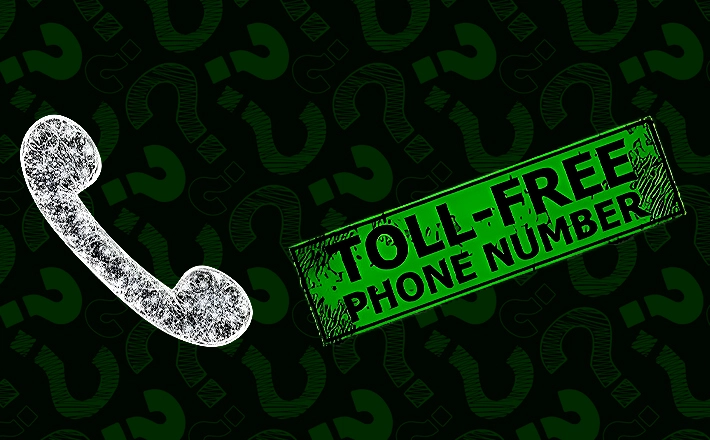 A toll-free number is a telephone number with a distinct three-digit code that can be called from a landline and a mobile phone for no charge. It is possible to reach companies and individuals outside the area with these numbers without paying long-distance fees.
A toll-free number consists of three-digit numbers such as 800,877,866,855 or 844. These prefix numbers are made for toll-free purposes only. The telecommunications systems themselves identify these prefix numbers as toll-free numbers, and the call charges are paid to the number's owner.
If you make a call to a toll-free number for a query, you won't be charged for the call instead, it will be paid by the company.
What is an International Toll-free Number?
International toll-free numbers (ITFN) are telephone numbers that allow individuals to make calls at business organizations but are charged at international call rates to the receiver's bill. It allows callers to reach out to the business or individual without incurring any long-distance calls or international call charges.
These numbers are usually used in sales, marketing, and customer support to communicate with broader international customers.
ITFN provides greater access to the company's global reach, ensuring every customer can get services without barriers to international calling charges in different countries. There are basically two main types of International Toll-Free numbers which include:
Universal Freephone International Number (UFIN):
Universal Freephone International Number (UFIN) is a toll-free number that can be used to call from any country worldwide. In addition to the UIFN, IFS callers must dial an international prefix. Such as International Universal Access Number (IUAN): +800, International Freephone Number (IFN): +808, International Service-Specific Number (ISDN): +888. UFIN is more expensive to obtain and maintain than traditional ITFN.
Traditional international Toll-Free number:
In traditional ITFN, the calls are free from within the country in which they are assigned. For example, an 800 number in the United States. 1-800, 1-833 for Canada, and so on.
Here, you might be charged for long-distance calls if others call from outside the country it is less expensive than UFIN.
Hence, you can select your ITFN according to your needs. For example, if you need a toll-free number to call customers within a single country, traditional ITFN might be a good choice for you, but if you need to provide toll-free numbers calling customers in multiple countries, then a Universal Freephone international number( UFIN) is a better choice.
United States Toll-free Numbers
The most common prefix toll number in the US is "800". This number facilitates easy and cost-free communications with clients and customers. However, due to customer demand, many prefixes like 888,877,866,855,844,833 were introduced. The US uses route calls, the North American Numbering Plan (NANP), a comprehensive telephone numbering structure that covers 25 district regions.
Responsible Organizations (RepOrgs) assign SMS/800 numbers. In addition to operating the Number Administration and Service Center, SMS/800, Inc. is also a subcontractor for the Federal Communications Communication(FCC).
You can use this toll number for a versatile cause, for business, sales, and customer support, and use this service with many features like forwarding calls, call recording, and reporting.
Canada Toll-free Numbers
The Canada toll-free is similar to the United States toll-free number, where it includes a variety of prefixes like 800, 888, 877, 866, 855, 844, and 833. Each prefix serves its purposes and provides a cost-free way to reach the business.
You can get your toll-free numbers from telecommunication service providers in Canada. Businesses can select from various plans and features to meet their specific requirements, including call recording, call forwarding, call analytics, etc.
For instance, If you see a number like 1-800-XYZ-COMPANY, it is a toll-free number, and the caller won't have to bear a charge.
So, International Toll-Free Numbers are one of the valuable assets for any business that helps improve brand image and global expansion with lower operational costs and services, leading to customer satisfaction.
Benefits Of An International Toll-Free Number
International Toll-Free Numbers often begin with specific prefixes like +800 and ensure that your business maintains a professional image and enhances customer communication. Thus, here are some of the perks of having an international toll-free number with the ability to connect multiple lines: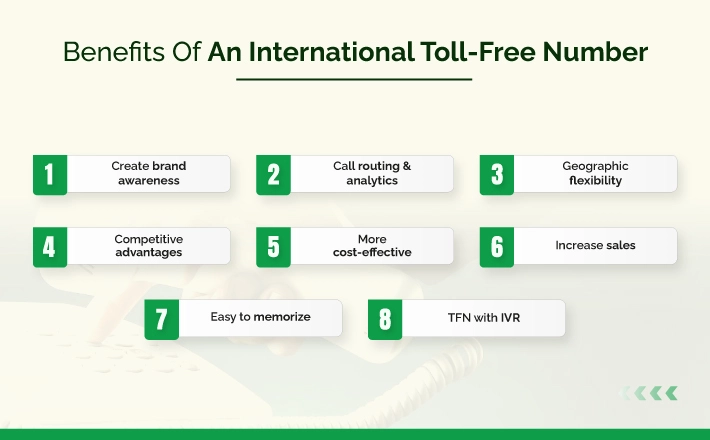 Create brand awareness
An international toll-free number helps to enhance your business's image in the market. Providing a secure feeling towards the organization helps them know you are customer-focused.
Call routing and analytics
The process of transferring a call to a related agent or destination is known as Call routing. It is used to improve the efficiency and effectiveness of ITFN services.
Analyzing data in business gives you an understanding of your call traffic, such as the number of calls received., Also, it has incredible benefits of a better understanding of your customer behavior, leading to enhancing your customer services, increasing sales, and reducing costs.
Geographic flexibility
You can have the flexibility to use international toll-free numbers to forward calls to any location and give solutions to customer inquiries; no matter where your physical location is, you can be accessible to your international audience.
Competitive advantages
Utilizing this number can differentiate you from businesses without international toll numbers. It can give you a competitive advantage and provide many features for the customer.
Cost-effective
An International Toll-Free number is a telephone number that customers can call your business free of cost. Still, you may have maintenance costs, which increase sales and customer engagement and can offset these expenses and make a cost-effective investment.
Improves customer service
Providing enough facilities and services to customers flexibility can build customer loyalty and satisfaction; it can also be a sign of the organization's commitment toward customers.
Increase sales
A free-cost call leads to an increment in business sales because it removes the cost of long-distance calls, which may be expensive. INTF is more beneficial for an ecommerce business and companies offering services internationally.
Easy to memorize
Toll-free numbers with area codes are more easily remembered than regular phone numbers. So, customers are more likely to call your business via a toll-free number, leading businesses to generate more sales and increase customer retention.
Interactive Voice Response (IVR)
Collaboration of Toll-Free numbers and Interactive Voice Responses can play a pivotal role in communication. The IVR helps technology enable incoming callers to navigate a phone system before connecting to an operator, providing self-service channels.
Incoming callers can navigate a phone system without speaking to a human operator, providing self-service options. Therefore, IVR is a valuable tool for customers, as it can also answer simple questions based on the information provided.
Hence, International Toll-Free numbers can be valuable assets for businesses looking to expand their reach, improve customer service, and enhance their brand image globally. It serves many benefits for both customer and internal operation communications, associated with cost-effectiveness regarding setup, increased sales, gaining competitive strategies, etc.
Are Toll-Free Numbers Free to Call Internationally?

Making an international call is only partially cost-free, even though it is a toll-free number. It is likely to be charged by your service provider according to your package.
The owner of the international toll-free number covers the cost of the calls made by the customers. Still, even though the owner pays for the bulk of the call, there might be some features that are potentially associated with charging an additional fee.
Also, depending upon your geographical location or country, the cost of a call may need some limitations of toll-free numbers and may not support it.
So, international toll-free numbers can be cost-effective for businesses to increase their brand image to customers worldwide but callers.
Callers are typically responsible for international calling charges. Still, the owner of the toll-free number covers the cost of receiving the call, making it a convenient option for global customer support and communication.
Conclusion
In conclusion, the international toll-free can face some issues with charging a call. A toll-free number is designed to call for free for callers within the country but the situation can be changed when you're dialing from abroad. It can charge high rates, so to avoid such problems, you can research and consult with the service provider about costs.
Hence, toll-free numbers may offer cost-free communications within a specific country, but they differ for international calls. So it is essential to stay informed and explore the means of communication to avoid unexpected expenses when dialing a toll-free number from overseas,
FAQS
Will I be charged for calling a toll-free number?
A toll-free number is a customer-oriented service provided by businesses. The call charge is billed to the receiver. So, you won't be charged for calling a toll-free number.
Are all 1 800 numbers free?
Yes, 1800 is accessible within a country for the United States and Canada, meaning this number is typically toll-free and does not incur any charges for dialing the number. But international calls to toll-free numbers may differ according to countries' rules and charges depending on the country's policies.
Can you call a toll-free number from anywhere?
Yes, according to the prefix number provided by the service provider, a toll-free number, you can call from anywhere, locally or internationally.