The Pros and Cons of Toll-Free Virtual Numbers for Call Centers
In a fast-paced business world, call centers are the vital hubs of customer service. At the same time, toll-free virtual numbers have become a popular choice for handling customer service operations.
These numbers provide strategically necessary benefits, from cost savings to an enhanced customer experience. Furthermore, they enable call centers to adapt to any changes based on business needs. However, like any piece of technology, it also has some drawbacks.
In this article, we will discuss the potential pros and cons of toll-free virtual numbers for call centers. This information will allow businesses to make the right decisions while adding toll-free phone numbers to their arsenal.
Pros of Toll-Free Virtual Numbers for Call Centers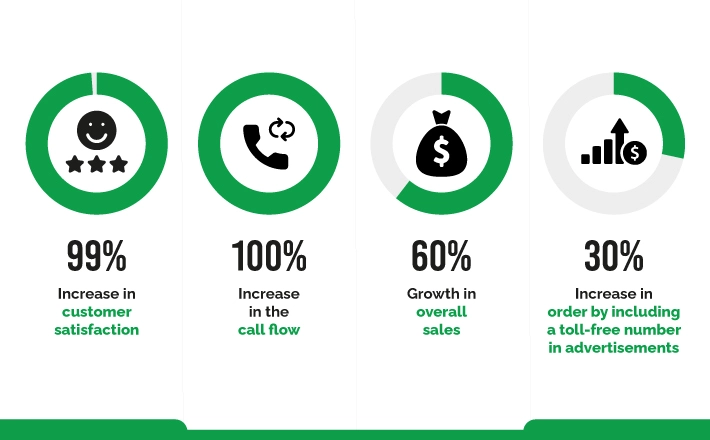 A virtual toll free number benefits call centers in many ways. Some of them are as follows:
Increased Customer Satisfaction
With a toll-free number, customers can reach out to businesses anytime to ask about their queries and problems without being frustrated by long wait times or wasting time talking to the wrong person. This experience increases overall customer satisfaction.
When a business adds toll-free numbers, it showcases its commitment to customer service and willingness to listen to all customers' valuable feedback and complaints. This assures the target audience that they can connect with the business at any time, whenever necessary.
Likewise, customers who receive good customer service and a positive experience are more likely to become regular customers. In addition, satisfied customers refer the company to their family and friends, which increases customer numbers.
Virtual toll free numbers offer flexibility to a call center. A call center doesn't need to physically establish a company in a specific location after buying a toll free virtual number. Whether the call center changes its location or operates remotely, it can easily access toll-free virtual numbers from a laptop or a cell phone.
Some service providers allow you to include an extension in your toll free number. You can use that extension number in your sales campaign, through which customers can directly talk to the sales team with call-to-action features.
On the one hand, the caller will be satisfied due to the flexibility to call the sales team directly. On the other hand, a call center will get the most benefit from the campaign.
You can show that your business is easily accessible to customers all over the country through a virtual toll free number.
It doesn't matter whether your company has a physical presence in a particular location or not; you can add a personalized touch to your business by providing your prospective customers with a phone number where they can reach you. It creates the impression that your company is physically there, establishing a national presence.
Moreover, with toll-free number extensions, you can create your local presence in different areas by allocating unique extension numbers for a region.
Brand recognition is essential to increasing sales performance and attracting more customers to your company. And one way to enhance brand recognition is by buying cloud-based toll free numbers. Toll-free numbers allow customers to contact you for free, thereby creating an impression that your company highly values customer service.
Moreover, customers are more likely to call a company if its phone number is easily accessible. Here, too, toll free numbers come to the rescue. You can place your number on your website, marketing campaigns, banners, etc for people to see. On top of that, they are easier to remember than other local or mobile phone numbers.
Cheaper Than a Local Telephone Number
A virtual toll free number doesn't require phone cables, or other hardware requirements like your typical wired landline phone, reducing overall set-up costs.
It is easy to employ toll-free numbers for your business. You can buy an available phone number from a reputed service provider and pay a one-time set-up fee and monthly fees. After that, a service provider will take care of everything.
Similarly, with one toll-free number, businesses can expand their presence without buying multiple local numbers, resulting in overall low telecommunication costs.
Likewise, a toll-free virtual number comes with various features such as call routing, recording, forwarding, IVR support, unlimited calling, etc. A call center doesn't need to spend extra money on those features as they come with the package, which automatically reduces costs.
Enhanced sales performance
Toll-free numbers also have a significant positive impact on a business's sales performance. These numbers provide customers with a direct line of communication and enable companies to offer quick and easy access to information, leading to higher conversion rates.
Toll-free numbers also facilitate the efficient handling of sales inquiries. It connects customers directly to sales representatives; as a result, customers will receive personalized and targeted assistance, which enhances sales performance.
Cons of Toll Free Virtual Numbers for Call Centers
A toll free number isn't only advantageous for call centers but also has some drawbacks. Here are some disadvantages that call centers might get after buying toll free virtual numbers.
In toll free number, the receiver of the call solely needs to pay the incoming call charges. As a result, when a customer (a dialer) calls a call center to discuss their problems, the receiver (i.e., the call center) needs to pay the incoming call charge.
Increase in Unnecessary Calls
When a caller knows that they don't need to pay for the outgoing call, there is a chance that they may make unwanted calls to the call center during their free time. As a result, a toll-free service provider might receive unnecessary customer calls. This activity wastes valuable time for call center agents.
Need a Good Internet Connection
A virtual toll free phone number requires good internet connectivity to function. Therefore, the call quality may be hampered if there is no internet connection or a poor internet connection. Moreover, one can't operate toll-free or other virtual numbers offline or without internet access.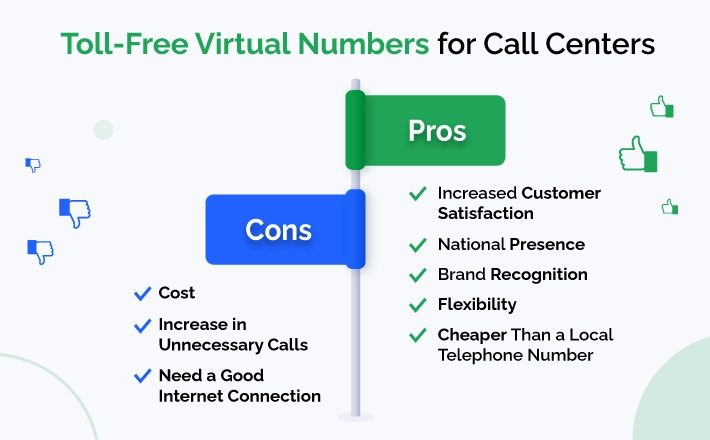 Best Practices for Using Toll Free Virtual Numbers in Call Centers
A call center's first step to entering the digitized world is buying a virtual number for their company. However, a call center must consider the following best practices to fully take advantage of the virtual business phone system:
I. Call Forwarding
You should use the call-forwarding feature of a cloud-based toll-free number to forward incoming calls from one phone to another. It ensures that no calls are missed. Also, this feature allows you to transfer your incoming call to another person's phone if you are busy or traveling.
II. Integrate with CRM software
You should integrate your toll-free number with customer relationship management (CRM) software. A CRM software system keeps track of customer information and helps streamline business operations by providing information on customer behavior, how long a customer has been with a business, purchase history, what products customers like and dislike, etc.
III. Implement Call Recording Feature
One of the outstanding features available on the toll free number is the call recording feature. It allows a call center to record each outgoing and incoming call.
And call recording offers benefits for a call center. Firstly, it helps to check your customer service, and secondly, you can use it to train new employees to talk with clients. Finally, these recordings can be presented as proof if any problems occur in the future.
IV. Add Extensions
Toll-free virtual number extensions help companies set up a phone system through which calls can be directly redirected to the respective employees and departments of the call center. Hence, customers can instantly talk to the respective departments through their cell phones.
This will help save valuable time for customers and employees and facilitate streamlined communication between call center agents and customers.
How to Choose the Right Virtual Toll Free Number for Your Call Center
It is crucial to choose the correct toll free virtual number for your call center that aligns with your company's needs and goals. Here are a few factors to take into account:
1. Choose Reputed Service Providers
Many toll free number service providers in Canada and the USA promise to provide the best toll free number service. However, all of them don't offer the service they promised. You should research these service providers and choose a genuine one.
Consider factors like the offered price, customer support level, online reviews, reliability, and features while selecting the best service providers.
2. Price
It is necessary to carefully examine the prices of toll-free offered by different service providers. You should consider subscription fees, toll-free number costs, monthly payments, per-minute rates, incoming and outgoing charges, and extra costs for additional features.
After knowing the price, you can buy toll-free phone numbers from the service provider that charges minimal fees.
3. Features to Include
Many virtual phone number service providers let you decide which features to include and exclude. If you are on a budget and want only basic features like call routing, call recording, call forwarding, and voicemail, then you can buy toll-free phone numbers, that include those features.
However, suppose you wish to have extra features like IVR (Interactive Voice Response) support, call analytics, and integration with CRM (Customer Relationship Management) software. In that case, you can include those features when buying a phone number.
Conclusion
To sum up, toll-free numbers offer numerous advantages for call centers, such as increased customer satisfaction, a national presence, brand recognition, and the flexibility to operate from anywhere.
However, there are also some disadvantages to toll free numbers for call centers, like an increase in unnecessary phone calls and the need for good internet.
Call centers should consider the pros and cons before implementing toll-free virtual numbers to ensure they align with their business objectives.