Everything You Need To Know About 602 Area Code
Are you receiving calls from area code 602 and wondering where it is from? Or, you may have someone in Arizona, and you are looking for an area code phone number to communicate with them seamlessly and affordably. If so, this blog will help you cover everything you need to know about the 602 area code.
Knowing about the 602 area code is very important if you reside in Arizona, plan to live there, or maybe establish a business. So, here we will cover the 602 area code number, its history, operation, cities, and benefits. Let's start with the definition.
What is the 602 Area Code Number?
602 area code or commonly known as the " Phoenix area code," is the telephone area code serving Phoenix, Arizona. 602 area code initially covered all of Arizona but has been limited to some specific regions in Arizona, including Phoenix, Glendale, and Paradise Valley.
Area code 602 was put in service in 1947 as one of the original 86 area codes created by AT&T and the Bell System.
The area code 602 was split in 1995, translating some phone numbers to 520. Area code 602 was again split into area code 623 in 1999 and area code 480 in 1999 to meet the demand.
If you need to call to or from the Phoenix region, use the 602 area code followed by the specific local phone number.
How Does The 602 Area Code Work?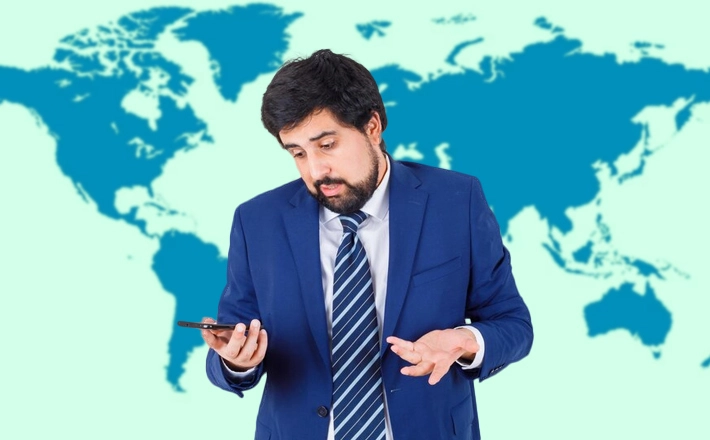 The 602 area code is registered under North American Numbering Plan (NANP). 602 area code works like any other area code, where all the calls are routed to the telecommunications infrastructure that manages phone numbers within that specific area. 602 does not have an overlay. Here are some detailed points on how it works.
1. Geographic Region
Each area code is associated with a distinct geographical area. In the case of area code 602, its primary city is Phoenix, which includes a sizable portion of Maricopa County in Arizona. It mainly offers service in three major cities: Phoenix, Glendale, and Paradise Valley.
2. Number Assignment
Different telecommunications companies, including AT&T, Verizon, and other regional carriers, are given telephone numbers in the 602 area code.
3. Dialing
Callers can dial the seven-digit number to make a local call (one inside the same area code). This means callers using area code 602 can call without dialing 602.
However, callers must dial the complete 10-digit phone number, including the area code, when calling another area code number. For example, if you have to call a person in the 480 area code premises, dial the 10-digit number, including the area code number, i.e., 480-555-1234 (555-1234 is a demo number).
Where is the 602 Area Code?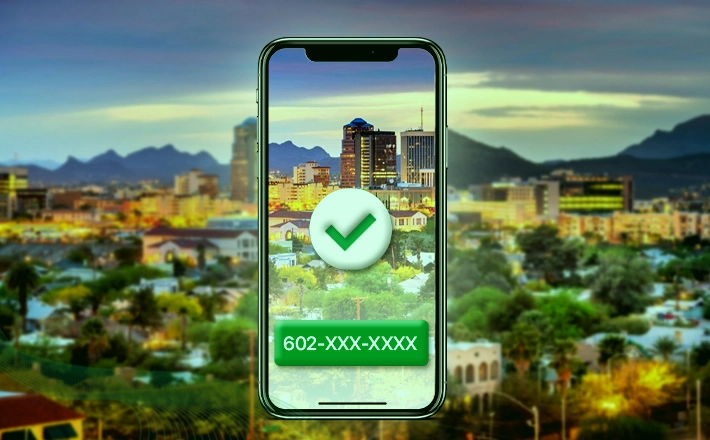 Area code 602 is located in Arizona and observes Mountain Standard Time (MST). It covers cities in Maricopa County, including Phoenix and parts of Glendale and Paradise Valley.
List of Cities in Area Code 602
Area code 602 offers service in a selected number of cities in Arizona. Area code 602 is available in Maricopa County. The 602 area code is the only available area code in Phoenix, the largest city which uses it. Here is a list of cities that use area code 602.
Phoenix, AZ

Glendale, AZ

Paradise Valley, AZ
These three cities have over 95% of the total users of the 602 area code.
💡 Fun Fact: About 92% of 602 area code users are from Phoenix.
How Does 602 Area Code Number Help Your Business?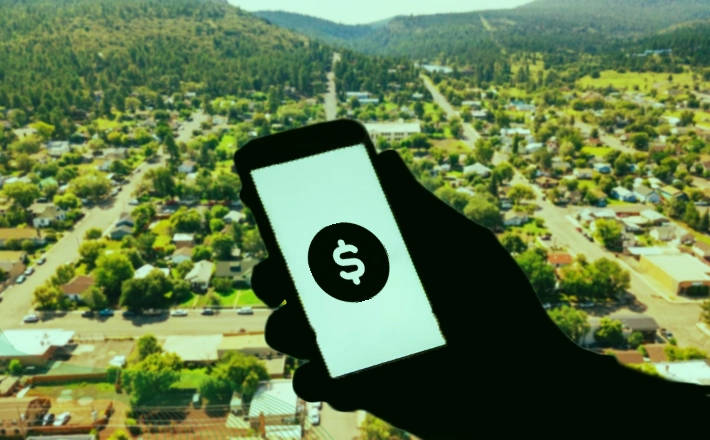 Using the 602 area code is one of the best ways to enhance your business in Phoenix, Arizona. For instance, you can easily establish a local presence in major cities like Phoenix. Furthermore, you can offer better customer service and see an increase in the call acceptance rate.
In addition, there is increased flexibility and scalability, customer convenience, privacy, and security. Here are some essential benefits of 602 area code numbers to help your business.
1. Establish a Local Presence in Maricopa County
An Arizona area code creates a sense of local presence and credibility for your business in the Arizona market. Using area code 602, you can expand your business in many new places, including big cities like Phoenix. Customers are more likely to trust and engage with a business that appears to be based locally, as it signifies that you are accessible and at their convenience.
Phoenix has a population of over 1.625 million. So it can be a good place to establish a presence as you will get exposure to a large population and customer base to expand your business.
2. Increase the Rate of Call Acceptance
When businesses make cold calls to potential customers, there is a good chance that the leads might not answer the unknown number. However, if your business uses a specific area code, there is a greater chance that the leads will receive and engage in the call.
As a result, you can use the 602 area code to engage with potential customers in Arizona.
3. Better Customer Service
Customers can save money by eliminating long-distance charges when calling a 602 local area code number. Likewise, customers in your local area can inquire more easily about your products and services because it is more convenient to contact you.
As a result, customer satisfaction can be enhanced, leading to more repeat business.
4. Marketing Advantage
You can use a local area code to help you better target customers in the 602 area in your marketing campaigns. People often prefer dealing with local businesses and having a 602 number can give you a competitive edge over companies with non-local phone numbers in various regions of Arizona.
5. Enhanced Communication
Businesses can use a 602 area code number for customer support or sales. This can help establish clear communication channels between the customers and the business. Customers might feel more comfortable contacting a local number for assistance or inquiries.
How to buy a 602 Area Code Phone Number?
To buy a 602 area code phone number, choose a telecommunications provider that offers services in your area. Make a list of voip phone service providers, check their website, or contact them to see if 602 area code numbers are available. If it is available, look for the features and plans. Then you can look for a suitable number.
Once you find a suitable number, purchase it through their platform. The provider will assist you in setting up your phone service and verify the pricing and terms before finalizing the purchase. Keep in mind that availability and procedures may vary among providers.
Steps to Purchase a 602 Area Code Number
Purchasing a 602 area code for Arzona is simple and convenient with us. You can follow the simple steps below to get your 602 area code number.
Sign up and fill up your business details to register.

Choose the Area Code for your preferred country as the USA.

Select 602 as your local area code and look for available virtual phone numbers.

Choose a subscription package and purchase

Use the Area Code for your Business use.
Reasons to Buy 602 Area Code Number From Dialaxy
There are many providers in the market which offer 602 area codes. However, buying it from us has several advantages, including cost-saving, reliability, advanced features, easy setup, flexibility, and many more. So, here is why you should buy the 602 area code number from us.
1. Reliable Quality
First, We ensure a dependable and consistent connection for your communications. It provides reliable call clarity and minimal disruptions, so you can confidently engage in conversations without worrying about dropped calls or poor audio quality.
2. Cost Saving
We are one of the most affordable providers offering competitive pricing plans, saving you money on your communication expenses. Our cost-effective solutions enable you to maintain effective communication without breaking the bank.
We ensure that we do not have additional fees for setup or use and offer three subscription plans: essential, standard, and enterprise, available monthly or yearly.
3. Excellent Customer Service
Our business prioritizes customer satisfaction over anything else. Hence, we offer one of the best customer services, providing exceptional support and assistance. Their 24/7 responsive customer service team is readily available to address queries or concerns, ensuring a smooth experience.
We offer around-the-clock services suitable for all customers despite their time zone and geographical location.
4. Flexibility and Scalability
We offer one of the industry's most flexible and scalable services, catering to your needs. Whether you require a single number or multiple lines for your business, We can accommodate your requirements and easily adjust as your communication needs grow. Furthermore, you can adjust the plans, subscriptions, and features per your business's growth.
5. Advanced Features
You can access advanced features by opting for Dialaxy's 602 area code number. These advanced features include call forwarding, voicemail, conferencing, and Interactive Voice Response (IVR), empowering you with efficient communication abilities and opportunities.
6. User-Friendly Interface
Lastly, we offer a simple, user-friendly interface for managing your phone number and associated services. Its features are easy to use, making it ideal for all users. The user-friendly interface makes it easy to control your communication settings and access features without technical challenges.
Conclusion
The 602 area code is crucial for the telecommunication of Phoenix, Arizona, and its surrounding areas like Glendale and Paradise Valley. Area code 602 can be a game changer if you want to establish a local presence in Arizona, gain local trust and credibility, avoid long-distance costs, gain a competitive advantage, and expand market reach.
You can decide if you or your business needs the 602 area code based on the needs, operating ways, and other factors mentioned above. Finally, providers like Dialaxy offer reliable and competitively priced solutions with excellent customer support and a user-friendly interface for businesses seeking a 602 area code number.
Frequently Asked Questions (FAQs)
Is 602 a toll-free number?
602 area code is not a toll-free number, as both local and international calls are subjected to fees and charges.
How do I get a local 602 phone number?
You can follow these simple steps to get a local 602 phone number.
Sign up and fill up your business details to register.

Choose the Area Code for your preferred country as the USA.

Select 602 as your local area code and look for available virtual phone numbers.

Choose a subscription package and purchase

Use the Area Code for your Business use.
Does Phoenix have two time zones?
No, Phoenix does not have two time zones. Phoenix and the entire state of Arizona operate in the same time zone all year round: Mountain Standard Time (MST).
What is the Phoenix zip code?
Phoenix has several zip codes for its various regions and neighboring places. Here is a list of all the Phoenix zip codes:
Ahwatukee – 85044, 85045

Arcadia – 85018

Biltmore – 85016

Central Phoenix – 85012, 85013, 85014, 85015, 85016, 85017, 85019, 85031

Downtown Phoenix – 85003, 85004, 85006, 85007, 85034

North Phoenix – 85020, 85021, 85022, 85023, 85024, 85027, 85028

Northeast Phoenix – 85032, 85050, 85054, 85085, 85086

Northwest Phoenix – 85029, 85051, 85053

South Phoenix – 85040, 85041, 85042, 85043, 85044, 85045, 85048

West Phoenix – 85033, 85035, 85037, 85039