All Essential Facts and Information about 480 Area Code
Do you want to establish your business's strong local presence in Arizona but don't know how to do it? No need to worry. We are here to help you with a comprehensive guide.
Getting area code 480 is the answer to your problem. 480 area code helps you to build a local presence within Arizona and its neighboring regions. Not only that, it helps to enhance your brand identity and boost sales.
If you want to know more about the benefits of getting the 480 area code and how to get it, read this blog until the end. You will get all the essential facts and information about the 480 area code from this blog post. So, let's dive into the topic.
What is 480 Area Code Phone Number?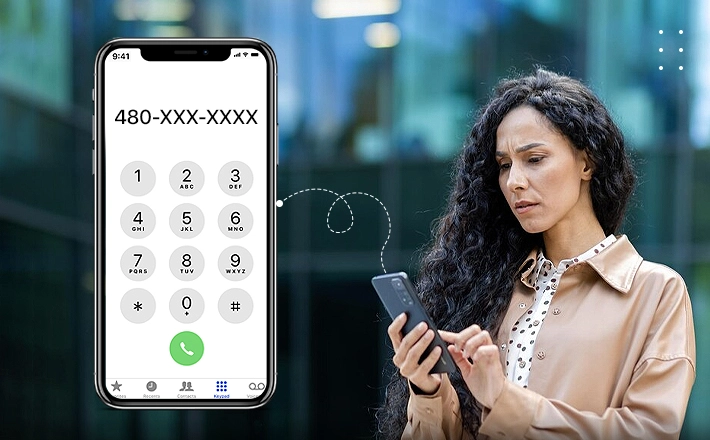 480 area code phone number is a telephone area code listed under the North American Numbering Plan in the United States. It is a part of a phone number that identifies a specific geographic location associated with the area code.
Area code 480 majorly serves Mesa City of Arizona State and the surrounding areas. 480 was created from 602 and is not the original area code created by AT&T and the Bell System in 1947. It is an overlay area code of 602 and was first put in service on March 1, 1999.
How Do 480 Area Code Phone Numbers Work?
The 480 area code phone number works the same way as other codes that are registered under the North American Numbering Plan, which means it operates as a geographic coverage, dialing, number assistance, number porting, and long-distance calling. Here is a detailed explanation for each of them.
1. Geographic Coverage
480 area code covers Mesa, AZ, and the surrounding areas. It serves two counties: Maricopa and Pima. It provides its services to 18 cities including, Phoenix, Chandler, Scottsdale, Gilbert, and Tempe.
This indicates that if you are getting calls with area code 480, they are from one of these regions. It operates to locate the geographic area which is associated with the number.
2. Ten-Digit Dialing
Dialing the full 10-digit along with the area code is a must in the United States. You can't miss an area while making the call. So, you must dial the complete 10-digit phone number along with the 480 area code to make calls in Mesa and the surrounding areas.
Let's understand it with an example: if you need to call someone at 480-222-4321 phone number, you must dial the whole number. Here, 480 is the area code that is located in Mesa City, 222 is the central office code, and 4321 is the actual number.
3. Number Assistance
Area code 480 can act as a number assistance. It makes it easy to find numbers if you are not sure about the exact number you are looking for. As area code 480 is associated with Mesa, AZ, it is certain the phone number is from one of these regions. It works as a clue to locate the right information.
4. Number Porting
Area code 480 makes it easy to switch phone service providers by a process called number porting. You can keep your area code and familiar phone number even if you change providers.
5. Long-Distance Calling
Calls made outside the Mesa region are considered long-distance calling and those calls that are considered long-distance might incur an extra charge. You may need to pay money depending on the region and phone plan.
On the other hand, calls made within the Mesa region are considered local calls and you don't need to pay extra charges. Calls considered local do not charge additional fees.
Where is Area Code 480 Located?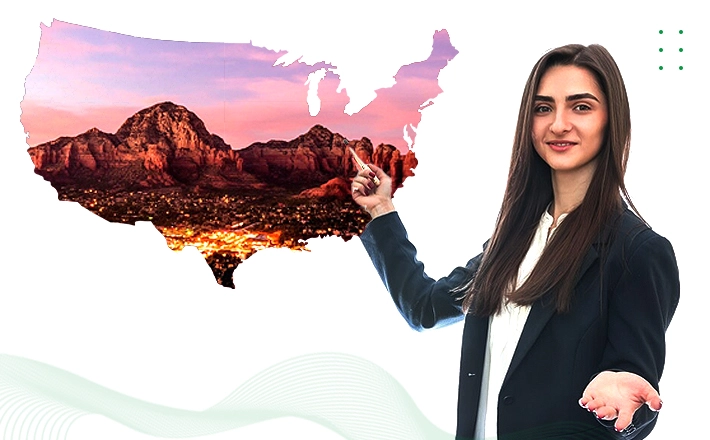 Area code 480 is located in Maricopa and Pinal counties of Arizona State. It covers Mesa as the major city and other cities like Chandler, Phoenix, Gilbert, Tempe, and many more. Its neighboring cities are San Diego, Las Vegas, and Tucson.
Nearby Area Codes
Here is the list of nearby area codes of 480.
| | | |
| --- | --- | --- |
| Area code | State | Major City |
| 623 | Arizona | Phoenix |
| 619 | California | San Diego |
| 520 | Arizona | Tucson |
| 702 | Nevada | Las Vegas |
| 928 | Arizona | Yuma |
List of Cities in Area Code 480
Area code 480 covers 18 top cities in Arizona, among them, Mesa is a major city with a population of over 500,000. The list of top cities covered by the 480 area code is given below.
Apache Junction, AZ

Black Canyon City, AZ

Carefree, AZ

Cave Creek, AZ

Chandler, AZ

Fountain Hills, AZ

Gilbert, AZ

Gold Canyon, AZ

Guadalupe, AZ

Mesa, AZ

Paradise Valley, AZ

Phoenix, AZ

Queen Creek, AZ

Rio Verde, AZ

San Tan Valley, AZ

Scottsdale, AZ

Sun Lakes, AZ

Tempe, AZ
Why Your Business Needs a Mesa Area Code Number?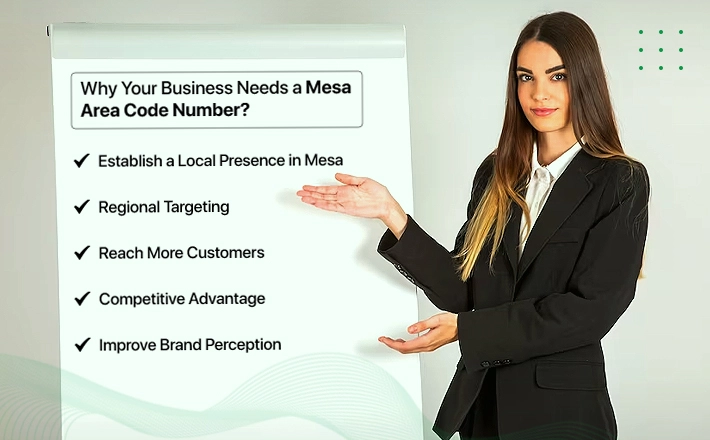 Mesa area code number provides several benefits to your business. With the Mesa area code, you can establish a local presence of your business in Arizona. You can reach out to a wide range of audiences and get the opportunity to expand your business. Below are the reasons you must consider getting a Mesa area code for your business.
1. Establish a Local Presence in Mesa
With area code 480, you can establish a local presence in Mesa. People immediately consider your business as local when they see the 480 area code in your business phone number.
Your business may be outside the Mesa region, but you can still make a virtual presence there, helping you to build trust and attract potential customers. You are presenting your business as a part of the Mesa community.
2. Regional Targeting
Businesses planning to expand their market in Mesa City can benefit by acquiring the 480 area code as it indicates regional focus, assisting in customizing marketing initiatives and goods and services to the preferences and requirements of regional consumers.
3. Reach More Customers
Area code 480 helps your business reach more customers as you can gain their trust by providing a local appearance. You can attract and engage more potential customers from the Mesa area.
With the Mesa area code, your business will get a chance to be seen by many people, leading more people to your website, getting more leads, and making more sales.
4. Competitive Advantage
In business, a small advantage makes a huge difference. You can get a competitive advantage by getting area code 480 as you are displaying your business as a part of Mesa City and gaining the trust of local citizens. Your competitors might not be aware of this advantage.
This little difference sets you apart from your competitors and proves you as a genuine brand. You can easily stand out from the crowd with the help of area code 480.
5. Improve Brand Perception
Perception plays a huge role in business because people believe in things that they see with their eyes. If a business fails to make a good impression, it may fall behind. Connecting your business with Mesa City can significantly improve our brand image.
You are giving the perception to people that your business is part of Mesa's lively landscape. This will result in an increase in the brand's identity and you can gain the trust of people, eventually boosting sales.
How do I buy a 480 Area Code Phone Number?
You can buy a 480 area code phone number from a different service provider. You can research the providers and contact them to find out if they provide area code 480. If they provide it, you can tell them and they will give you one. But before purchasing it, you must ensure you are getting it from a reliable provider and that the plan you are choosing meets all your business needs.
Dialaxy is a reputable service provider to get area code 480 from. Follow the given steps to get one.
Create an account on Dialaxy if you haven't created one.

Fill in your business information and additional details as required.

Choose the country USA for area code 480.

Select area code 480 and look for available virtual phone numbers. You may get the option to choose vanity toll-free, and local number.

Choose a suitable subscription plan and make payment.
Reasons to buy 480 Area Code Virtual Phone Number from Dialaxy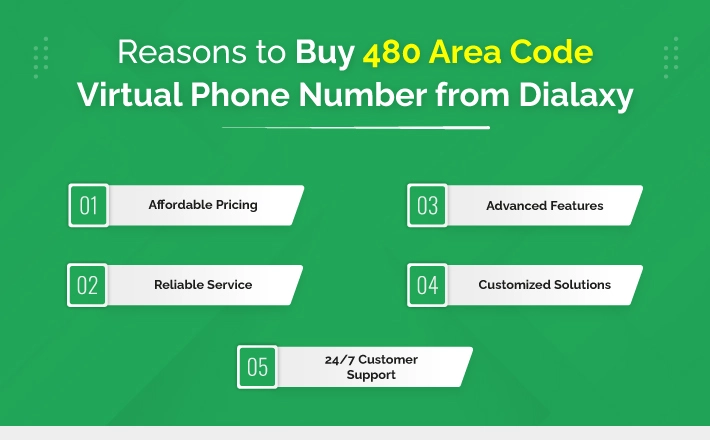 Choosing the right service provider to buy 480 area code numbers might get confusing as there are many providers in the market. They have their own pros and cons. However, if you want an all-rounder and trustworthy provider that provides advanced features, Dialaxy is an ideal choice for you. Let's discuss the reasons why you should buy the 480 area code from us.
1. Affordable Pricing
The pricing structure of Dialaxy is designed to be suitable for all sizes of business. We offer three different subscription plans: essential, standard, and enterprise, which are available on a monthly and yearly basis. So, you can choose the plan that is best suited for your business.
Moreover, our pricing structure is transparent and straightforward as there are no overcharges or hidden fees. Other miscellaneous expenses are included in the subscription plan.
2. Reliable Service
We ensure to provide reliable services from the day you make contact with us. Whether it is just answering simple questions or making long-term relationships and business with us, we provide excellent services to our customers.
You can test our reliability by booking a free demo here. You will experience HD voice quality with no disruption at all. You can confidently engage in a call without worrying about interruptions and dropped calls.
3. Advanced Features
Purchasing area code 480 from us gives you access to advanced features such as voicemail, call recording, video conferencing, call routing, Interactive Voice Response (IVR), and more. These features enhance your communication experience with clients and employees, boosting the overall productivity of your business.
4. Customized Solutions
We provide solutions that are customized to customers' needs because we realize every business is unique and has different requirements. We tailor our services to make sure they solve your problems in the best possible way.
Further, you can tell us about your particular business requirements so that we can offer services accordingly.
5. 24/7 Customer Support
We have a dedicated customer support team to address your inquiries 24/7. You can contact our team anytime you encounter problems. We will be always at your service without caring whether it is at midnight, midday, or early morning.
We make sure our customer's issues are solved frequently as we don't want them to wait for a longer period of time.
Conclusion
To sum up, getting area code 480 for your business can be a game-changing movement as it helps to make a local presence and expand market reach in one of the coolest cities of the U.S., Mesa. Further, it assists your business in targeting a regional market in Arizona, improving brand perception, and getting a competitive advantage.
If you are thinking of getting a 480 area code for your business, buying it from Dialaxy is a good investment as we offer services at affordable prices. Our reliable service, advanced features, customized solutions, and 24/7 customer support make it the perfect choice for you to get a 480 area code.
FAQs
Who calls from area code 480?
If you are getting calls from a number with area code 480, it is from one of the regions in Arizona State. 480 area code covers Maricopa and Pinal counties and cities like Chandler, Phoenix, Gilbert, and Tempe, which means the caller must be from one of these areas.
What is the zip code for the 480 area code?
In Arizona, different cities have different zip codes. 85202, 85217, 85212, 85218, 85219, 85220, 85221, 85278, 85377, 85237, 85331, etc. are some of the zip codes for the 480 area code.
What is the time zone of the 480 area code?
480 area code is located in the (UTC-7) time zone which is observed in the Mountain Time Zone during standard time, and the Pacific Time Zone during the other eight months.
Is 480 a toll-free area code?
No, 480 is not a toll-free area code. It is the telephone area code that routes the call to a specific geographic location.