469 Area Code: Essential Information and Insights
Are you a business owner, looking to expand your business's presence to a new location? If you are considering expanding it to Dallas, Texas, you need to know about the 469 area code. In this blog, you will get all the essential information and insights about the 469 area code.
You will learn about the history of area code 469, where it covers, and how it works. Moreover, you will learn why is it important for businesses like yours and how you can purchase it for your business or personal use. Let's start learning what area code 469 is.
What is 469 Area Code Phone Number?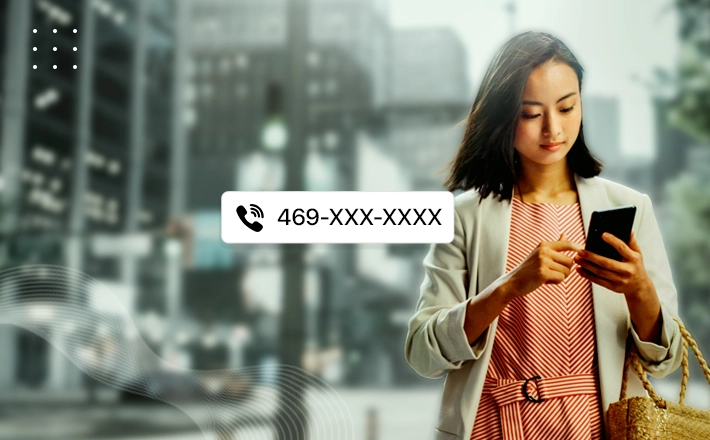 A 469 area code is a telephone area code listed under the North American Numbering Plan (NANP) that identifies a specific geographic region in the United States. It serves Dallas City in Texas State and most of the eastern Dallas–Fort Worth urban area, majorly known as the Metroplex.
The 469 is an overlay of area code 214, which is one of the 86 original area codes created by AT&T and the Bell System in 1947. So, it was created from area code 214 and was first put in service on July 1, 1999. Along with 469, the other two area codes, 972 and 945 were created from 214 in the years 1996 and 2021 respectively.
How Do 469 Area Code Phone Numbers Work?
469 area code works the same way as other area codes that are registered under North American Numbering Plan (NANP). In area code 469, calls are routed to the telecommunications infrastructure that manages phone numbers within the specific area. Here are more ways on how it works.
1. Geographic Coverage
Area code 469 covers Dallas, TX, and the surrounding areas. It serves counties like Collin, Denton, Ellis, Kaufman, and Rockwall in Texas. And the major cities served by area code 469 are Plano, Garland, Irving, Mesquite, McKinney, Carrollton, Frisco, and Richardson.
So, it means if someone has a phone number with area code 469, they are located in one of these regions.
2. Dialing
When you call a specific number, you must dial the full 10-digit phone number along with the area code 469. It operates as a direction to specify a geographical location covered by the 469 area code.
For example, if you want to call a business with a number of 469-111-1234, you must dial all 10 digits.
3. Number Assistance
Area code helps to find a phone number if you are not sure whose number you are looking for. If the phone number contains the area code 469, it makes it easier to find that you are looking for someone in the Dallas, Texas area. It can be used as a clue to locate the right information.
4. Number Porting
If you already have an area code phone number and want to switch to a service provider, you can do it by a process called "number porting" without losing the existing area code number. You can keep the existing area code and retain your familiar phone number even when changing providers.
5. Long Distance Calling
Usually, a call made from outside the 469 area code region is considered a long-distance call. So, a long-distance call may be charged for different rates depending upon the plan and region. On the other hand, a call made within the area code 561, is considered a local call and does not charge additional fees.
Where is Area Code 469 Located?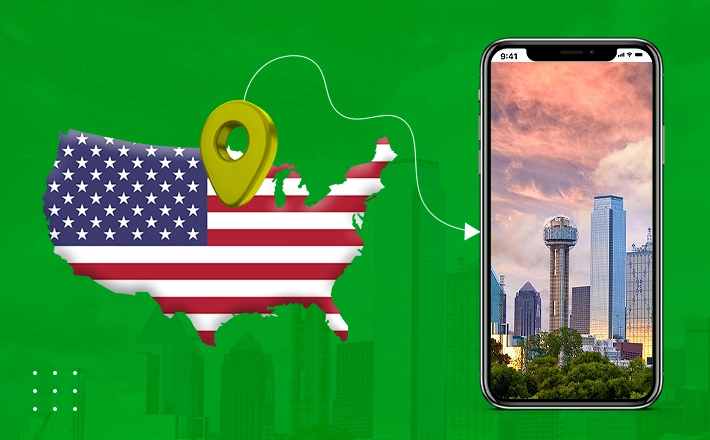 Area code 469 is located in the Dallas City of Texas state in the United States. It serves top cities like Plano, Garland, Irving, Richardson, Rowlett, and DeSoto. The major counties served by area code 469 are Collin, Denton, Rockwall, Ellis, and Kaufman.
Along with 972 and 945, the 469 area code is an overlay area code of 214. This means these all area codes serve Dallas, Texas, and the surrounding areas.
Nearby Area Codes
Here is the list of nearby area codes of 469.
| | | |
| --- | --- | --- |
| Area Code | State | Major City |
| 682/817 | Texas | Fort Worth |
| 254 | Texas | Killeen |
| 940 | Texas | Denton |
| 430/903 | Texas | Tyler |
List of Cities in Area Code 469
Area code 469 serves 50 cities in Texas state. Dallas is the major and most populous city with a population of over 2,368,139 served by this area code. Below is the list of cities in area code 469.
Addison, TX

Allen, TX

Balch Springs, TX

Carrollton, TX

Cedar Hill, TX

Celina, TX

Cockrell Hill, TX

Coppell, TX

Dallas, TX

DeSoto, TX

Duncanville, TX

Fairview, TX

Farmers Branch, TX

Fate, TX

Flower Mound, TX

Forney, TX

Frisco, TX

Garland, TX

Glenn Heights, TX

Grand Prairie, TX

Heath, TX

Highland Park, TX

Hutchins, TX

Irving, TX

Lancaster, TX

Lewisville, TX

Little Elm, TX

Lucas, TX

McKinney, TX

Melissa, TX

Mesquite, TX

Murphy, TX

Ovilla, TX

Paloma Creek South, TX

Parker, TX

Plano, TX

Princeton, TX

Prosper, TX

Red Oak, TX

Richardson, TX

Rockwall, TX

Rowlett, TX

Sachse, TX

Seagoville, TX

Sunnyvale, TX

The Colony, TX

Travis Ranch, TX

University Park, TX

Wilmer, TX

Wylie, TX
Why Your Business Needs a Dallas Area Code Number?
In today's competitive business landscape, every advantage matters whether they are big or small. Dallas area code number is one such advantage that differentiates your business from your competitors.
The Dallas area code helps you to establish a local presence in Dallas, provides credibility and professionalism, enhances customer engagement, and gives your business expansion opportunities and competitive advantage.
Here are detailed explanations of how the Dallas area code number helps your business and why you should consider getting it.
1. Establish a Local Presence and Gain Trust
469 area code helps you to establish a solid local presence in Dallas and its surrounding areas. When people see your business phone number with a 469 area code, they will immediately recognize it as a local number.
This will create a sense of familiarity and local touch, so you can gain the trust of people that reside in the Dallas region. Moreover, people prefer to do business that is closer to them and is locally available.
2. Enhance Customer Engagement
With a Dallas area code, you can enhance your customer engagement. The 469 area code gives people the feeling of nearness and shows that you are part of their community. So people are more likely to engage with your business and accept the offerings you provide.
3. Credibility and Professionalism
A 469 area code shows that you are part of a vibrant economic hub like Dallas and you are serious about doing business in this area. It is like presenting your business as a well-established and trustworthy partner.
People will get the impression that you are organized and you really know what you are doing. It will help to foster confidence in your product or services and provide credibility and professionalism to your business.
4. Expansion Opportunities
Having a Dallas area code opens doors for your business to grow and do better. 469 area code creates a local appearance and helps to have more local touch, making it easier to connect and become part of the Dallas community. In this way, you will already have a good customer base which makes it convenient to open your company branches in nearby areas.
5. Competitive Advantage
With area code 469, you can stay ahead of the competition because you get an edge over competitors who might not have a local presence.
469 area code gives your business local trust and familiarity, credibility and professionalism, and improves customer engagement. All of these benefits help your business attract more customers and stand out from the crowd.
How do I buy a 469 Area Code Phone Number?
You can get the area code 469 phone number from virtual phone number providers. Purchasing it from the virtual service provider is a straightforward process. You can follow the given steps to easily buy the 469 area code phone number.
Research: Start by researching reputable virtual phone number providers. There are many service providers in the market, so make a list and compare them.
Check area code 469: Check whether they provide area code 469 by contacting their marketing and sales team.
Choose features and plan: If they provide the area code 469, choose a subscription plan that meets your business requirements. Look for the features that you want for your business.
Look for a suitable number: Look for your desired number. You may want a number that aligns with your brand identity or a number that is easy to remember.
Provide details: Provide your business details and additional information if the provider asks you to submit.
Make the payment: Complete the process by finalizing your payment.
Steps to Get 469 Area Code Phone Number
You can buy a 469 area code from Dialaxy by following the given steps.
Create an account by registering with your Email address.

Log in to the system.

For the 469 area code, choose the country as the USA.

Select 469 as your local area code and look for available virtual phone numbers.

Choose a subscription package and complete the payment.
Why Choose Dialaxy?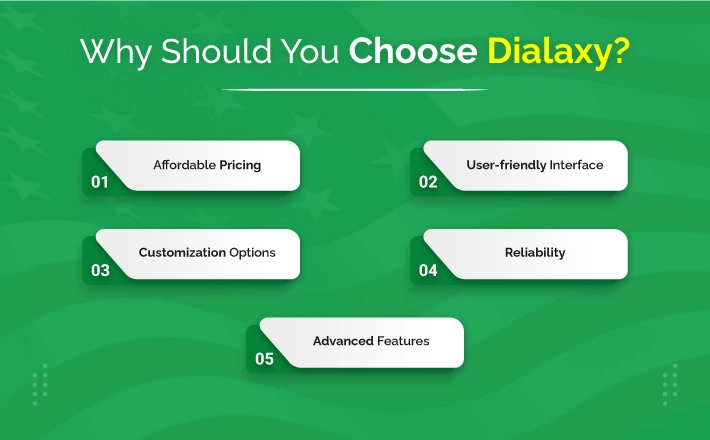 There are many service providers in the market that provides 469 area code for businesses. Among many providers in the market, Dialaxy stands out as the best service provider.
Buying area code 469 from us has several benefits including affordable pricing, a user-friendly interface, customization options, reliability, and advanced features. Here are reasons why you should choose us.
1. Affordable Pricing
We offer affordable pricing, suitable for businesses of all sizes. You don't need to spend a huge amount of money on our services. You can choose different plans that suit your business needs and budget.
We provide three subscription options: essential, standard, and enterprise, you can choose a suitable plan on a monthly or yearly basis.
2. User-friendly Interface
We believe in simple but effective solutions. So we have designed our interface with simplicity in mind. Anyone can easily configure the settings, set up the phone number, and access the features.
You don't need to be a tech or computer expert to control our interface. We ensure that our users don't get lost or face any confusion during the whole process.
3. Customization Options
With us, you can get the option to customize and tailor your virtual phone number features. You can adjust the settings according to your business need. This enables you to pick the features you need and remove the ones you don't need.
4. Reliability
We are a reliable service provider that provides top-quality services. We are committed to meeting our customer's unique needs at the exact time they want.
Furthermore, we make sure your call works well and you experience uninterrupted communication with your customers. You don't need to face calling problems like drop calls and low-quality voice calls.
5. Advanced Features
Our service come with advanced features including call recording, voicemail, video conferencing, unlimited call, message, and voicemail history, and 24/7 customer support.
The advanced features provided by us help businesses improve organizational communication and manage calls effectively. Businesses can boost productivity in their workspace and get the highest Return on Investment (ROI).
Conclusion
To conclude, having 469 is one of the best ways to attract customers and get ahead of the competition in the competitive market of Dallas. It helps to establish a local presence, enhance customer engagement, and create expansion opportunities for businesses.
Choosing the right service provider might get challenging as there are many service providers in the market. If you want services at affordable pricing, choose us as your service provider. We provide customization options and reliable and advanced features for all sizes of businesses.
FAQs
How do I stop spam texts from area code 469?
There are some steps you can take to stop spam texts from area code 469. You can block the number, use a spam filter app, check privacy settings, and contact your carrier to solve the issue.
Where do you live if your number starts with 469?
If your number starts with 469, it is considered that you live in the Dallas area or its surrounding areas. But it is not necessary for you to be physically present in Dallas, you can use area code 469 even if you are outside the region of Dallas city.
What is the difference between area codes 214 and 469?
The 469 is an overlay of area code 214, which is one of the 86 original area codes created by AT&T and the Bell System in 1947. So, it was created from area code 214 and was first put in service on July 1, 1999.