407 Area Code: An In-Depth Overview
Are you looking to establish your local presence in Central Florida? Or are you looking for an area code for personal use in cities like Orlando? Your answer to these questions might be 407 area code. This article will guide you through an in-depth overview of the 407 area code, including its significance, location, and benefits.
407, a three-digit area code in NANP, will help you establish a local presence in Florida while also assisting you in building a brand identity, enhancing mobility and flexibility, and improving customer satisfaction. Let's learn more about it, starting with its introduction.
What is the 407 Area Code Phone Number?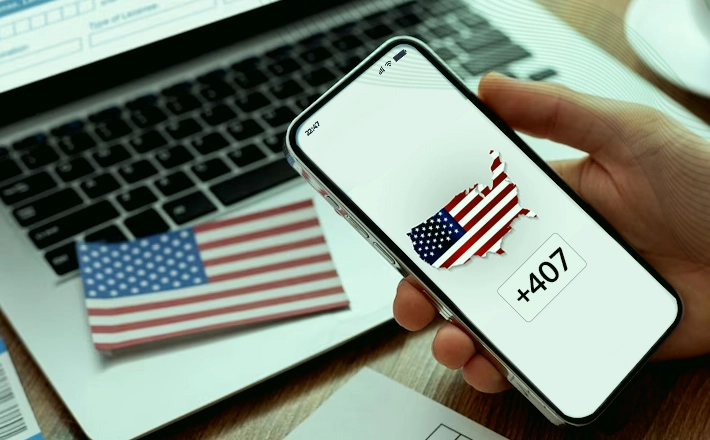 The 407, sometimes called the "Orlando area code," is a telephone area code in Florida, United States. Area code 407 covers parts of Central Florida, including the largest city, Orlando, and other cities like Kissimmee, Ocoee, Sanford, Apopka, and Altamonte Springs. 407 Area code was first put in service on April 16, 1988.
The area code was created from area code 305. A split in 407 in 1996 created the need to update some phone numbers to area code 561 and again in 1999 to form area code 321. 689 was created in 2019 and is currently an overlay to 407.
If you need to call to or from the Central Florida region, use the 407 area code followed by the specific local phone number.
How Does the Area Code 407 Work?
Area code 407 is registered under North American Numbering Plan (NANP). 407 area code works like any other area code. In the 407 area code, calls are routed to the telecommunications infrastructure that manages phone numbers within that specific area. Here are some detailed points on how it works.
1. Geographic Area
The 407 area code covers parts of Central Florida, including major cities like Orlando, Kissimmee, Sanford, and other cities in Florida. It offers service in over 50 cities and four counties.
2. Telephone Number Assignment
A caller in the 407 area code must only dial the seven-digit local number to reach another local number in the same area code. However, callers must dial the full 10-digit number, including the area code, for long-distance calls or calls to numbers outside the 407 area code.
3. Overlays
As population and telecommunication needs grow, new area codes are sometimes introduced to serve the same geographic area alongside the existing area code. This is known as an overlay. 407 area code has 2 overlays (321 and 689) that serve the same area.
For example, an overlay area code like 689 may have been introduced in some areas to accommodate the demand for more phone numbers without changing the existing 407 area code.
4. Dialing Changes
When area code overlays for another area code are introduced, there is a good chance of changes in the dialing process compared to the original area codes. This is done to ensure all calls are completed successfully.
For instance, callers may need to include the area code even when dialing a local number within the same area code. As area code 407 is an overlay, you must include the area code when dialing a local number within the same area code.
Where is the 407 Area Code?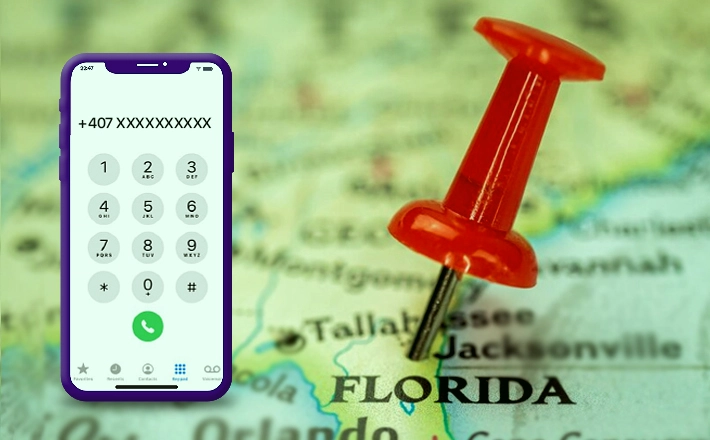 Area code 407 is located in Central Florida, United States of America. It primarily covers regions within Orange, Seminole, Osceola, and Brevard counties. 407 area code overlay with the same geographic boundary as the preexisting 321 and 689.
It covers several cities and communities in Central Florida, including Alafaya, Altamonte Springs, Apopka, Azalea Park, Belle Isle, Bithlo, Buenaventura Lakes, Palm Beach, and Orlando, Florida.
You must include the 407 area code when dialing someone whose phone number is in the 407 area code. Area codes designate specific geographic regions within the North American Numbering Plan (NANP) and are essential for efficient communication and proper call routing.
👉You may also like: Area Codes for Local Virtual Numbers in the USA
List of cities in Area Code 407
Area code 407 covers a wide range of cities in Florida. It offers services in Orange, Seminole, Osceola, and Brevard counties. Here is a list of the top 50 cities that uses area code 407:
Alafaya, FL

Altamonte Springs, FL

Apopka, FL

Azalea Park, FL

Belle Isle, FL

Bithlo, FL

Buenaventura Lakes, FL

Casselberry, FL

Celebration, FL

Cocoa, FL

Conway, FL

Deltona, FL

Doctor Phillips, FL

Fairview Shores, FL

Fern Park, FL

Forest City, FL

Four Corners, FL

Goldenrod, FL

Horizon West, FL

Hunters Creek, FL

Kissimmee, FL

Lake Butler, FL

Lake Mary, FL

Lockhart, FL

Longwood, FL

Maitland, FL

Meadow Woods, FL

Mims, FL

Oak Ridge, FL

Ocoee, FL

Orlando, FL

Orlovista, FL

Oviedo, FL

Pine Castle, FL

Pine Hills, FL

Poinciana, FL

Port St. John, FL

Sanford, FL

Sky Lake, FL

Southchase, FL

St. Cloud, FL

Titusville, FL

Union Park, FL

University, FL

Wedgefield, FL

Wekiwa Springs, FL

Williamsburg, FL

Winter Garden, FL

Winter Park, FL

Winter Springs, FL
How Does 407 Area Code Number Help Your Business?
407 area code is one of the best tools for enhancing your business if you operate in the Central Florida area. Here are some ways 407 area code numbers help your business.
1. Local Presence
Having a local area code number, such as the 407 area code, can significantly enhance your business's local presence. Local customers are more likely to recognize and trust a familiar area code, increasing the likelihood of engaging with your business.
As a result, your business can enjoy a stronger connection with the community and establish itself as a trusted and accessible local service provider.
2. Increased Call Acceptance Rate
When your business uses a local area code number, customers are more inclined to answer calls from unknown numbers with familiar area codes. This increased call acceptance rate can lead to more meaningful conversations and opportunities to convert leads into customers.
Furthermore, with a 407 area code number, you can improve the chances of getting through to potential clients and building valuable business relationships.
3. Customer Convenience
A local area code number, like 407, offers customer convenience by eliminating long-distance charges for local callers. Local customers can easily reach your business without incurring additional costs, making it more appealing for them to inquire about your products or services.
This convenience can foster positive customer experiences and increase the likelihood of repeat business.
4. Brand Identity
Incorporating a 407 area code number into your business communications can become integral to your brand identity, especially if your business operates and thrives within the Central Florida region.
A local area code becomes a recognizable aspect of your brand, reinforcing your commitment to the community and signaling that your business is deeply rooted in the local market. This helps in the increase of phone call acceptance rate.
5. Mobility and Flexibility
While your business might be physically located within the 407 area code, the number provides mobility and flexibility. You can use the local area code number to stay connected with customers and clients regardless of location, whether attending business events, working remotely, or expanding your operations beyond Central Florida.
6. Better Customer Service
A local area code number can improve customer service by instilling a sense of familiarity and accessibility. Customers are more likely to perceive your business as being reachable and responsive, leading to improved customer satisfaction.
Furthermore, with a 407 area code number, you can foster stronger customer relationships and demonstrate your commitment to serving the local community.
👉You may be interested in 646 Area Code: A Comprehensive Overview
Steps to Get a 407 Area Code Phone Number
Acquiring a 407 area code is simple with Dialaxy. You can follow the steps below to get the 424 area code number.
Sign up and fill up your business details to register.

Choose the Area Code for your preferred country as the USA.

Select 407 as your local area code and look for available virtual phone numbers.

Choose a subscription package and purchase

Use the Area Code for your Business use.
Reasons to Buy 407 Area Code Number From Dialaxy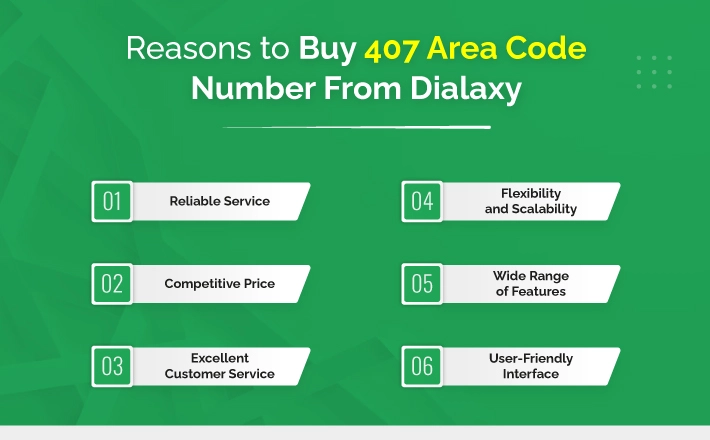 1. Reliable Service
At Dialaxy, we pride ourselves on delivering reliable and top-notch service for your 407 area code number. Our advanced telecommunications infrastructure ensures seamless call connectivity, minimal call drops, and crystal-clear audio quality.
You can trust that your business communication will always be dependable and efficient, providing a positive experience for you and your customers.
2. Competitive Price
We have some of the business's most reasonable and competitive rates. It is the best pricing structure for businesses of all sizes since it is transparent and affordable. There is no additional fees for setup or use. We also offer three subscription plans: essential, standard, and enterprise, available monthly or yearly.
To ensure that consumers are not compelled to compromise quality, we offer high-quality services at competitive pricing. Our affordable packages will give you the highest ROI on your communication services investment.
3. Excellent Customer Service
We provide excellent customer assistance among the virtual phone number provider. The customer service is dependable and responsive around-the-clock. If you need assistance with setup or technical issues, we have a dedicated team always available for your service.
Additionally, clients in any time zone can access our 24-hour service, making us one of the best in the industry.
4. Flexibility and Scalability
We offer flexible plans that allow you to customize your services to suit your business requirements. Moreover, you can adjust your plans, features, customizations, and other factors based on your business's growth. Our scalable solutions ensure that your 407 area code number can adapt seamlessly to your expanding needs.
5. Wide Range of Features
Individuals and businesses can enhance communication capabilities with our wide range of features. Our feature-rich solutions address various business needs, from call forwarding and voicemail to virtual receptionist services and call recording. As a result, you can optimize your communication strategy and provide a seamless experience for your callers.
6. User-Friendly Interface
We believe in offering simple and convenient services. Dialaxy's user-friendly interface allows you to manage your 407 area code number effortlessly. Furthermore, you can access call logs, configure settings, and easily adjust the features. Our simple and user-friendly platform ensures you can focus on your business without getting lost in technical complexities.
Conclusion
The 407 area code is vital in Central Florida's telecommunications system. A 407 area code number can benefit you as an individual and a business by enhancing your local presence, increasing call acceptance rates, providing customer convenience, and enhancing brand identity.
You can decide if you or your business needs the 407 area code based on the needs, operating ways, and other factors mentioned above. Finally, providers like Dialaxy offer reliable and competitively priced solutions with excellent customer support and a user-friendly interface for businesses seeking a 407 area code number.
Frequently Asked Questions (FAQs)
Who is calling from the 407 area code?
If you receive a call from the 407 area code, you will likely receive one from central Florida.
Where is area code 407 in the United States?
Area code 407 is located in Orlando and other cities in Central Florida. It primarily includes four counties: Orange, Seminole, Osceola, and Brevard.
What time zone is area code 407 in the USA?
The 407 area code is located in the Eastern time zone.