346 Area Code: Essential Information You Need To Know
Are you receiving calls from the 345 area code and thinking about where they are coming from? Or maybe you want to establish a business in Houston and look for a local area code.
If so, you have come to the right place, as this blog post will provide all the essential information you need to know about the 346 area code.
In this blog, you will learn about the history, geographical coverage, and how area code 346 can benefit your business. Furthermore, you will get step by step process to get a 346 area code for your personal and business need. So let's start by understanding the 346 area code phone number.
What is 346 Area Code Phone Number?
346 area code, also known as the Houston area code, is a part of the telephone number registered in the North American Numbering Plan (NANP), which serves Texas State in the United States. It provides services in counties like Harris, Fort Bend, Montgomery, Brazoria, and Galveston.
346 area code was put in service on July 1, 2014, and was created from area code 832. So, it is an overlay of 832, and both area codes serve the same geographical area. Area code 346 is located in the Central time zone, also known as America/ Chicago time zone.
How Do 346 Area Code Phone Numbers Work?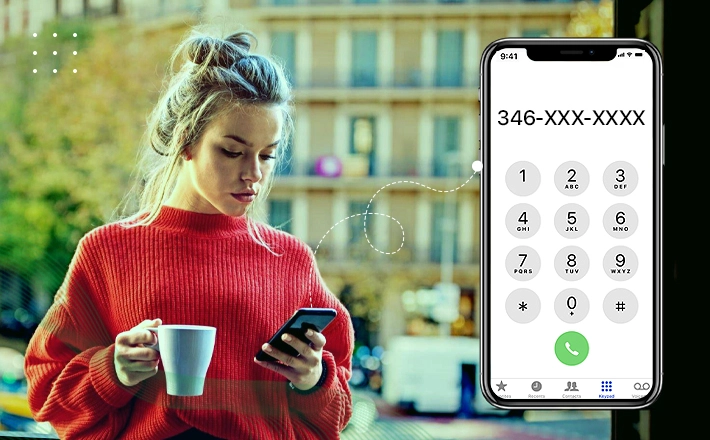 346 area code is registered under a telephone numbering plan known as North American Numbering Plan (NANP). It works like any other area code that is registered under NANP.
The 346 area code is used when a call is dialed, and the telecommunication network has to identify a geographical location. In this case, the telecommunication network recognizes Houston as the geographic location because area code 346 is Houston's area code.
Here are the ways on how it works.
1. Geographic Coverage
Area code 346 is used in Houston, Texas, and surrounding areas. It is an overlay area code for 832. It serves 50 cities, with Houston being the major city. Counties served by area code 346 are Harris, Fort Bend, Galveston, Waller, Chambers, Brazoria, etc.
2. Dialing the Call
Callers must dial the ten-digit phone number, including the area code, to make a local call in the United States. You must include the area code inside or outside the 346 area code region.
For example, if a phone number is 346-444-1212, you would dial all 10 digits despite your location.
3. Overlay Area Code
346 is the overlay area code of 832 which means it shares the exact geographical location with the 832 area code.
The 346 overlay was introduced to address the increasing demand for telephone numbers in the Texas region without creating an entirely new area code with separate geographical boundaries. It also made it easy for existing customers to change their numbers.
4. International Calling
To make international calls from a phone number within the 346 area code, callers must use the international dialing prefix in this format: 512-444-4567
Where,
512 is the area code,
444 is the central office code, and
4567 is the actual number of a user.
Where is Area Code 346 Located?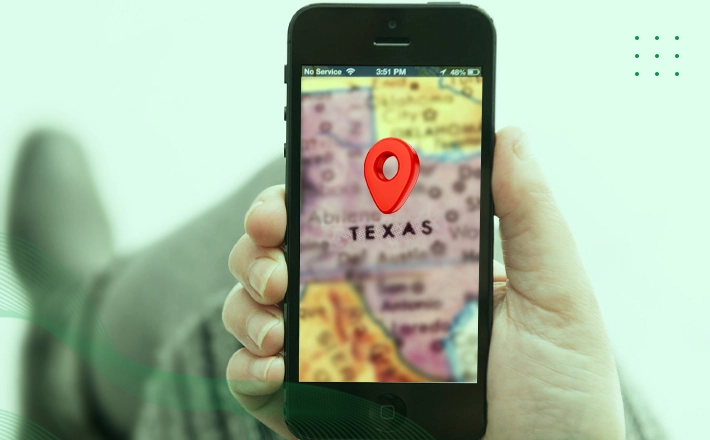 Area code 346 is located in Texas State, United States. It covers nine counties: Harris, Fort Bend, Montgomery, Brazoria, Galveston, Liberty, Waller, Chambers, and San Jacinto.
List of Cities in Area Code 346
Area code 346 offers services in 50 cities in Texas State. Houston is the largest user of this area code, with a population of 2.2 million. Here is the list of cities that use the 346 area code.
Aldine, TX

Alvin, TX

Atascocita, TX

Bacliff, TX

Baytown, TX

Bellaire, TX

Brookshire, TX

Channelview, TX

Cinco Ranch, TX

Cleveland, TX

Cloverleaf, TX

Deer Park, TX

Dickinson, TX

Four Corners, TX

Fresno, TX

Friendswood, TX

Galena Park, TX

Greatwood, TX

Highlands, TX

Houston, TX

Humble, TX

Hunters Creek Village, TX

Jacinto City, TX

Jersey Village, TX

Katy, TX

La Porte, TX

League City, TX

Manvel, TX

Meadows Place, TX

Mission Bend, TX

Missouri City, TX

New Territory, TX

Pasadena, TX

Pearland, TX

Pecan Grove, TX

Pinehurst, TX

Richmond, TX

Rosenberg, TX

San Leon, TX

Seabrook, TX

Sienna Plantation, TX

South Houston, TX

Spring, TX

Stafford, TX

Sugar Land, TX

Texas City, TX

The Woodlands, TX

Tomball, TX

Webster, TX

West University Place, TX
Why Does Your Business Need a Houston Area Code?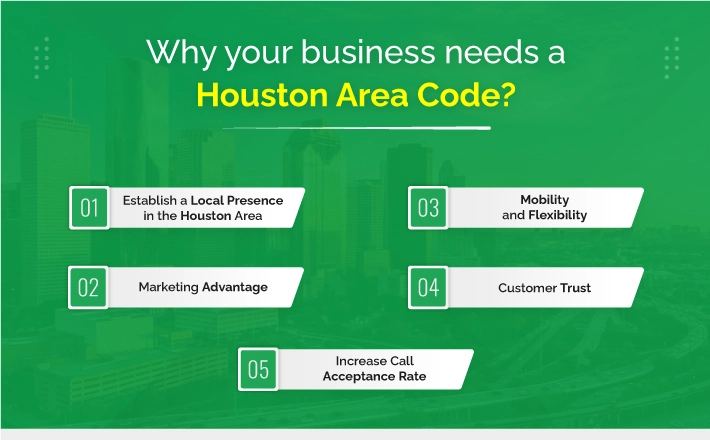 Businesses need a Houston area code or local area code 346 to build a local presence, expand business in the regions of Texas state and get exposure to many customers and leads.
Using the Houston area code is one of the ways to enhance customer service and improve the customer base. Here are some reasons why your business needs a Houston area code.
1. Establish a Local Presence in the Houston Area
A Houston area code helps to create a sense of local presence and trust for your business in the Texas market. You can earn customers' trust in this area by presenting your business as a part of their community. People are more likely to trust a business that shows commitment to serving their locality.
2. Marketing Advantage
Businesses can improve their marketing strategies with a 346 area code. They can use toll-free and vanity numbers with area code 346 in marketing tools such as websites, business cards, advertisements, and other platforms. In this way, they can attract a large number of local customers.
3. Mobility and Flexibility
By obtaining a 346 area code through a virtual phone system, businesses can connect with their customers wherever they are. A virtual phone system allows numerous features like call routing, forwarding, recording, and analytics. Using these features, you can handle the call flexibly and increase productivity.
Businesses can offer their services in Houston without being physically present.
4. Customer Trust
Businesses can increase trust using the 346 area code because customers are more likely to answer calls or engage in communication that gives a sense of familiarity. Customers find it safe and easy to do business that is available in their region.
5. Increase Call Acceptance Rate
Businesses can seamlessly increase their call acceptance rate by using the Houston local area code, resulting in higher conversion rates. Potential customers and leads are likelier to answer cold calls from a local number with a familiar area code than an unfamiliar number.
Thus, the increase in call acceptance rate results in higher client interaction, and conversion rates may ultimately increase sales and revenue.
How Do I Buy a 346 Area Code Phone Number?
Many virtual phone service providers offer area code 346 in the market. So, firstly make a list of providers and check their websites.
Further, you can contact their customer support team to see if the 346 area code is available. If available, look for the features and subscription plan, and purchase a suitable number that meets your requirements. The support team will assist you in setting up the number.
You can buy a 346 area code number by following simple steps. Follow the given steps to get one:
Log in with your Google account or your Email address.

Sign up and fill up your business details to register.

Choose the Area Code for your preferred country as the USA.

Select 346 as your local area code and look for available virtual phone numbers.

Choose a subscription package and purchase the number.
Why Choose Us?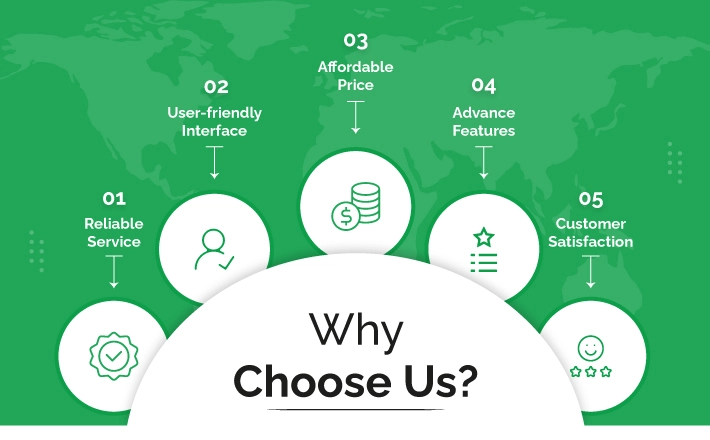 There are many Houston area code providers in the market. However, if you want a provider that offers reliable service, user-friendly interfaces, and affordable prices, we suggest you choose us as your ideal 346 area code provider.
We offer advanced features with a competitive pricing structure that gives you good value. Here is a list of reasons you should choose us as your service provider.
1. Reliable Service
Dialaxy takes pride in providing reliable and top-notch service for your 346 area code phone number. We offer excellent call quality, ensuring you have seamless business communication.
Our advanced telecommunication infrastructure lets you have consistent call connectivity, minimal call drops, and crystal-clear audio quality. Your business communication will always be dependable and efficient, providing you and your customers with a positive experience.
2. User-friendly Interface
We provide a user-friendly interface to facilitate every user. You can set up, configure, and access advanced features without facing any technical complexities. Furthermore, you can access call logs, adjust features, and change settings.
Our user-friendly interface allows you to focus on the things that matter the most to your business without getting lost.
3. Affordable Price
Our pricing structure is one of the most affordable in the market. Our transparent and cost-effective pricing structure makes it ideal for businesses of all sizes. We give you three subscription options: essential, standard, and enterprise, available monthly and yearly.
The best part is no overcharges or hidden charges during the setup and use.
4. Advance Features
We offer advanced features such as call routing, call recording, call forwarding, voicemail, Interactive Voice Response, video conferencing, and many others. With these advanced features, you can manage calls effectively and increase productivity in your business.
5. Customer Satisfaction
We are a customer-centric service provider whose goal is to provide customer satisfaction in every process. Our dedicated customer support team is always ready to serve you regarding any issue.
We are available 24/7 to assist you with any trouble you may face while setting up your area code or technical difficulties you may encounter. Our around-the-clock service makes sure that not a single customer is denied.
Conclusion
Area code 346 is crucial for Houston's telecommunication system. It benefits businesses by enhancing a local presence in Houston, giving a marketing advantage, and increasing the call acceptance rate.
If you want to acquire an area code 346 for business or personal use, Dialaxy could be the best choice. Reliable service, user-friendly interface, affordable pricing structure, and advanced features make us the perfect 346 area code provider for all sizes of businesses.
FAQs
Is 346 a new area code?
346 area code is not new. It was added as an overlay area code for 832 on July 1, 2014.
Is 346 a toll-free number?
No, 346 is not a toll-free number. It is a telephone number for Houston City in the United States, registered under North American Numbering Plan.
Who is calling from 346?
If you receive a call from the 346 area code, you will likely receive one from Texas State.
What time zone is area code 346 in the USA?
The area code 346 is located in the Central time zone, also known as America/Chicago time zone.
What cities are in area code 346?
Houston, Pasadena, Pearland, League City, Sugar Land, Bytown, and 44 other cities are in area code 346.