A Comprehensive Guide to 317 Area Code
Are you thinking of expanding your business in Indianapolis, IA? If so, you may need the 317 area code for communication. You may be wondering why I need the 317 area code to expand my business in Indianapolis.
The answer is area code 317 helps to boost your business's local presence, set up a virtual company in Indianapolis, increase acceptance rate and boost sales, and so on. But these are not the limit of area code 317, there are more.
In this blog post, you will get a comprehensive guide to the 317 area code, including what area code is, reasons why your business needs it, and the steps to get it. Let's get into the topic.
What is the 317 Area Code Phone Number?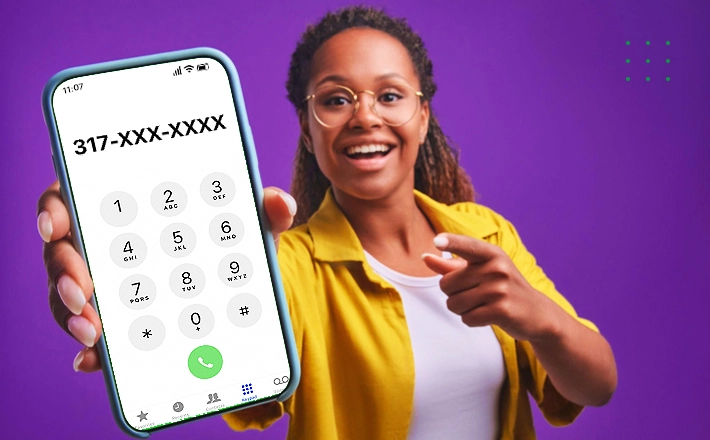 317 area code is a telephone area code in the North American Numbering Plan (NANP) which covers Indianapolis, IN, and surrounding areas in the United States.
In 1947, American Telephone and Telegraph (AT&T) and the Bell System created 86 original area codes; area code 317 is one of them. It currently has an overlay area code 463 which was created in 2016.
How Does 317 Area Code Phone Number Work?
The primary work of area code 317 is to locate the Indianapolis region when a user dials a phone number, but it can't operate on its own. A proper phone number should be dialed along with area code 317 to complete its function. Here is how it works:
A user dials a phone number, along with the 317 area code. For example, let's say the phone number is 1-317-222-4343.

The phone system checks the three-digit numbers, which are area codes. In this case, it is 317.

Then, the phone system identifies area code 317 in a database and recognizes that it is an area code for Indianapolis.

The phone system then routes the call to the appropriate telephone exchange in Indianapolis.

At last, the telephone exchange connects the call to the specified phone number that the user dialed, which is 4343.
As you can see, area code 317 plays a major role in routing phone calls to the right destination, even if the caller and receiver are located in separate parts of the country.
Where is the 317 Area Code Phone Number Located?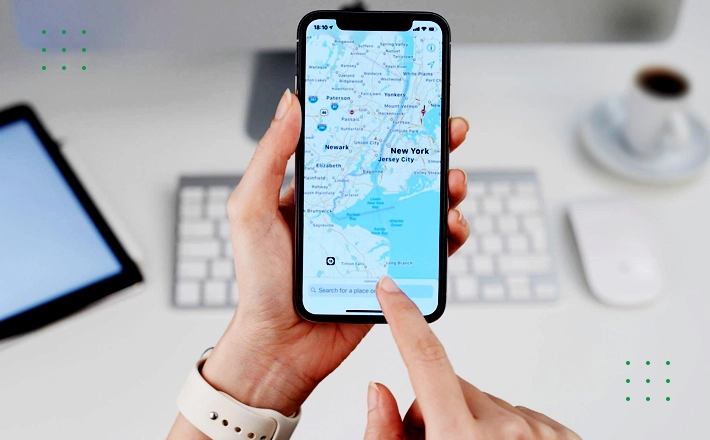 317 area code is located in Indianapolis, IN, a major city in Indiana state. It serves nine major counties: Hamilton, Marion, Hendricks, Johnson, Morgan, Hancock, Boone, Brown, and Shelby.
List of Cities in Area Code 317
Area code serves cities such as Indianapolis, Carmel, Fishers, Noblesville, Greenwood, etc. Below is the list of cities served by the area code 317 in Indiana:
Indianapolis, IN

Amo, IN

Arcadia, IN

Avon, IN

Bargersville, IN

Beech Grove, IN

Brooklyn, IN

Brownsburg, IN

Carmel, IN

Cicero, IN

Clayton, IN

Clermont, IN

Cordry Sweetwater Lakes, IN

Cumberland, IN

Danville, IN

Fairland, IN

Fishers, IN

Fortville, IN

Franklin, IN

Greenfield, IN

Greenwood, IN

Homecroft, IN

Ingalls, IN

Lawrence, IN

Lebanon, IN

Lizton, IN

McCordsville, IN

Meridian Hills, IN

Monrovia, IN

Mooresville, IN

New Palestine, IN

New Whiteland, IN

Noblesville, IN

Pittsboro, IN

Plainfield, IN

Princes Lakes, IN

Rocky Ripple, IN

Shelbyville, IN

Sheridan, IN

Southport, IN

Speedway, IN

Stilesville, IN

Trafalgar, IN

Warren Park, IN

Westfield, IN

Whiteland, IN

Whitestown, IN

Williams Creek, IN

Wynnedale, IN

Zionsville, IN
Why Does Your Business Need Indianapolis Area Code?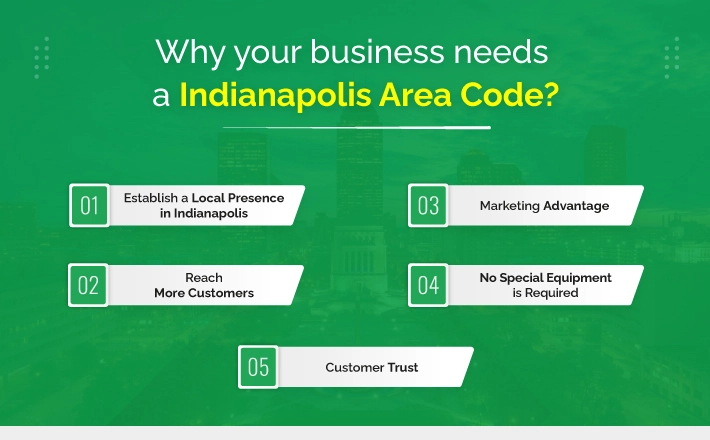 The Indianapolis area code helps your business in various ways, from reaching around a population of around 880,000 and setting up a virtual presence in Indianapolis to reducing the cost of long-distance calls, it has more to offer. Below are the reasons why your business needs the Indianapolis area code.
1. Establish a Local Presence in Indianapolis
With an area code 317, you can establish your business as a local in Indianapolis. Present your business as a part of the Indianapolis community, and you are there to serve them better than your competitors. People are more likely to trust a locally established business as it gives a sense of nearness and familiarity.
2. Reach More Customers
Get a chance to reach more than 880,000 local customers with an area code 317. You can increase your access to nine counties in Indiana State. Your business's sales will eventually boost as more people know about your product or the service you offer.
3. Marketing Advantage
A vanity phone number Indianapolis area code can be a powerful way to advertise your business presence. You can include it on your advertising channels, social media pages, business cards, and website contact information.
4. No Special Equipment is Required
317 area code does not require additional hardware components to get started. After purchasing the Indianapolis number, you can immediately communicate with your customers through your desktop, laptop, tablet, and smartphone.
5. Customer Trust
Most of the customers like to support local businesses. Customers will engage more openly if they see area code 317 associated with your business. You can gain their trust and foster engagement by solving their problems and being locally present whenever they want your services.
How do I Buy a 317 Area Code Phone Number?
Buying an area code 317 is pretty easy. There are many providers in the market from which you can get one. You can follow the given steps to buy a 317 area code phone number:
Contact a telecommunication service provider that offers services in your area.

Check whether they provide the 317 area code or not.

If they offer the 317 area code, tell them that you are interested in buying the 317 area code through their platform.

Once you tell them about your interest in purchasing an area code 317, the provider will guide you in setting up your phone number.

Look at the pricing structure and terms and conditions before completing the purchase.
Steps to Get 317 Area Code Phone Number
Follow these steps to get the 317 area code for your business:
Find a reputable provider.

Sign up and log in to the dashboard.

Choose country as USA and enter 317 in the advanced filter, and search

Choose a subscription plan and complete the purchase.

Submit necessary documents for identity verification.
Why Choose Us?
Dialaxy is a reliable and reputable virtual phone number provider. We provide area code phone numbers in the US and Canada for businesses of all sizes. Our advanced features help to grow your business in this competitive market. Here are some reasons to choose us to get a 317 area code phone number.
1. Competitive Pricing
The pricing structure offered is fair and competitive. Any size of business can afford it, as we provide three different subscription options: essential, standard, and enterprise, also you can choose monthly or yearly plans.
We want to make sure that our plans give you the highest Return on Investment (ROI) in your communication services. We do not overcharge for the services we offer, and there are no hidden fees as well.
2. Easy to Set Up
Acquiring a 317 area code from us is easy and straightforward. You don't need to follow a lot of steps, you can get it with a simple few clicks. You just have to choose an area code and a subscription plan, then leave the rest to us. We will assist you in setting up the phone system from start to finish.
Moreover, our user-friendly interface and support team makes the setup process fast and efficient. You can easily get an idea of where you are going and what steps you are navigating.
3. Advanced Features
You can enhance your business communication with our advanced features, such as call recording, routing, forwarding, voicemail, video conferencing, and many more. These features can increase your productivity as you can manage calls more effectively, and you can have a seamless calling experience with your customers.
4. Excellent Customer Service
Dialaxy is a brand that takes pride in providing excellent customer service. Our dedicated team is available 24/7 to address your queries. We solve customer issues and problems without delaying a minute, as we don't want to disappoint our customers. You can entirely rely on our customer support without thinking of another option.
5. Privacy and Security
We offer exceptional security because securing our customer's data and information is in our hands, and we take that seriously. We implement organizational and technical security measures that make accessing your data difficult for unrecognized users. With our robust security measures, you are being protected from hackers.
Conclusion
In conclusion, acquiring an area code 317 is a great way to establish a local presence in Indianapolis, target more local customers, get a marketing advantage, and gain customer trust.
You can get a 317 area code from us by signing up for your account and providing the required business information. Complete the payment procedure by choosing a subscription plan that best suits your business needs, and you will quickly get the 317 area code.
You should use Dialaxy for various reasons to get an area code 317. Some of them includes we provide competitive pricing, advanced features, excellent customer service, and a setup process is easy and hassle-free.
FAQs
What area code is 317?
Area code 317 is a telephone area code in the North American Numbering Plan (NANP) indicating the number is trailing from Indianapolis City in Indiana State.
Is area code 317 a toll-free number?
No, area code 317 is not a toll-free number. It is the telephone area code that routes the call to a specific geographic location.
What are the area codes for Indianapolis?
Area code 317 is the major area code for Indianapolis. It has an overlay which is area code 463.
What is the time zone for area code 317?
Area code 317 follows the Eastern time zone, also known as America/New York time zone.
Is 317 area code a Canadian area code?
317 area code is not a Canadian area code. It is the area code for Indianapolis city in the United States.