An In-Depth Overview on 218 Area Code
Are you a business owner looking to expand your business's presence to a new location? If you are considering expanding it to Minnesota, you need to know about the 218 area code. In this blog, you will get an in-depth overview of the 218 area code.
You will learn what area code is, its geographical coverage, and how it works. Moreover, you will learn why it is important for businesses like yours and how you can purchase it for your business or personal use. Let's start learning what area code 218 is.
What is 218 Area Code Phone Number?
218 area code is a telephone number registered under the North American Numbering Plan (NANP) that serves the Duluth city in northern Minnesota State. It is one of the 86 original area codes created by the American Telephone and Telegraph Company (AT&T) and the Bell System in 1947.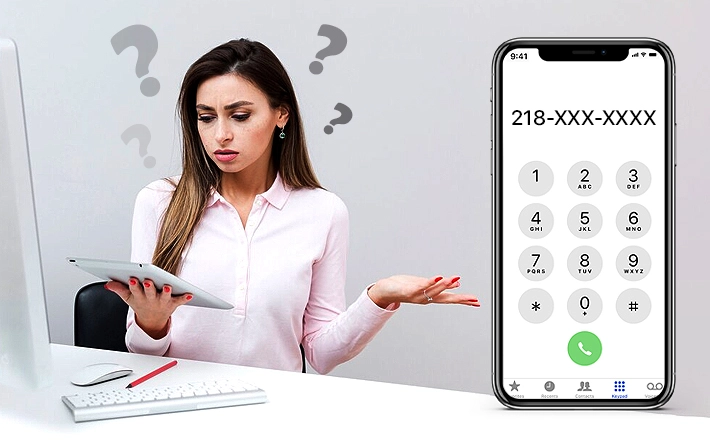 Like other area codes, it doesn't have an overlay area. So, it is the only area code that serves the area. Area code 218 is also known as the Minnesota area code.
How Do 218 Area Code Phone Numbers Work?
The 218 area code is registered under the North American Numbering Plan. This means it works like any other area code, where all calls are routed to the telecommunications network that manages phone numbers within that specific area. Here are ways on how 218 area code phone numbers work.
1. Geographic Coverage
Area codes are designed to cover specific geographical areas. In the case of 218, it covers Duluth as a major city. It serves 32 counties in Minnesota, such as St. Louis, Clay, Crow Wing, Otter Tail, and Itasca.
2. Long-Distance Calling
Any calls made outside the 218 area code region is considered a long-distance call. As a consequence, the cost of long-distance calls is applied based on the specific plan and location.
Contrarily, calls made within the 218 area code region are recognized as local calls, which do not charge any fees. Therefore, area code 218 exempts you from long-distance calling.
3. Number Assistance
Area code 218 helps identify phone numbers when you are uncertain about the user. If the phone number has a 218 area code, it ensures that the number owner is from the Minnesota area. It acts as a guide to finding the right information and narrowing down the search for the phone number owner.
4. Number Porting
Area code 218 makes it easy to port numbers. Whenever you want to switch phone service providers for your 218 area code phone number, you can do it while keeping your existing 218 area code number. This process is called number porting. It allows you to retain your familiar phone number even when changing providers.
Where is Area Code 218 Located?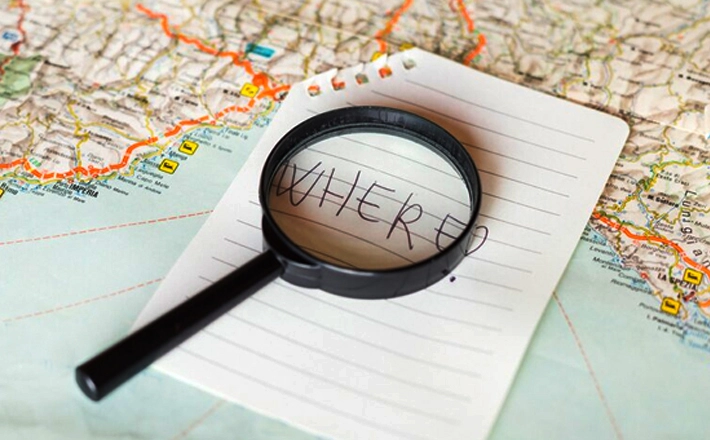 Area code 218 is located in Minnesota State of the United States. It serves 50 cities and 32 counties. St. Louis, Carlton, Beltrami. Clay, Crow Wing, and Becker are the top counties in area code 218. Similarly, Duluth, Hibbing, Moorhead, Bemidji, Fergus Falls, and Brainerd are the top cities in the 218 area code.
Nearby Area Codes
The list of nearby area codes of 218 is given below.
| | | |
| --- | --- | --- |
| Area code | Country/State | Major City |
| 201/431/584 | Canada | Winnipeg |
| 605 | South Dakota | Sioux Falls |
| 701 | North Dakota | Fargo |
| 320 | Minnesota | St. Cloud |
| 807 | Canada | Kenora |
| 534/715 | Wisconsin | Eau Claire |
| 906 | Michigan | Marquette |
List of cities in area code 218
Area code 218 offers services in 50 cities. Duluth is the major city served by this area code. Here is the list of cities in area code 218.
Ada, MN

Aitkin, MN

Arnold, MN

Aurora, MN

Barnesville, MN

Baxter, MN

Bemidji, MN

Brainerd, MN

Breckenridge, MN

Breezy Point, MN

Chisholm, MN

Cloquet, MN

Cohasset, MN

Coleraine, MN

Crookston, MN

Crosby, MN

Crosslake, MN

Detroit Lakes, MN

Dilworth, MN

Duluth, MN

East Grand Forks, MN

Ely, MN

Esko, MN

Eveleth, MN

Fergus Falls, MN

Gilbert, MN

Grand Rapids, MN

Hawley, MN

Hermantown, MN

Hibbing, MN

Hoyt Lakes, MN

International Falls, MN

Moorhead, MN

Moose Lake, MN

Mountain Iron, MN

Nisswa, MN

Park Rapids, MN

Pelican Rapids, MN

Pequot Lakes, MN

Perham, MN

Proctor, MN

Red Lake, MN

Roseau, MN

Silver Bay, MN

Staples, MN

Thief River Falls, MN

Two Harbors, MN

Virginia, MN

Wadena, MN

Warroad, MN
Why Does Your Business Need an Area Code 218 Number?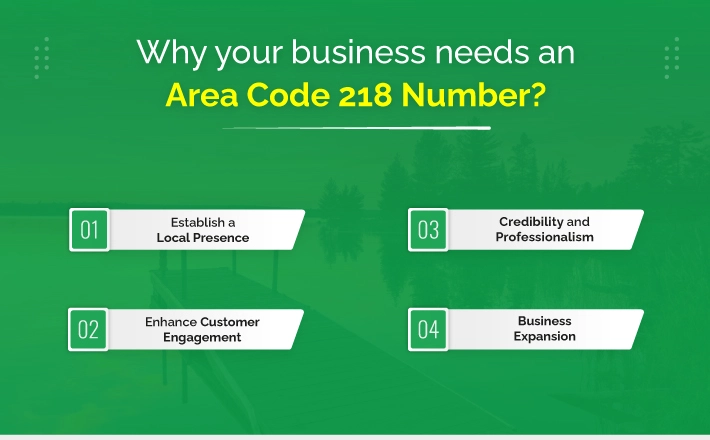 A small advantage makes a huge difference in business. It doesn't matter if they are big or small. 218 area code number is one such advantage that brings a big difference in your business.
The 218 area code helps you to establish a local presence in Minnesota, provides credibility and professionalism, enhances customer engagement, and gives your business expansion opportunities and competitive advantage.
Here are detailed explanations of how the 218 area code number helps your business and why you should consider getting it.
1. Establish a Local Presence
Area code 218 helps your business establish a strong local presence in Minnesota and its associated cities. People immediately recognize your business as a local when they see the 218 business phone number.
This will help to create a sense of familiarity and local touch. You can gain the trust of people who reside in the Minnesota region. Furthermore, customers prefer to do business that is closer to them and is locally available.
2. Credibility and Professionalism
Area code 218 serves Minnesota, a region known for its high standard of living and home to many successful companies. This gives your business the impression of professionalism.
A business phone number with local area code 218 is considered to be well-founded and dependable. People will trust a business that gives the image of being well-established and is part of their community.
3. Enhance Customer Engagement
With a Minnesota area code, you can enhance your customer engagement. The 218 area code gives people the feeling of nearness and shows that you are part of their community. So, people are more likely to engage with your business and accept the offerings you provide.
4. Business Expansion
Having a 218 area code opens doors for your business to grow and do better. 218 area code creates a local appearance and helps to have a more local touch, making it easier to connect and become part of the Minnesota community. In this way, you will already have a good customer base, making it convenient to open your company branches nearby.
How do I buy a 218 Area Code Phone Number?
You can buy a 218 area code from virtual phone number providers. There are many service providers that offer area code 218 for business. You can research different providers and contact them to get it. You must choose a reliable provider to buy the area code for your business.
Dialaxy is a reputable and trustworthy provider to buy the 218 area code phone number. You can follow the given steps to get one.
Create an account by registering with your Email address.

Fill up your business details.

For the 218 area code, choose the country as the USA.

Select 218 as your local area code and look for available virtual phone numbers.

Choose a subscription package and complete the payment.
Why Choose Us?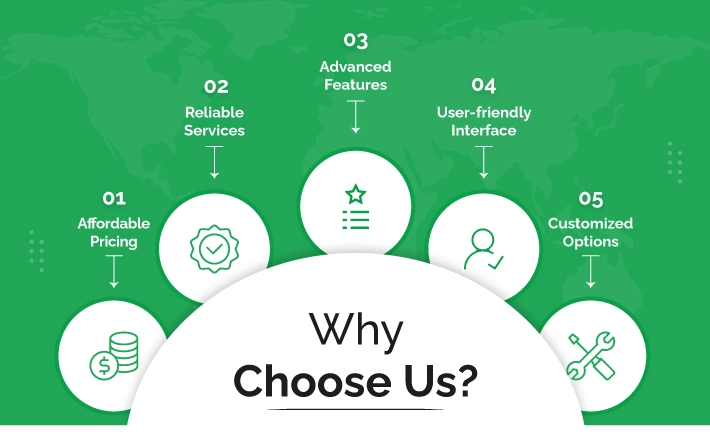 Numerous service providers provide 218 area codes for businesses in the market. Among many providers in the market, Dialaxy stands out as the best service provider.
You get several benefits if you buy area code 218. These benefits include affordable pricing, reliable services, advanced features, user-friendly interface, and customization options. Let's discuss each benefit in more detail.
1. Affordable Pricing
Offers the most affordable and cost-effective pricing in the market. Our transparent and cost-effective pricing structure makes it ideal for businesses of all sizes.
We give you three subscription options: essential, standard, and enterprise, available monthly and yearly. The best part is no overcharges or hidden charges during the setup and use
2. Reliable Services
Dialaxy is a brand that takes pride in providing reliable and top-notch service for your 218 area code phone number. We offer excellent call quality, ensuring you have seamless business communication.
Our advanced telecommunication infrastructure lets you have consistent call connectivity, minimal call drops, and crystal-clear audio quality. Your business communication will always be dependable and efficient, providing you and your customers with a positive experience.
3. Advanced Features
Offers services with advanced features. Those advanced features are call recording, voicemail, video conferencing, unlimited call, message, and voicemail history, and 24/7 customer support.
The advanced features help businesses improve organizational communication and manage calls effectively. Businesses can boost productivity in their workspace and get the highest Return on Investment (ROI).
4. User-friendly Interface
Dialaxy's interface is simple and straightforward. We have designed our interface with simplicity in mind. Anyone can easily configure the settings, set up the phone number, and access the features.
You don't need to be a tech or computer expert to control our interface. We ensure that our users don't get lost or face any confusion during the whole process.
5. Customization Options
Lets you personalize your virtual phone number features to meet your business needs. You can change the settings to suit the requirements of your business. You can choose the features you want and remove the ones you don't.
Conclusion
To conclude, having a 218 area code is one of the best ways to attract customers and get ahead of the competition in the competitive market of Minnesota. It helps to establish a local presence, enhance customer engagement, and create expansion opportunities for your business.
Choosing the right service provider might be challenging as there are many service providers in the market. If you want services at affordable pricing, choose Dialaxy as your service provider. We provides reliable services, customization options, and advanced features for all sizes of businesses.
FAQs
Where do phone numbers start with 218?
Phone numbers with 218 area codes start in Minnesota and the counties and cities associated with it. If you are getting the call with area code 218, you can be assured that the caller is from the region of Minnesota.
What time zone is area code 218?
Area code 218 is located in the central time zone. The central time zone is also known as the America/Chicago time zone.
How do I get a local 218 phone number?
You can get a local 218 phone number by contacting virtual phone service providers in the market. Choosing a reliable provider to get the area code is significant. You can choose Dialaxy as your local phone number provider, as it is a well-established and reputable brand.
What is the zip code for the 218 area code?
The zip codes for the 218 area code vary among different cities. Minnesota's zip codes are 56020, 56146, 5571, 56032, and 55786.