Virtual Number Providers for Call Centers: A Comprehensive Guide
In the era of virtual communication, virtual phone numbers are a virtual call center solution because of their unique calling capabilities and VoIP technology. But what exactly are virtual phone numbers, and why are they important for call centers?
Simply put, virtual numbers are phone numbers that are not associated with a particular phone line or location, making them extremely adaptable and adjustable for business needs.
You can get a virtual business phone number for call centers from any reliable virtual phone number provider out there. However, make sure to research and choose the right virtual number provider that meets the needs of your business phone systems.
In this article, we will delve into the world of virtual number providers for call centers, emphasizing the different factors while choosing a virtual phone service.
Factors to Consider When Choosing a Virtual Number Provider
There are a number of virtual phone services out there that provide a virtual business phone number, and out of all those options, choosing the best one is surely a tough job. Thus, to make things easier, the first thing you can do is determine your needs.
Once you are clear about the needs of your virtual business phone system like the number of calls you will receive, your budget, or the features you require, settling on one virtual number provider becomes a lot easier.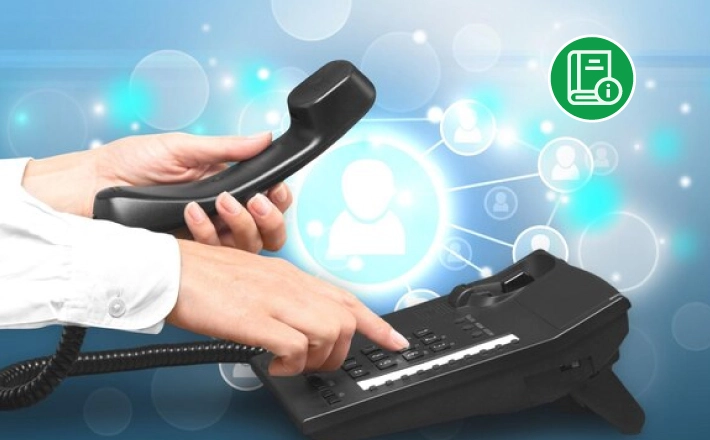 Here are some crucial factors to consider when choosing a virtual number provider:
Coverage and availability of virtual numbers
Before committing to a virtual number provider, it is essential to check for their coverage and availability. See whether they provide their offers in the countries or regions you require and the coverage. The service coverage and the locations they operate vary depending upon the service provider. So make sure to confirm if they work just fine in the locations you need.
Pricing and payment options
Another crucial factor to consider when choosing a virtual number provider is their pricing and payment options. Check their pricing plans and any other additional fees, such as setup costs and calling rates. It is best to research different service providers and compare their pricing to find the one you can afford.
Additionally, check for their payment options, such as monthly or yearly billing and prepaid plans and their payment methods.
Call quality and reliability
Call quality and reliability are important parts of call centers, so before choosing a virtual number for call centers, make sure that they provide high-quality calls and reliable service. Ensure that the provider has reliable networks and redundant systems to minimize downtime.
Advanced features and customization options
Advanced features and customization options are non-negotiable when choosing a virtual number for call centers. You may need advanced features like auto-attendant, call forwarding, call screening, and more, depending on your needs. Likewise, you may want to customize your voicemail messages and calls to improve client satisfaction.
Thus, it is important to research beforehand to find a service that delivers the features and customization choices that are crucial to your virtual contact center.
Integration with existing systems and software
Make sure your virtual number provider can integrate with any other programs or systems you may already be utilizing, such as CRM or virtual call center software. This way, you can optimize your workflow and automate operations smoothly.
Customer support and technical assistance
Finally, consider the level of technical support and customer service the virtual number supplier offers. Look for a service provider that provides round-the-clock assistance and is known for being accommodating and helpful.
Additionally, you should confirm that there are other obvious ways to get assistance when needed, such as live chat, email, or phone support.
Top 5 Virtual Number Providers for Call Centers
There are numerous virtual phone number service providers available, and each of them markets that they offer the best features and services, including call forwarding, call blocking, video conferencing, interactive voice response, voicemail transcription, etc. However, blindly trusting them can end you up with a good-for-nothing VoIP service. Thus, choosing the best virtual phone number service provider for your requirements can be difficult and complicated.
I've thus put up a list of the top 5 virtual phone number providers after analyzing several providers based on their telephony services, customer support, plans, and pricing structures.
1. Freezvon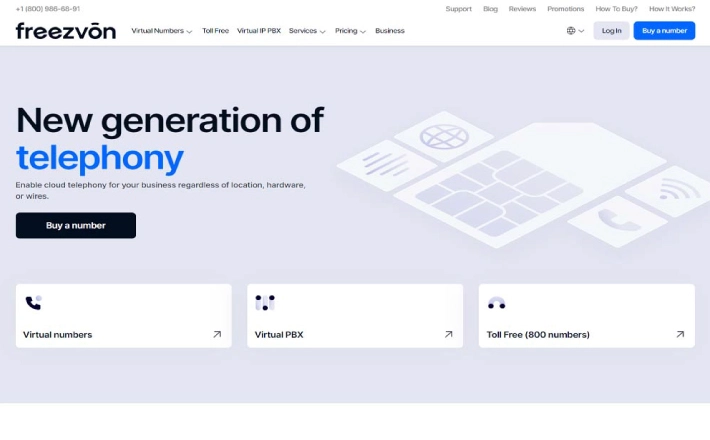 Freezvon is a project of Telephonic Solutions OÜ, a business that has been offering VoIP-based telephony services since 2012.
With Freezvon, you may set up your call center, customer support, etc., and select the most practical means of communication for long-distance or international phone calls.
Features
IVR

Greeting message

Call forwarding

Call recording

Voicemail

Blacklist and whitelist
Pricing
Freezvon pricing starts at $30/month. Contact their customer support team for full pricing details.
2. Continent Telecom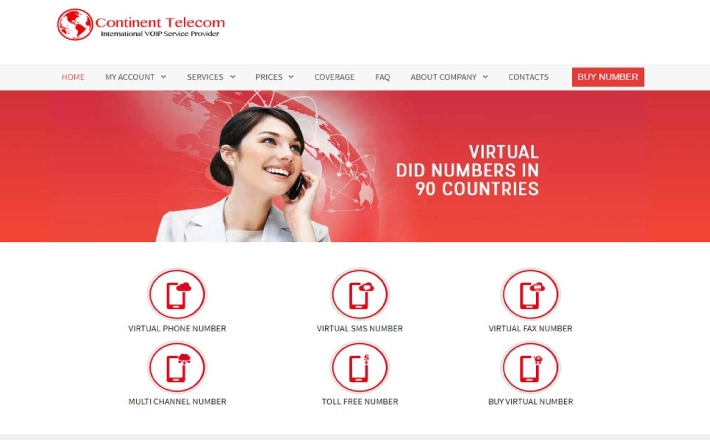 In 2009, a group of enthusiastic professionals with experience in the telecom services sector founded Continent Telecom, a branch of Beta Company sp z o.o.
Continent Telecom is a global VoIP service provider with local virtual numbers, IP PBXs, and call-center solutions available in 90 nations.
Features
Voice menu

Call forwarding

Call recording

Answering machine
Pricing
The charges of Continent Telecom as a setup fee and the monthly fee for virtual numbers vary depending upon the country. Visit their website for full pricing details.
3. Nextiva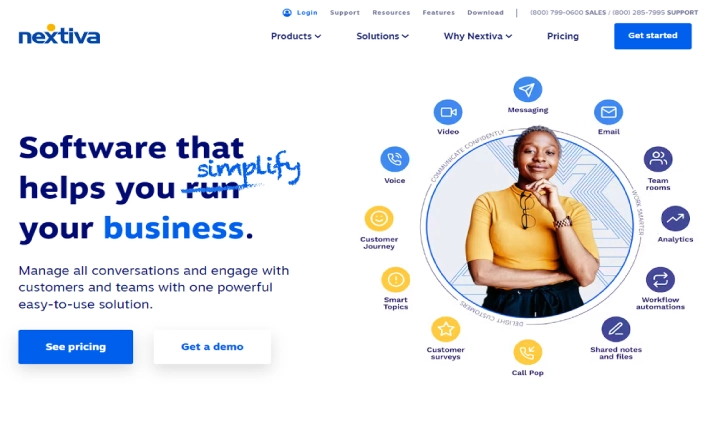 Arizona-based VoIP provider Nextiva was established in 2006. It is a full-featured cloud-based phone system with TLS & SRTP encryption for increased privacy and offers voice, text, and limitless calls along with unified communication.
Features
Auto attendant

Call analytics

Virtual voicemail

Conference calling
Pricing
Their VoIP plan starts at $18.95 per user per month. Contact their agent to get a personalized plan for your call center.
4. AVOXI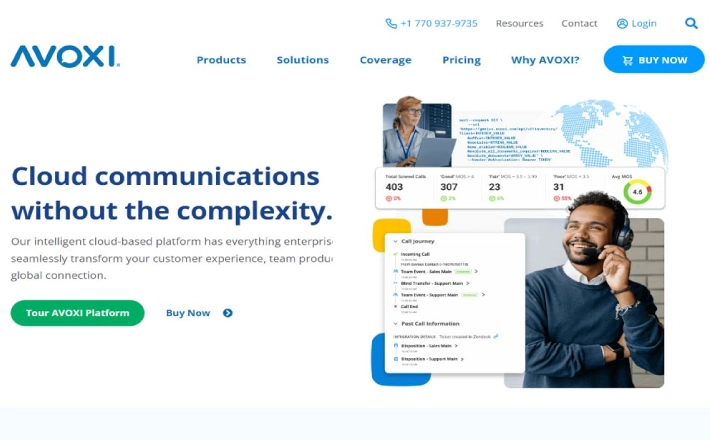 AVOXI is a global communication platform that combines call center, texting, and phone services in one place. Their cutting-edge voice technology offers excellent coverage, dependability, and quality. They manage more than 50 million interactions annually while serving 7,000 clients in more than 170 nations.
Features
Call recording

Auto attendants

Call routing

Call forwarding

SIP integration
Pricing
The engaged enterprise plan perfect for your call center starts at $39.99 per user.
5. Dialaxy
Dialaxy is another great option to get USA and Canada-based virtual phone numbers for call centers. They have package-based plans targeted for personal or business use. You can easily purchase a package based on your needs from their website.
Features
Call routing

Call forwarding

Call recording

Voice mail
Pricing
Contact their customer support team for full pricing details.
Case Studies
According to the case study of a large U.S. healthcare technology company, after reaching for call center support, it witnessed a huge shift from 30 calls/day on average in 2012 to 10,000 calls/day in 2021.
Another case study found that when an information technology and services company DuoCircle used a contact center for their customer service calls, they could route callers without going through multiple IVR menus, thanks to the call center's call routing capabilities.
When choosing cloud telephony, Muslim Youth Helpline was looking for a round-the-clock support solution. In the COVID-19 lockdown, MYH's partnership with the contact center proved particularly valuable when the team started working from home, resulting in a significant spike in incoming calls by 313%. Moreover, transitioning to remote work was seamless, with no downtime required.
Tips for Implementing Virtual Numbers in Call Centers
Call centers can benefit from virtual numbers in a number of ways, including improved customer service and employee productivity. The following tips will help you implement virtual numbers in your call center successfully:
Clearly identify your objectives

: Establish your expectations before committing to a virtual number by clearly defining your objectives. Determine the precise problems you wish to solve, such as lowering call waiting times, enhancing call quality, or increasing agent productivity.

Pick the best virtual number provider

: When picking a virtual number provider, take into account the factors like cost, call quality, customer support, and scalability. Select a service provider that provides capabilities like call forwarding, call recording, and analytics to assist you in streamlining call center operations.

Educate and train employees

: Call center employees and agents should receive thorough instruction and training on how to use virtual numbers. Make sure they comprehend how virtual numbers function and the advantages they offer. To enhance call center performance, teach them how to use call routing and other tools.

Integrate with existing systems

: To get the most out of virtual numbers, integrate them with your call center's existing CRM, helpdesk, or any other communication softwares. As a result, customers will have a seamless experience, and agents will have quick, effective access to consumer data.
Future of Virtual Numbers for Call Centers
Virtual numbers are growing in popularity in the call center industry lately due to their ability to let companies develop a local presence without requiring a physical location.
In the past, it was difficult to manage work-from-home employees, which caused substantial problems for call centers in particular. However, with the development of virtual call centers, customer service teams can easily take calls from clients anywhere.
Due to the rising demand for remote work and increased global business expansion, the virtual number industry has experienced tremendous growth in recent years.
Virtual numbers can now provide more cutting-edge features and functionalities, including call recording, automatic call distribution, and analytics. Also, cloud-based virtual numbers may be scaled up or down to meet changing needs, making them a perfect option for call centers.
Therefore, it is obvious that virtual numbers can enhance customer service and boost call center productivity and will undoubtedly advance further and grow more over time.
Conclusion
In conclusion, virtual numbers are a crucial part of any call center, so choosing the right virtual phone number service for your business needs is key to your business's success.
Before committing to a virtual number provider, identify your call center needs and research different virtual phone number providers. Make sure to go through their pricing and payment options, call quality and coverage, customer support, and other essential features for your call center.
Hope this comprehensive guide of virtual number providers for call centers is of help to you. So wait no longer and start setting up your call center today!