The Benefits of Using a Virtual Number for Your Call Center
If you ask people about how to bring the best out of your call center business, the maximum number of people would suggest you use Virtual Phone Number. But obviously, that doesn't make you satisfied. Then what can make you satisfied? Hmmm, knowing their benefits might, right?
In this digital world, businesses are no way holding themselves back. So don't lie yourself behind. According to reports of Customer Thermometer, 96% of consumers globally say they choose brands based on customer service quality. So you can now guess how important it is to have reliable and efficient customer care.
And with virtual number for call center, you can provide excellent customer service and maintain loyal and satisfied customers. Further, you can take your business to a global level. You can assure that your customers are always connected with you, and they have no issues contacting you. Interesting, isn't it? Want to know more? Read the article below to find an ultimate guide on the benefits of using a virtual number for call center.
Top benefits of using a virtual number for call center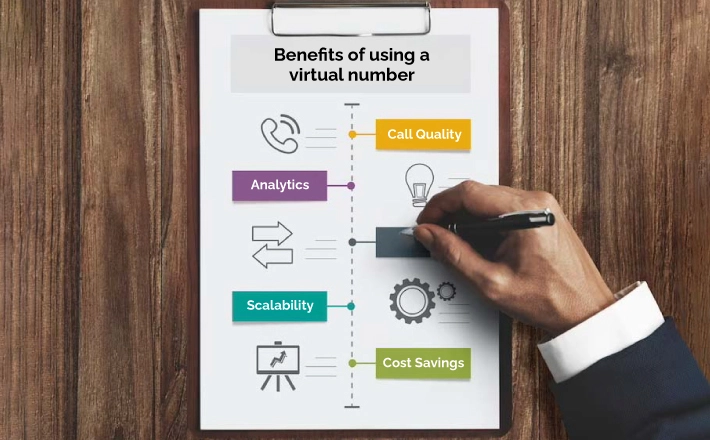 Virtual numbers have gravitated toward almost all call centers and contact centers companies. It offers many advantages, such as a robust feature set, a detailed reporting feature, and a simple and intuitive web interface. And most virtual phone number providers provide flexible communication systems to run their operations.
Now, let's find out the top benefits of virtual numbers.
1. Cost Savings and Easy Set Up
Whether you are a small call center company or a big enterprise company, cost savings is more beneficial.
Virtual phone numbers are less expensive than traditional phone lines. So, you don't have to pay high phone bills. As a result, you can save your business money.
Further, you can have long-distance and international calls at a very low price when you use virtual numbers. Also, it is easy to forward calls to other team members.
You don't need physical equipment to use a virtual phone system as you need for traditional phone systems. But ensure you have a high-speed internet connection at your call center office.
2. Improved Flexibility
Virtual phone numbers provide improved flexibility in managing calls because it is not tied to a desk phone. When you have virtual numbers, you can manage incoming and outgoing calls, receive sms, send messages, and have a video conference only with your mobile phone. So, even if you travel out of the company, you can easily manage or route calls.
Further, if you choose to have a virtual call center, you don't need a new desk, office space, etc.
Instead, you and your employees can work virtually. It means if your call center is based in New York, and you are in London, UK, you can still customize and manage the calls. Also, it is easier to set up and terminate your virtual number.
3. Improved Scalability
And since the numbers are linked not to the devices but to accounts, you don't have to add or remove hardware equipment. So, you can easily scale up or down the virtual phone system by adding or removing a user on your existing virtual phone number plan. If the company grows bigger, upgrade your plan and get more virtual phone numbers.
Flexibility and scalability reduce disruptions caused by geographic boundaries, thus increasing productivity across your organization.
4. Enhanced Call Quality and Features
Virtual numbers offer high-quality call features that can increase the productivity of your business. One of the greatest features is that you don't need to set it up on an office desk as you do for a traditional phone system. In addition, there are many features you won't get through landline or mobile numbers.
It provides seamless connectivity across all stakeholders and allows you to access them from anywhere in the world. The features of virtual numbers mainly depend on virtual number providers. However, the best one will offer you call transcription, SMS, call forwarding, Interactive Voice Response (IVR), and other advanced calling functions.
You can integrate your virtual number with IVR technology to enhance communication. Callers don't have to wait to reach the needed person when you have prerecorded messages that will greet incoming calls and route them in a predetermined order. Further, the quality of either an inbound or outbound call through virtual numbers is amazing.
5. Improved Customer Experience
Another advantage of having virtual phone numbers in call center companies is that it improves customer experience. For any company to succeed, having 24/7 customer support service is paramount. And if you have a traditional phone system, it's almost impossible for you to be available for your customers all day.
However, the virtual phone system is not tied to desks. So, you won't miss out on any calls and don't have to lose potential clients. The virtual number simplifies the calling process, and routes calls appropriately.
Further, response times and call handling also increase, which directly increases customer satisfaction.
6. Personalization and customization options
Yet another benefit of a virtual phone number is personalization and customization options.
Customer preference is always for friendly, knowledgeable, and timely agents. And with virtual numbers, you can customize your communication and make it friendly.
Virtual phone number providers help you to create your existing number as vanity numbers. You can customize it with the name of your brand in your number. You can add greeting messages, voicemails, forward calls, and so on with virtual numbers.
7. Multi-language support and global accessibility
Imagine your call center is in Canada, Toronto, and to get a number in the United States of America, Ohio, the traditional phone system can't help. But with the virtual phone systems, you can have that. This means you can reach a global audience and still can have a local presence.
So, no matter where you are from, you can get the trust of local clients across different customers with virtual numbers.
Further, people are likely to receive phone calls from familiar languages and numbers. That's why you can use the local area code of different countries and states to boost call acceptance rates.
8. Look Professional
Virtual numbers allow you to build an image of a reputable business. And in today's world, professionalism is everything. If you are unprofessional, there is no point in having an exceptional work ethic.
However, using a virtual phone number adds a professional touch to your business. You can have a separate personal cell phone number and a business phone number. Further, you can receive calls from customers on time every day with virtual numbers.
As all calls are placed using the company's virtual number, clients will not be lost even if a team member leaves.
9. Improved Analytics and Reporting
Last but not least, detailed analytics and reporting of incoming and outgoing calls, customer details, and caller IDs help you to calculate your company's conversion rate.
You can use the call metrics and analyze the performance of the underperformers and top performers in different parts of the country. Also, call analytics and tracking features help you to track cell phones, analyze peak call hours, track employee productivity, and so on. It gives you insights into where there is a need for additional employees for busy hours.
Further, you can get additional features such as call recording and call monitoring. These features allow businesses to monitor their marketing campaigns' effectiveness and track their leads' sources. Businesses can use this data to improve their lead generation strategies and increase their return on investment.
But the availability of features depends on the plan you choose. It is good to go with that plan as it allows supervisors to listen and record inbound and outbound calls.
Conclusion
People think that virtual numbers are beneficial only for big software development companies. But that's wrong. In fact, small call center companies demand different business strategies. And using a virtual phone number is the best strategy that a small business owner can use. There are abundant benefits to using a virtual number for a call center.
Connecting with a global audience, cost savings, easy setup, better customer experience, multi-language support, and improved analytics and reporting are some of the top benefits that call centers can relish.
Further, the virtual phone number offers detailed analytics and reporting about call volume, duration, and other metrics, which help businesses make informed business decisions. You can run and manage your call center even better by using virtual call center software.
If you want to have more Virtual Phone Number features at an effective cost, Dialaxy is the best choice. You can establish yourself as the best virtual call center agent by using this service provider.