How to Choose the Best Virtual Number Provider for Your Call Center
Do you want to set up a call center with virtual phone numbers but have no idea how to choose the best virtual number provider for call center?
If yes, then you've come to the perfect place, as the success of your call center depends on the quality of services provided by the virtual phone number provider.
You can find it intimidating as there are different call center call management criteria. In this blog, we will provide you with ideas and strategies to find the best virtual phone number providers that help you make seamless connections with your customers.
So, let's dive into the blog to grasp the detailed information!
10 Factors to Consider When Choosing the Best Virtual Number Provider for Call Center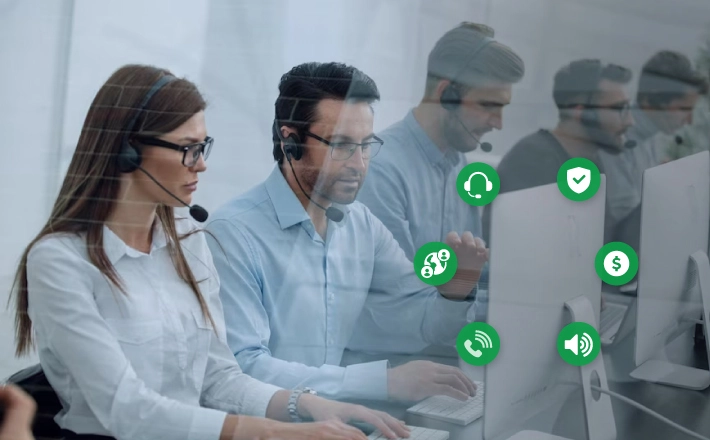 You might perceive that deciding which type of number is right for your call center is confusing, as many options are available. When choosing virtual phone number services, you should consider some key factors, some of which are:
1. Cost
Your call center's budget plays a crucial role in the selection of any service or product. You should estimate the possible budget you'll need for the call handling and call management features.
You can find several providers offering different pricing structures and packages, including cost per user, so you should shop around before making your decision. You should be sure to get value for money related to setting up and maintaining your account, including setup fees, monthly charges, additional charges, usage fees, etc.
It helps you know how much it will cost overall before committing to anything long-term.
2. Call Quality
Another important thing you need for your call center is call quality. Poor call quality can turn customers away from using your services. It is the last thing anyone wants, as an unreliable connection can cause issues down the line if left unchecked.
Make sure to check their uptime and audio quality, user reviews, free trial, and demo before signing up officially.
3. International Reach
You may have international customers or prospects, so you should choose a provider with an international reach. Having access to international reach through various countries could prove beneficial, especially if they need support outside of regular working hours.
It's worth checking whether there are additional charges involved, as they might add up quickly over time.
4. Availability of Features
When looking for potential providers, you must check the features that you require for a business phone number at your call center. Make sure they have necessary features such as:
Automatic Call Distribution (ACD)

Call Recording

Call Queuing

Voicemail Greetings

Real-Time Analytics

CRM Integrations

Multi-Channel Support

Agent Productivity

And others
These are the key features a call center needs. Make sure these tools are easy to use and manage, so you won't have navigation problems in the future.
5. Security and Privacy
You should always make security and privacy your main priorities over other aspects when choosing a virtual business phone number service provider . Ensure that the data encryption protocols used by them meet industry standards and that your data will be safe.
You should check their terms, conditions, privacy, and policies regarding the user data and make sure they won't misuse it without the users' consent.
6. Customer Support
You can face several technical issues while connecting to customers. Several other issues and inquiries can arise related to service upgrades, billing queries, and feedback.
Make sure the customer service is available 24/7, and the agents are polite and helpful.
7. Scalability
As your business grows, you need a phone system that can scale. You should choose A virtual phone number provider that can offer unlimited phone lines, so you can easily handle more calls as your call volume increases.
Also, if you want to reduce your lines, your virtual phone number provider should be able to minimize the lines and costs too.
8. Call Volume Capacity
Call volume capacity helps you determine how many customers can be served at any given time and how quickly they can receive assistance in your call center.
You should ensure that your virtual number provider has enough infrastructure and resources so you don't experience interruptions or long wait times due to insufficient bandwidth or server power.
9. Integration with Other Tools
Integration helps a lot to manage communication and data exchange for your call center. It is another important feature that you need to manage workflow and communications with customers.
You should look for the integration capabilities of a virtual phone number service that your agents use in the call centers. Test CRM integrations, Google Workspace, Microsoft 365, Slack, and others.
10. Reputation
You should check out reviews online about respective companies' reputations regarding security compliance measures, uptime downtime, etc.
You should also check customer feedback, satisfaction, and issues about their experience with a particular provider.
How to Set Up a Virtual Number for Your Call Center
You need to set up a virtual phone number and synchronize it among all the devices of your staff for your call center. Some of the main things to consider when setting up your virtual phone system include:
1. Set Up Call Forwarding
The first step is to set up call forwarding so that incoming calls are sent directly from one phone line or mobile device to another phone line or device. This allows customers who dial in on their own phones or landlines and those using VoIP services.
It helps customer calls be forwarded automatically without being required by an operator at the receiving end of the line.
2. Set Up Call Routing
Once you've enabled call forwarding on all lines used by your customers (including mobiles), it's time to configure routing rules that determine where each caller should be directed when they dial in with their unique numbers/codes assigned by your system.
3. IVR Setup
You should set up IVR (interactive voice response) for your call center to access certain information, such as opening times and contact details, without directly interacting with members or staff.
4. Integration
You should integrate your numbers with your call center's workspace for the smooth operation of your business communication. You can integrate with different platforms, such as CRM, to manage flawless data flow.
If you have a workspace such as Google Workspace, Slack, Microsoft 365, Zendesk, etc., you can integrate the number into the platform.
5. Greeting Messages
Lastly, don't forget that greeting messages play an important role. You should always provide clear, concise instructions in your voicemail message to ensure maximum efficiency throughout the entire process.
Types of Virtual Phone Numbers you need for Your Call Center
Your call centers may need different types of numbers to connect with your customers. Each and every type of number has unique features and functionalities.
Here are some numbers you can utilize for your call center service.
1. Toll-free numbers
Toll-free numbers are perfect for your call center services because customers can reach you from any part of the world. It is free of charge for customers to make unlimited calls to your company.
You can set up toll-free forwarding with a toll-free number so that when someone dials a specific number, it forwards directly to another line.
2. Local numbers
A local phone number allows you to connect with local customers or prospects, even if your call center is outside the country. It helps you build trust and create a local presence, as the numbers will be familiar to the residents.
It helps to increase your call acceptance rate if your customers are from one particular geographic location, such as cities in the US and Canada.
3. Vanity numbers
Vanity phone numbers are memorable sequences that spell words like "1-800-CALL CENTER". making it easier for potential customers who hear about them on commercials, calls, billboards, etc.
It helps to advertise your brand and create an impact on customers rather than wasting time on internet searches and web browsing efforts.
4. International numbers
International phone numbers help you directly connect with your audience globally through local presence on your mobile phone without setting up an office. You can also use it as your personal phone number.
It improves your professionalism and benefits from the advanced communication features and low international call rates for your cloud call center.
💡You might be interested in the Top 10 USA Virtual Phone Number Providers for Small Businesses
Dialaxy: An Excellent Choice For Your Call Center
If you're looking for a reliable and cost-effective call center solution, Dialaxy is an excellent choice. It simplifies managing customer service operations with its powerful features and user-friendly interface.
We are one of the rising virtual phone systems that provide a wide range of services to organizations of all sizes. With its advanced features, you can make seamless phone calls to impress your clients.
Key Features
Call Forwarding

Call Recording

Call Routing

CRM Integration

Auto Attendant

Unified Callbox

Voicemail Greeting
All in all, when it comes to selecting a dependable yet budget-friendly call center solution based in US and Canada, this platform will provide excellent virtual phone services necessary for your call center to reach the heights of success while keeping costs low.
Conclusion
Virtual phone numbers are popular for call centers as they are affordable and meet your business phone system needs. It is important to consider your business needs and budget and properly research the best virtual phone service.
We hope this blog gives you a comprehensive idea for choosing the best virtual number provider for call center.
You can follow the above-given tips before signing up with a service provider to get the best features for your call center.
FAQs
What are the benefits of using a virtual number for your call center?
Some benefits of using a virtual number service for your call center are:
Cost-effective for small business owners

Easy setup

Modern communication features for your call center requirements

It is easy to forward and route calls

Flexibility and scalability, as you can use it from desktop and mobile apps

Improves your customer support team and customer satisfaction
What features should I look for in a virtual number provider for my call center?
Some of the features you should have for a virtual phone number for your call center are:
Automatic Call Distribution (ACD)

Interactive Voice Response (IVR)

Call Recording

Call Queuing

Voicemail Greetings

Real-Time Analytics

Unlimited extensions

Multi-Channel Support
How do I choose between a local or toll-free virtual number for my call center?
When deciding between a local or toll-free virtual phone number for your call center, here is a brief overview.
Local numbers allow customers in the same area code to make calls without incurring long-distance charges and can help build trust with local customers.

Toll-free numbers provide an easy way for customers from any location to contact you and maybe more recognizable than a local number.