How to buy a Virtual Phone Number?
Are you bored of using traditional phone numbers that restrict your flexibility? Are you looking for a convenient way to communicate with your friends and employees in a virtual environment?
Traditional phone numbers are limited and expensive. They can not provide the advanced communication features that modern businesses require.
A virtual phone number is your ultimate solution, without a doubt. It helps to manage your business connection in an affordable and versatile way with great features.
This article will guide you through the steps on how to buy a virtual phone number, the benefits for your business, and its working principles. So let's dive into the article!
What Is A Virtual Phone Number And How Does It Work?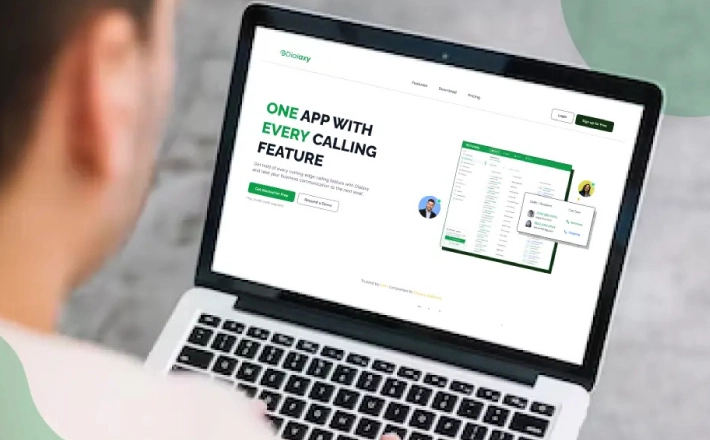 A virtual phone number is a cloud telephony service that is not tied to a physical telephone line or a cellular service. It uses Direct Inward Dialing to make calls and transfer calls through the Internet.
It allows users to receive and make calls without having a traditional desk phone line installed in their home or office.
With a virtual number, you can communicate from your existing devices, such as a mobile phone, laptop, PC, or tablet, with a good internet connection.
Your phone calls are digitized and routed to phone lines through the internet. So all you need is a cell phone or other devices with a fast and reliable internet connection, WiFi, or 4G LTE to communicate and make calls from anywhere to any part of the world.
Benefits of a virtual phone number
You can take advantage of the advanced communication features of virtual phone numbers. Some benefits of a virtual number are:
Cost-effective: Virtual numbers do not require special equipment to get started. Also, you can use your phone for communication internationally with low call rates.
Set Local presence: You can build relationships with locals using local or area code numbers for your business. People will feel comfortable communicating with you if they receive calls from familiar numbers.
Flexibility: Virtual numbers are flexible as they are not tied to landline networks or cellular services. You can communicate from all around the world and run a business no matter the base of your business.
Shows Professionalism: Virtual phone number allows you to separate your personal and business communications. Using separate phone number increases your professionalism and impact your clients.
Customization: You can personalize call forwarding, vanity numbers, and greeting messages for your business according to your needs.
How to buy a Virtual Phone number?
You can easily buy a virtual phone number after choosing a reputable service provider. Follow the instructions to buy a virtual phone number.
Find a reputable phone number service provider.
Sign up and create an account to access your dashboard
Select the preferred country (USA or Canada)
Choose the numbering plan and packages as per your need.
Make payments and submit the necessary documents for verification.
Tips to Buy a Virtual Phone Number
You can find it confusing while choosing and purchasing a new virtual phone number. Here are some ideas you can consider for finding the best virtual phone number according to your requirements.
1. Determine your needs
Before signing up for a virtual phone number, you should determine what kind of services and features your number needs. If you need a phone number for personal use, you can use a single line with fewer VOIP features.
And if you are looking for a phone number for business calls, you can use local, Toll-free, and vanity phone numbers with more features.
You should always be sure what kinds of service you need from VoIP phones. Knowing this information will help narrow your search when choosing what type of number is perfect for you.
2. Choose the number
Once you identify all your requirements, it's time to choose suitable international and local phone numbers, toll-free numbers, or area codes based on your clients and their geographical locations. It is best to decide to depend on the customers' locations to save your communication expenses.
If they're scattered across multiple states, choose either option depending on budget constraints. Since most providers charge extra fees for long-distance calls outside their network coverage areas, going local could save you money if you only serve customers within one state/region.
So, consider this before selecting any particular plan/package deal offered by various cloud phone vendors out there today!
3. Research on VOIP providers
Many virtual phone number providers in today's marketplace offer various features at different prices. You can take your time in researching each company carefully before committing yourself contractually.
You can read bad and good reviews given by users to analyze their features, services, and pricing structure to determine if they are valued for money. It will help with your current needs and future potential usage scenarios to ease scalability.
It will help you ensure your plans work perfectly now while allowing flexibility should things change later without breaking the bank doing so!
There are also virtual phone number providers who offer a free virtual phone number on the market. They can be scams, so always perform proper research before committing to their service.
4. Compare pricing and plans
While researching different virtual phone number providers, it is important to compare the pricing plans side by side to determine which fits your budget with better features and services.
Also, don't forget to check setup fees, hidden charges, taxes, and surcharges related to different packages, as they can add up quickly if not considered during your initial subscription.
5. Try Demo
You should try a demo or a 10-15 days free trial before(if available) committing to a service provider so you can get familiar with their product. It is one of the best ideas to check a VoIP service provider's features, call management services, and functionality.
Many virtual phone number providers offer free trials or limited-time discounts for those who are just getting started and want to test out the service before making any long-term commitments.
How to choose a virtual phone number?
You can get confused about what type of number you need according to the size of your business. Here are some ideas you can implement if you are wondering about choosing a suitable virtual phone number.
You can use international phone numbers with fewer features and services if you want to use them for personal use. International numbers are usually cheaper and sufficient for your personal communications.
If you want to run marketing campaigns and advertisements, you can use custom vanity numbers to promote your brand.
For business and customer service, you can use toll-free numbers as they do not charge callers to make a call.
To set up a local presence for your in different areas, you can buy local area code phone numbers and gain the trust of the locals.
Dialaxy: Advanced Virtual Phone Service for Businesses
Dialaxy is the best option to buy a virtual phone number and to go for your business phone system if you want to expand your business in US and Canadian regions. It provides phone numbers with advanced communication features to manage customer communications.
You can easily purchase a package according to your needs with US and Canadian phone numbers. You can buy local, international, toll-free, and vanity numbers for your business.
It provides different integration features on various platforms with a 24/7 customer support team. You can try our demo and get familiar with our features and services before purchasing a number.
Features
Call Transfer
Call Forwarding
Unified CallBox
CRM integration
Call recording
Automated attendant
Custom Greeting Messages
Conclusion
A virtual phone number is a great option if you want to expand your business and improve your professionalism. The virtual number helps you to expand your business and increase your revenues regardless of the base of your operation.
You can choose a suitable virtual phone number from us with advanced features, high call quality, privacy, and security to impress your clients and meet your business phone system needs.
FAQs
Can I get a free virtual phone number?
Yes, you can get a free virtual phone number. There are some providers, such as Google Voice, FreedomPop, etc. But always perform proper research on the providers as free virtual phone numbers can be scams.
Can I buy virtual number for WhatsApp?
Yes, you can buy a virtual phone number for WhatsApp. Be careful and buy from legit VoIP providers, as they discard verifications from unreliable providers.
How to buy a US number online?
Follow the steps to buy a US number online:
Research on the best US number provider.
Visit the website and create an account.
Log in to the dashboard and click Buy a Number.
Select the Country as USA and choose the number.
Complete payments and submit documents for verification.