How to Use IVR to Improve Call Center Efficiency
Can you improve your call center's efficiency by employing telephony technology? Yes, you read that right. You can significantly enhance the efficiency of your call center using IVR. So how to use IVR to improve Call Center efficiency?
Interactive Voice Response (IVR) is an automated telephony system that relies on Dual Tone Multi-frequency (DTMF) and speech recognition to collect, analyze, and direct callers to appropriate agents based on their answers to call menu prompts.
IVR has made some significant changes in call centers. In this blog, we will talk about what IVR is, its benefits, best practices, and common mistakes to avoid while implementing IVR.
Types of IVR systems
There are mainly two types of IVR systems based on the method you use for interaction. They are:
DTMF-based IVR System: It is the IVR system in which a caller accesses the IVR system by dialing numbers in their telephone keypad corresponding to the menu option number.
Speech recognition-based IVR system: It is the IVR system in which a caller accesses the IVR system by speaking the specific number aloud. IVR system uses voice recognition technology to interpret the numbers told by the callers.
How Does IVR Work In a Call Center?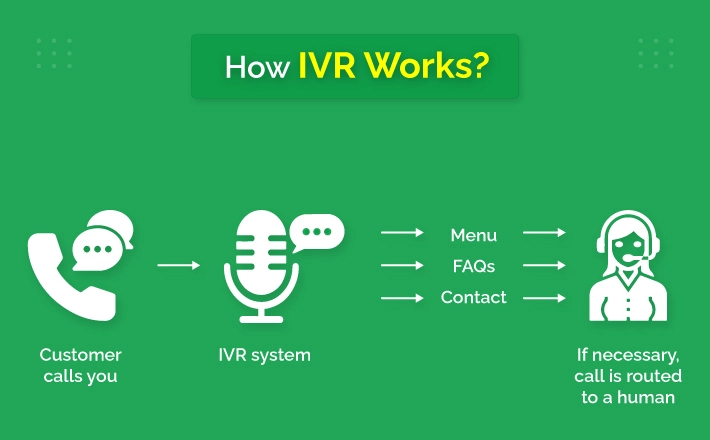 As already discussed, IVR consists of prerecorded voice messages. Customers are first greeted with a welcome note when they call a call center- the first step of IVR. Then a caller is presented with menu options, like Press 1 for Sales, Press 2 for Support, etc.
Different menu options provide varied information for a caller; calls are forwarded to desired call center agents/ departments if necessary.
A caller can select the option either using the keypad or speaking aloud. The IVR system manages incoming calls in two ways- Dual Tone Multi-frequency (DTMF) signal and speech recognition.
The most common type is the DMTF signal. It allows customers to be redirected to the menu based on the number they press on the telephone. Then the IVR systems recognize the dialpad tone and forward the calls to the desired menu or departments.
Another way is speech recognition. A caller can speak the option aloud and get the information they want.
Benefits of IVR for Call Centers
The popularity of IVR has skyrocketed. It wouldn't have been famous if it didn't meet the expectations of the business and prove to be advantageous.
Below are some of the benefits you can expect after implementing IVR for your call center:
1. Improves Call Routing And Handling
IVR improves a call center's call routing and handling through its call routing features. Most of the essential information the caller requires is in the pre-recorded messages. But, in any case, if callers need more information than the menu option provides, they can choose to talk with the call center's employees.
Customer calls are transferred to the relevant call center agents based on their selection during the interaction process. It helps improve a call center's overall call routing and handling process.
2. Provides Self-Service Options For Callers
IVR provides self-service options that give callers the power to quickly resolve their queries and issues without the need for live agents. Callers don't have to wait for the live agents to get the required information, reducing wait time and enhancing customer service.
On the other hand, with the self-service option, call centers can reduce costs associated with staff headcount and high call volume.
3. Increases First-Call Resolution Rates
First-Call Resolution Rates (FCR) measure how many customer inquiries are resolved entirely in the first call with no need for follow-up. According to sqmgroup, the average FCR rates fall between 70- 79%. Any call centers that have an FCR below 70% need improvements.
One way to increase FCR is by adapting the IVR system. The IVR system improves FCR by transferring calls to the relevant agents/ departments within seconds. It ensures customers reach the right person quickly.
Moreover, it has a self-service option that lets customers acquire needed information through pre-recorded messages.
4. 24/7 Support
The self-service option features of the IVR system allow customers to receive the needed information beyond office hours whenever they wish. There is no fixed time to acquire knowledge.
5. Improve Customer Experience
Calling is simple and hassle-free with an IVR system. An in-built self-service option allows customers to get in touch with call centers at any time of the day, whether on weekends or at midnight. Moreover, they can resolve their queries without the agent's assistance.
And the flexibility to contact and receive information at one's convenience directly improves the customer experience.
Best Practices for Implementing IVR in Call Centers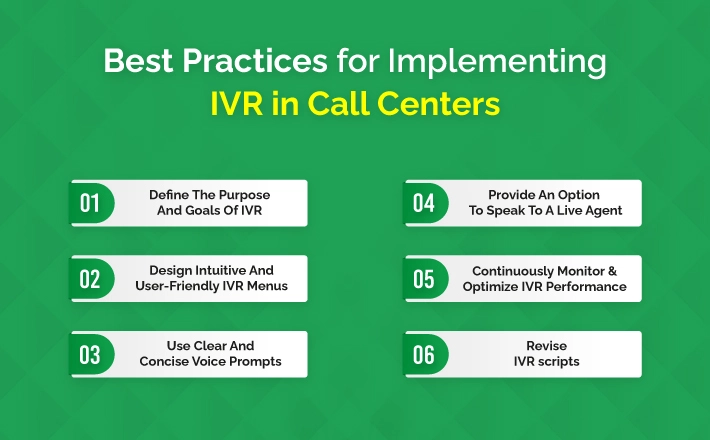 There is no guarantee that call center operations will improve just by implementing an IVR system. To fully enjoy the benefits of IVR, it is essential to apply best practices during its implementation. Here are some key considerations:
Define The Purpose And Goals Of IVR
You should know why you want to employ an IVR system. Know if you wish to leverage it for call routing or self-service. It will help you to design an effective IVR solution.
Design Intuitive And User-Friendly IVR Menus
Design a menu structure that is easy to navigate. Don't design a menu based on your personal preference. Consider other people's easiness while scrolling the menu. Also, use simple language.
Use Clear And Concise Voice Prompts
Check the recorded voice message quality. Confirm that the voice quality is clear, simple, understandable, and uninterrupted. Avoid sharp and low voice notes.
Provide An Option To Speak To A Live Agent
Some callers prefer to talk with a call center agent directly. They don't want to depend on the pre-recorded messages. Hence, let customers connect with available call center agents whenever required during the IVR interaction.
Continuously Monitor And Optimize IVR Performance
Examine IVR performance metrics like call abandonment rates, call completion rates, customer satisfaction, and first call resolution rate from time to time. Then modify the IVR system as necessary to improve its performance.
Ensure that the IVR script is up to date. IVR scripts should match the current data and services of a call center. Consider removing any outdated data.
Advanced IVR Features and Capabilities
IVR consists of advanced features and capabilities that streamline call center activities. Some of those features are as follows:
Personalization and Customer Identification
One of the best features of the IVR system is the personalized service to each customer and customer identification. IVRs identify customers based on their phone numbers and the account information they provide.
Moreover, according to their previous interaction, IVR provides personalized greetings and menu options to a customer.
By integrating IVR with CRM, call centers can route calls to appropriate agents/ departments based on customer interactions stored in CRM databases.
Additionally, it reduces manual work as it allows for the automation of some tasks like data entry and retrieval. Call centers can also track, analyze, and update customer interaction among multiple communication channels.
Intelligent Call Routing And Prioritization
Another essential feature of the IVR system is the call routing feature. IVR uses intelligent call routing features to transfer calls to the most suitable contact center agents or departments.
Likewise, prioritization features allow you to categorize calls according to their importance and priority. Priority ensures that the most pressing issues are addressed as soon as possible.
Advanced Analytics And Reporting
The IVR system consists of advanced analytics and reporting features that provide insight into total call volumes, call duration, abandonment rates, first call resolution rates, customer satisfaction, the usability of menu options, and so on. And call centers can use this data to make the right decisions and enhance customer service.
Common IVR Mistakes to Avoid
1. Long and Complex IVR Menus
One of the significant advantages of the IVR system is the IVR menus which permit customers to resolve their issues quickly. Hence, you should avoid making IVR menus long and complex. Customers become disappointed and find navigating through long and complicated menus difficult, often leading to abandoned calls.
Thus, design simple and easy-to-use menus with options limited to five in one group.
2. Poor Voice Quality and Prompts
Another mistake to avoid is uploading poor voice messages and prompts. IVR systems with poor voice quality and prompts can easily hinder callers from scrolling menus. Moreover, a caller might not understand the tone.
As a result, you must ensure that the voice messages you record are in good tune and pitch. Moreover, one person should do the voice recording to ensure that all the voice notes follow the same pattern.
3. Inadequate Testing and Optimization
It would be best if you avoided testing and optimizing the IVR system in a wide gap. The long gap in testing and optimizing the IVR system will result in technical problems, which may affect call routing procedures and the overall process.
Hence, it is necessary to thoroughly test an IVR system to ensure that the self-service option works well and there is proper integration with other business technologies.
4. Lengthy Hold Times
Noone like it when they are put on hold for a long time on a call. Customers may get frustrated and unhappy in such a situation. Hence, you must strictly avoid lengthy hold times when designing an IVR system.
To ensure customers are satisfied, you can inform customers about how long the waiting time can be.
Wrap Up
IVR system significantly enhances the call center's efficiency and productivity. It helps call centers to manage incoming calls, reduce wait time, improve customer service, improve call center agent performance, and prioritize calls based on urgency.
Therefore, you are making a good choice if you consider implementing an IVR system to improve your call center performance. Just go on and integrate this telephony technology' into your call center. I am sure that this technology won't disappoint you.