The Best Virtual Phone Number Providers for Freelancers in Canada
The dream to work for Canadian companies is, I believe, shared by most freelancers. Its global marketplace, diverse business opportunities, and robust workforce are some reasons why people are fascinated with working in Canada.
According to the survey, there are over 2.6 million freelancers in Canada. So, there is competition in the world of freelancing. That's why it's not that much easy to achieve that dream without proper communication methods.
In fact, even if you are currently working as a freelancer in Canada, you need effective means of communication. However, if you are one of those who want to establish yourself as an expert freelancer, Virtual Phone Number is a wise choice.
There are a plethora of virtual phone number providers in the market. Each of them offers different features and has a different price plan. Further, only some of them provide virtual phone numbers for Canada.
If you are a freelancer wanting to know the best virtual phone number providers for freelancers in Canada, you are on the right track and ahead of your competitors. Read the article below and get all your answer.
Factors to Consider When Choosing a Virtual Phone Number Providers for Freelancers in Canada
As discussed earlier, several factors decide whether the provider is best suited for freelancers. And in Canada, there are a lot of providers. So, before jumping into one certain provider, it is important to consider some important factors.
The following list includes some important factors that help you to find the top virtual phone number provider for freelancers in Canada.
Cost
It is an essential factor that every freelancer should consider before choosing virtual phone systems for them. Do research on pricing plans offered by different providers and compare them.
Find out whether the features that they offered within that price are justified or not. Further, there is no need to choose a high amount of money for a feature that you don't need. You should only pay for what you need.
Call Quality
Another one is the Quality of phone calls. You can check their online reviews and try their free trial to find the sound and call quality of each service provider. The provider you choose must have uninterrupted and clear phone calls.
Otherwise, poor call quality can take your clients away from you. You don't want that to happen, right? So do heavy research on each one.
Features and Functionality
Features such as recording, real-time statistics, and monitoring are essential call management features that the best virtual number providers must have. Paying a lot of money for something that lacks the features and functionality you require will not be a good investment.
That doesn't mean you need to invest in some advanced features that you don't need. So, it is also another important factor that you should look at.
Some key features freelancers need for their business phone numbers in Canada are given below.
Interactive Voice Response (IVR)

Call Queuing

Automatic Call Distribution (ACD)

Call Recording

CRM integrations

Voicemail Greetings

Call Analytics
Customer Service and Support
As you know, virtual numbers are cloud-based, so you may encounter some problems while having inbound calls. At that time, you need support from the providers. So, select the provider that offers 24/7 customer service.
The support can either be telephone, mail, chat messages, and so on. The provider must be reliable too. Further, you might also need help from the provider to set up and use a virtual number.
Scalability and Flexibility
Look at whether the provider that you select is flexible and whether you can scale up and down when needed. Virtual number providers must be capable of diversifying your business. The virtual number service provider should be capable of adding or reducing the service as per your demand. So that when you have to minimize the line, you can reduce your plans.
Further, it should be flexible enough so that you can handle incoming calls, and outgoing calls, receive sms, and send texts from all over the world.
The virtual phone number can be set up and terminated easily according to your preferences. You can terminate poor performers from the market and add new numbers to the best-performing markets.
Integration Options
As a freelancer, you might need integration options for data exchange and managing your communication. So, it is another important factor that you should consider before selecting virtual number providers for freelancers in Canada. Test CRM integrations, Google Workspace, Microsoft 365, Slack, and others.
By connecting your phone system to your business apps, you can move information more easily between them. CRM integration, for example, syncs contacts and logs calls using your phone system.
Reputation and Reviews
The provider you choose must have a positive reputation among the audience. To find out if it is a reliable provider or not, check out customer reviews and read comments. No one can share the experience better than those who have already used it.
Check out the security compliance measures, downtime, uptime, etc., and find information about respective providers.
That's it! After considering the above-mentioned factors, you can now peacefully select the one that suits your needs.
Comparison of the Best Virtual Phone Number Providers for Freelancers in Canada
Okay, you will consider the factors in choosing the virtual number provider. But isn't take a lot of time for freelancers to select the best one among thousands.
What if I tell you that I have already compiled the top 5 virtual phone number providers? Yes, you are right. Here I have listed down the best virtual number providers for freelancers in Canada.
Virtual Number Providers
Major Features
Pricing Plans

Fongo

Unlimited Text and Picture Messages

Visual voicemail

Call Forwarding

Fongo Works Pro and Fongo Home Phone cost $10/month and $4.95/ month, respectively.

Grasshopper

Business Texting

VoIP + WiFi Calling

Call Forwarding

Starting price: $28 per month (billed annually)

Line2

Caller ID

Voicemail recordings

Call Forwarding

VM transcriptions

It costs $15.99 per month

Phone.com

Call logs and call analytics

Audio and video conferencing

Dial by name directory

Expert Support

Music On Hold

Voice Tagging

The Pro Users plan costs $23.99 per user per month.

eVoice

Live answering service

Virtual phone numbers

International call forwarding

Pay As You Go (PAYG) £7.50
Fongo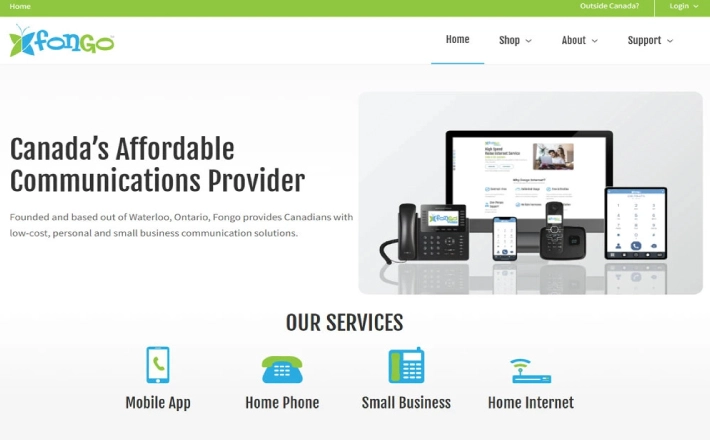 Tagline with "Canada's Affordable Communications Provider," Fongo provides business communication solutions for Canadians at a low cost.
So to get a Canadian virtual phone number, the Fongo provider is the best choice. If you live outside of Canada, you can get a virtual number using Fongo World. Its one-time cost is $4.99.
Freelancers in Canada can make unlimited nationwide calls and get fongo-to-fongo texting and group chats, and voicemails. It is possible for freelancers to get a business phone number to make international calls to the UK, China, and the United States for only 2 cents per minute.
Features and Functionality
Phone calls

VoIP number

Software pairing

Desk-to-desk calls

Unlimited Text and Picture Messages

Visual voicemail

Caller ID

Call Forwarding

Conference calling
Integration Options
SMS integration

Contacts Integration

Callkit Integration (iOS only)
Pricing
.
Virtual phone number Canada providers, Fongo has different subscription plans.
Fongo Work

and

Fongo Mobile

are free.

Fongo Works Pro

and

Fongo Home Phone

cost $10/month and $4.95/ month, respectively.
Pros
Cost-effective

Full of features

Not so costly to customize your experience.

Even 911 emergency dialing.

Mobile and web compatibility
Cons
Limited availability outside of Canada

Limited customer support on free Fongo.

You may encounter ads during app usage or calls on Fongo's free service, which can be distracting or intrusive.

Limited integration with third parties.
Grasshopper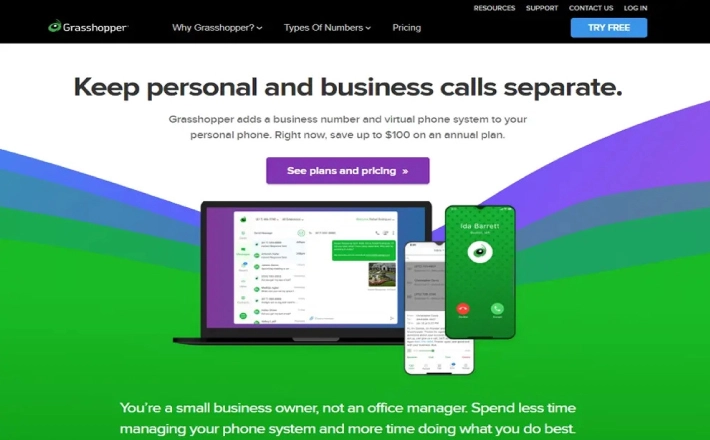 One of the leading virtual number providers in Canada, Grasshopper is the best choice for freelancers. It offers maximum features at a very low cost. You can get toll-free numbers, vanity numbers, and local numbers using Grasshopper.
Freelancers can spend less time managing their phone call system and do their tasks peacefully. By using Grasshopper, you will never miss a call. Further, you don't need any technicians for its setup.
You can have features such as custom greetings, call transfers, call forwarding, virtual fax, simultaneous call handling, and instant response that help you to do freelancing more professionally.
Features and Functionality
Business Texting

Call Forwarding

VoIP + WiFi Calling

Instant Response

Voicemail Transcription

Virtual Receptionist
Integration Options
There are many integration options available with Grasshopper. It can be integrated with the following options.
Skype

Zapier

LiveChat

Google Voice

Shift

Chatdesk
Pricing
It offers 7 days free trial. Solo price USD $28 per month (if billed annually)
Pros
Setup is easy

VoIP and Wi-Fi calling

Affordable

24/7 support

The top plan includes unlimited extensions

Desktop and Mobile apps

Voice mail transcriptions
Cons
Lack of call recording option

Limited scalability

Costly add-on features

Lack CRM integration

No video conferencing feature
Line2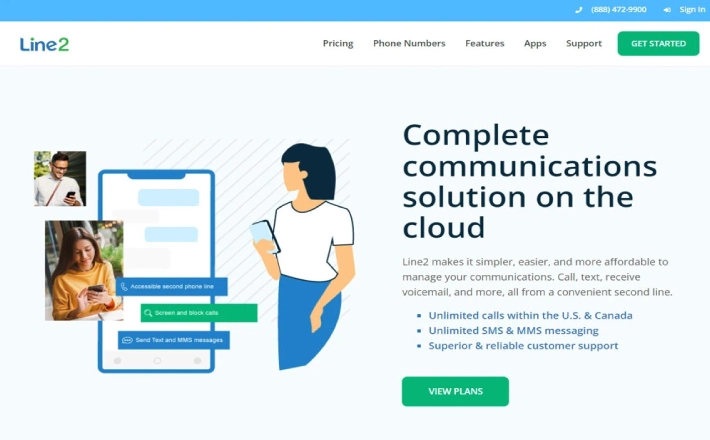 Line2 is an excellent cloud-based communication platform that allows freelancers to communicate with clients through texts and calls using a virtual phone system.
You can get the number as per your desired area codes. Further, you can manage, route, and track inbound and outbound calls and improve communication with your team members and clients.
Line2 solution improves connectivity across locations by adding multiple phone lines and using Wi-Fi and cellular data. It is easier, affordable, and simpler to manage your communications.
Features and Functionality
SMS and MMS

Call Blocking

Call Screening

Caller ID

VM transcriptions

Voicemail recordings

Call Forwarding
Integration Options
It integrates only with Zapier and Pipedrive out of all the available integrations.
Pricing
It costs $15.99 per month
Pros
Unlimited calls within Canada and the U.S.

Reliable and superior customer support

Unlimited MMS and SMS messaging.

Easy to set up
Cons
Lack of video conferencing or collaboration features

No third-party integrations

Analytics cost extra.

Limited reporting.
Phone.com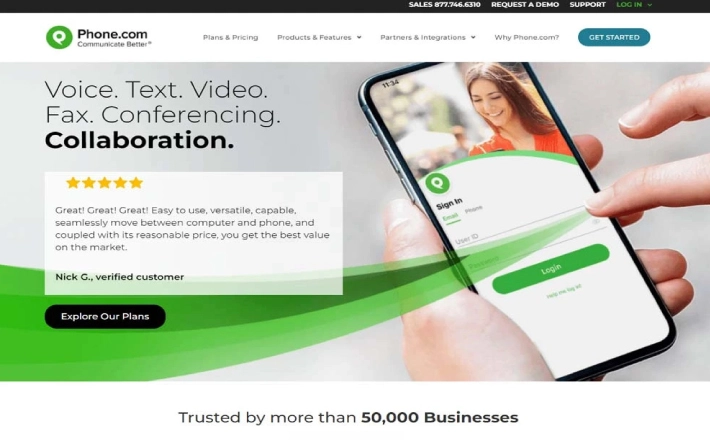 Our next virtual phone number application that gives a reliable virtual number for freelancers in Canada is Phone.com. This cloud-based VoIP phone solution offers several features that freelancers can relish.
For today's remote workers, phone.com is a cutting-edge, work-from-anywhere solution. You can get local phone numbers, vanity numbers, and toll-free numbers with desired area codes by using phone.com.
As a freelancer, this provider offers any features you need to communicate effectively with clients, such as SMS and MMS messaging, automated attendants, unlimited calling, and call recording. It is available for desktop, Android, and iOS.
Features and Functionality
Call logs and call analytics

HIPAA Compliance

Audio and video conferencing

Dial by name directory

Voicemail transcription

Expert Support

Music On Hold

Video Meetings

Voice Tagging
Integration Options
Salesforce

Google Workspace

Zoho CRM

Office 365

Hubspot

Mailchimp
Pricing
It offers a 30-day free trial.

It costs $23.99/user/month to get the Pro Users plan.
Pros
Affordable service and free phone numbers

Unparalleled support

Good call quality.

Provides professional voice recording services.

Trials are not completely free.
Cons
Poor user interface

Video conferencing is only available for an added monthly fee.

Extra charges apply to caller analytics.
eVoice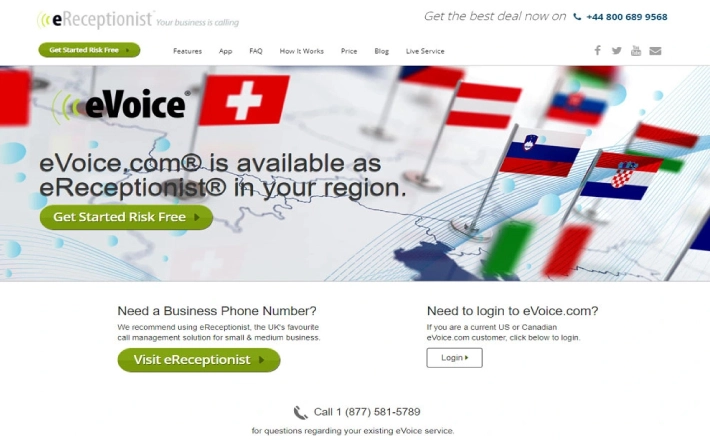 eVoice is our today's last name for virtual phone services that freelancers in Canada or the United States can use. You can communicate with international clients without incurring international calling fees.
It is a reliable and feature-rich virtual phone number provider that offers a cost-effective solution for Canadian freelancers.
Further, the support team will come up within 1 business day to help you set up extensions and greetings. It also offers a direct line for ongoing support.
Features and Functionality
Call forwarding

Studio recorded greetings

Call Scheduler

Call Reporting and recording

VoIP calling

Voicemail transcription
Integration Options
eVoice doesn't offer integration at all.
Pricing
Pay As You Go (PAYG) £7.50
Pros
30-day free trial

Unlimited extensions
Cons
Extra charge for SMS

Lack team Chat

Outdated Interface
How to Choose the Right Virtual Phone Number Provider for Your Freelancing Business
Selecting the virtual phone number provider without performing research is like walking in the dark while wearing a blindfold. You must follow the given below actions and then only choose the right virtual phone Number Provider for your freelancing business.
Determine your business needs and goals
Ask yourself what your business needs and goals are. You will know how frequently you are going to have a call and the number of users who will use the virtual number. Further, find what type of phone number you need for your business, toll-free number, local number, or international number.
Also, find out what kind of features you need for your business.
Research and compare virtual phone number providers
After you find out the goals and needs of your business, it's time to collect information about virtual phone number providers. First, make a list of providers and then start researching and comparing each of them.
Find out which virtual number applications meet the needs of your freelancing business. Also, see whether the provider offers the features that you need or not. Further, compare prices and features offered by them.
Take advantage of free trials and demos
Reputed virtual phone number providers offer free trials and demos. However, the trial period differs between providers. Some of them offer demos for a week, whereas others can be 30 days long. Don't hesitate to try the free trials and demos to find out whether it offers the features that they claim.
Read reviews and check the reputation
You will get several providers that offer numbers for freelancers in Canada. But each one is different. The features, prices, and availability can be different. So before jumping into one provider, find out if it is reliable or not.
Take some time and read reviews of each provider. By doing so, you can see their good and bad reviews. Further, you get to know detailed information about user experience, reliability, benefits, and drawback.
Assess customer service and support
Cloud-based services can sometimes slow glitches in their service. At that time, you may need customer service. So, look for a virtual number provider that offers reliable customer support, such as live chat, email assistance, and phone support. It is important in business for customer satisfaction, scalability, and user experience.
Consider integration options
If you are using a virtual phone number for communication, there is a good chance that you will also use various tools and software.
Make sure the app you choose integrates with your existing tools and software. VoIP systems must integrate with customer relationship management systems (CRM). Additionally, you can use team collaboration tools and other software to collaborate.
Best Practices for Using a Virtual Phone Number Provider for Your Freelancing Business
Now that you know how to choose a virtual phone number providers for freelancers in Canada, it's time to apply some best practices to it.
Here are some best practices to consider when using a virtual phone number provider:
Customize your virtual phone number to meet your needs
If you have selected the best virtual number provider application, I am sure you will get customization features. Take its benefits and choose a number that reflects professionalism and credibility. Depending on your needs, select a toll-free or local number that suits your client base.
To have a positive impression and enhance your business image, you can set features such as custom greetings, call routing, and call forwarding as per your business needs.
Integrate your virtual phone number with other communication tools
The next thing you should do to streamline your freelancing business operations is to integrate a virtual phone system with communication tools. Virtual numbers may include customer relationship management (CRM) software, messaging apps, or project management platforms.
By doing this, you can streamline the workflow and facilitate better user experience, customer service, and teamwork. Further, it allows you to track and monitor client interactions, access important information, and centralize communications.
Use virtual phone number features to manage calls and stay organized
There are a number of features that virtual phone number providers offer to help you organize and manage your business calls. Such as call forwarding and call routing, call screening, call recording, and call analytics. Your freelancing business can benefit from these features.
For example, when you want some important information about your client's desire to note down, you can use call recording features.
Set up voicemail greetings and automatic message replies
Create professional and personalized voicemail greetings to leave a positive impression on callers. Clearly state your name, business name, and a polite message indicating when callers can expect a response. Consider offering alternative contact methods or providing instructions for urgent matters.
Additionally, set up automatic message replies for times when you are unavailable. These can include pre-written messages informing clients of your unavailability and when they can expect a response. Regularly update your voicemail greetings and automatic replies to reflect your availability accurately.
Conclusion
To swim perfectly and not to get drowned; you must know how deep the pool is. Similarly, for freelancers not to get scam numbers in Canada, they must know the reliable virtual phone number providers for freelancers in Canada.
This article provides you with detailed information about the best virtual phone number providers system for freelancers in Canada. Never give a bad impression to people by using a personal phone number. Try Out the Virtual number today and share your experience with us!!