All About 859 Area Code: Essential Information and Insights
Are you planning on establishing a new business in Lexington-Fayette? Or maybe you want to expand your well-established business in different regions of Kentucky. If so, you must know about the 859 area code. In this blog, we will learn all about 859 area codes and cover essential information and insights.
This blog covers everything you need to know about the 859 area code, including its history, geographical coverage, list of cities, its operation, and why your business needs it. Let's start by understanding what the 859 area code phone number is.
What is the 859 Area Code Phone Number?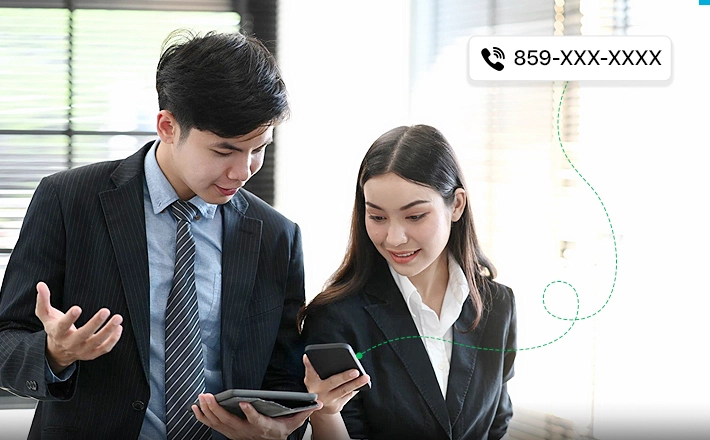 The 859 is a telephone area code in the North American Numbering Plan (NANP), which covers Kentucky state in the United States. It has services over 20 counties and 50 cities in the Kentucky State.
The 859 area code was established and put in service on April 1, 2000. It was created from the 606 area code to address the increasing population and demand for phone numbers in the Kentucky region.
How Do 859 Area Code Phone Numbers Work?
The 859 area code is registered under the North American Numbering Plan, so it works like any other area code where all calls are routed to the telecommunications network that manages phone numbers within that specific area. Here are ways on how 859 area code phone numbers work.
1. Dialing
Area code is a part of a phone number which means a caller must dial the complete 10-digit number along with the area code to make calls. For example, if you have to call a person in the 480 area code region, you can't miss the area code. Otherwise, you won't be able to make calls.
2. Geographic Location
Area codes are designed to cover specific geographical areas. In the case of 859, it covers Lexington-Fayette as a major city. It serves 20 counties such as Fayette, Kenton, Boone, Campbell, and Madison.
3. Overlay Area Code
The 859 area code overlaps with the pre-existing 606 area code. This means the 859 area code shares the same geographic location as the 606 area code. It made it easy to assign other area codes without needing to create an entirely new area code.
4. Number Portability
The users of the 859 area code can switch between service providers while keeping their existing phone system and number. Users can choose the best services without changing their 859 area code because it promotes seamless transfers, promotes competition, and empowers them to make informed choices about their services.
Where is Area Code 859 Located?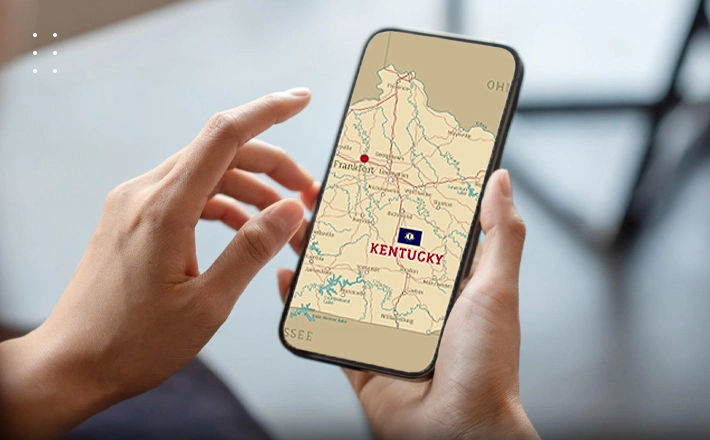 Area code 859 is located in Kentucky and it covers cities like Lexington-Fayette, which is a major city, Covington, Richmond, Florence, and Nicholasville. Fayette, Kenton, Boone, Campbell, Madison, and Jessamine are some of the top counties in area code 859.
Nearby Area Codes
Some nearby area codes of 859 are presented below in tabular form.
| | | |
| --- | --- | --- |
| Area code | State | Major City |
| 270/364 | Kentucky | Bowling Green |
| 326/937 | Ohio | Dayton |
| 812 | Indiana | Evansville |
| 513 | Ohio | Cincinnati |
List of cities in area code 859
Area code 859 offers services in 50 cities. With a population of over 321,100, Lexington-Fayette is the largest user of this area code. Here is the list of cities in area code 859.
Alexandria, KY

Bellevue, KY

Berea, KY

Burlington, KY

Claryville, KY

Cold Spring, KY

Covington, KY

Crescent Springs, KY

Crittenden, KY

Cynthiana, KY

Danville, KY

Dayton, KY

Dry Ridge, KY

Edgewood, KY

Elsmere, KY

Erlanger, KY

Falmouth, KY

Florence, KY

Fort Mitchell, KY

Fort Thomas, KY

Fort Wright, KY

Francisville, KY

Harrodsburg, KY

Hebron, KY

Highland Heights, KY

Independence, KY

Junction City, KY

Lakeside Park, KY

Lancaster, KY

Lexington-Fayette, KY

Ludlow, KY

Mount Sterling, KY

Newport, KY

Nicholasville, KY

Oakbrook, KY

Paris, KY

Park Hills, KY

Richmond, KY

Southgate, KY

Springfield, KY

Taylor Mill, KY

Union, KY

Versailles, KY

Villa Hills, KY

Walton, KY

Wilder, KY

Wilmore, KY

Williamstown, KY
Why Your Business Needs a Local 859 Area Code Number?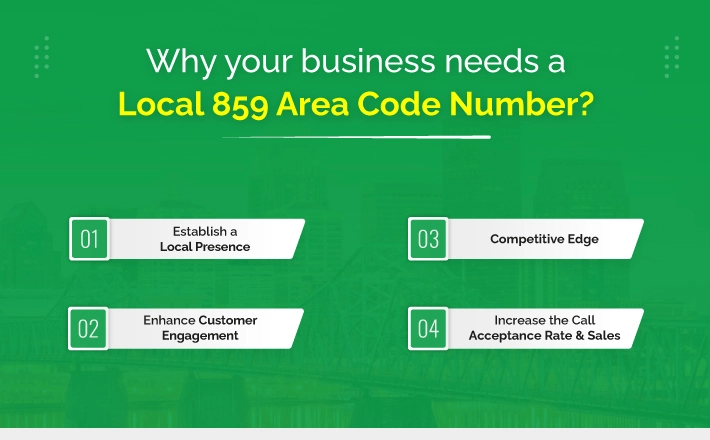 There are several reasons why your business needs a local 859 area code number. From establishing a local presence to increasing customer engagement, getting a competitive edge, and increasing call answer rates, the 859 area code can be a game changer for your business.
1. Establish a Local Presence
Kentucky area code creates a sense of local presence and credibility for your business in the Lexington-Fayette market. Using area code 859, you can expand your business in many new places, including big cities like Covington and Richmond. Customers are more likely to trust and engage with a business that appears to be based locally, as it signifies that you are accessible and at their convenience.
Fayette County has a population of over 321,000. So it can be a good place to establish a presence as you will get exposure to a large population and customer base to expand your business.
2. Enhance Customer Engagement
With an 859 area code, you can enhance your customer engagement. It gives people the feeling of nearness and shows that you are part of their community. So people are more likely to engage with your business and accept the offerings you provide.
When people see your business's local phone number with the 859 area code, they will feel as if they are dealing with someone from their own locality, which will spark their interest in your brand.
3. Competitive Edge
In business, every advantage matters, whether it is big or small. Having an area code 859 gives you a competitive edge by giving you a local presence and gaining the trust of the local people in Lexington-Fayette. It sets you apart from your competitors and proves you as a genuine brand in the Kentucky market.
4. Increase the Call Acceptance Rate and Sales
You can use the local area code 859 to increase the call acceptance rate and increase the number of conversions and sales. Leads and potential customers are likely to accept cold calls from a local number with a familiar Kentucky area code. This gives a huge competitive advantage to your business.
The increase in call acceptance and conversation rate results in more conversion and there is a higher chance that it improves sales and overall revenue.
How do I buy a 859 Area Code Phone Number?
Many virtual phone service providers offer area code 859 in the market. So, start by making a list of providers and check their websites.
Contact their customer support team to see if the 859 area code is available. If it is available, look for the features and subscription plan, and purchase a suitable number that meets your business requirements. The support team will assist you in setting up the number.
Steps to Buy Area Code 859
You can buy the 859 area code number from Dialaxy by following simple steps. Follow the given steps to get one:
Login with your Google account on Dialaxy's website.

Sign up and fill up your business details to register.

Choose the country for your area code. For the 859 area code choose USA.

Select 859 as your local area code and look for available virtual business phone numbers.

Choose a subscription plan and purchase the number.
Reasons to buy 859 Area Code Virtual Phone Number from Dialaxy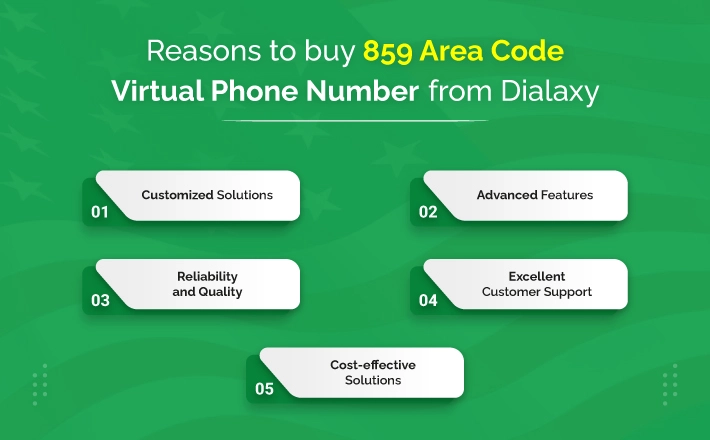 We are a leading virtual phone service provider, and we offer 859 area code business phone numbers for businesses of all sizes. The features and benefits we provide can help your business grow in today's digital age. Below are the reasons you should buy the area code 859 virtual local phone number:
1. Customized Solutions
We understands clearly that every business is unique. So we provide customized solutions that are tailored to your specific needs. We ensure you are getting the most out of every service we offer.
Our solutions are not the kind of "one-size-fits-solutions", instead we analyze customers' business size, industry, and preferences to deliver relevant and meaningful solutions.
2. Advanced Features
The advanced features help your business enhance productivity and provide seamless communication experiences to your customers. These advanced features include video conferencing, call recording, voicemail, missed call and SMS notifications, and more.
3. Reliability and Quality
We are a reliable virtual phone service provider that focuses on providing excellent and quality service. We are a customer-centric brand, working hard to meet your unique needs with timely service. High call quality and reliable connections are guaranteed, which enable your business communication to be effective.
4. Excellent Customer Support
Dialaxy takes pride in providing a customer-centric solution. Our dedicated support team is always available to address any queries or concerns you may have. We'll be more than happy to solve the problems you may encounter during the process, and we ensure a smooth experience throughout our partnership.
We take our customer's problems as our own so you will receive solutions that are handled with more care and we give enough time to understand customer's problems deeply and thoroughly.
5. Cost-effective Solutions
The pricing structure is transparent, cost-effective, and straightforward, making it fit for all business sizes. We offer monthly and yearly subscriptions where you can choose three different plans: essential, standard, and enterprise. The best part is there are no hidden fees or overcharges.
Conclusion
In conclusion, acquiring area code 859 for your business is a great way to establish a local presence in Lexington-Fayette. You can engage with residents of this region to address their problems and provide solutions. You will get a competitive edge with area code 859 and increase call acceptance and sales as well.
You can easily buy the 859 area code by researching service providers and contacting them. They will provide you a suitable virtual area code number that meets your business needs. We are a reliable service provider to get local area code 859 as it provides customized solutions, advanced features, reliable and high-quality call services, and cost-effective solutions.
FAQs
What is the area code for Lexington Kentucky?
859 is the area code for Lexington Kentucky. It is the only area code that serves this region. It is one of the "Kentucky area codes" in the state.
What is the time zone in area code 859?
Area code 859 is located in the Eastern time zone, also known as America/New York time zone.
What is the zip code for the 859 area code?
Different cities have different zip codes in Kentucky. Zip codes of Lexington-Fayette are 40502, 40503, 40504, etc. Covington's zip codes are 70433 and 70434.
Is area code 859 a legit or scam?
859 area code is not a scam as it is registered under North American Numbering Plan. However, it might be a scam if you don't get it from a trusted and reliable provider. Always buy it from a reliable service provider like Dialaxy.
What city and state have an area code 859?
Area code 859 serves 20 counties and 50 cities in the Kentucky state of America. Some major counties include Fayette, Kenton, Boone, Campbell, Clark, and Montgomery.