484 Area Code: All You Need to Know
Are you a business owner in Pennsylvania? Or are you planning on establishing a new business? Whether you are a new or existing business owner, knowing about the 484 area code is a must.
This blog post will cover everything you need to know about the 484 area code. You will understand what area code 484 is, its geographical coverage, why businesses like yours need it, and the steps to get it. So, let's get into the topic without any delay.
What is 484 Area Code Phone Number?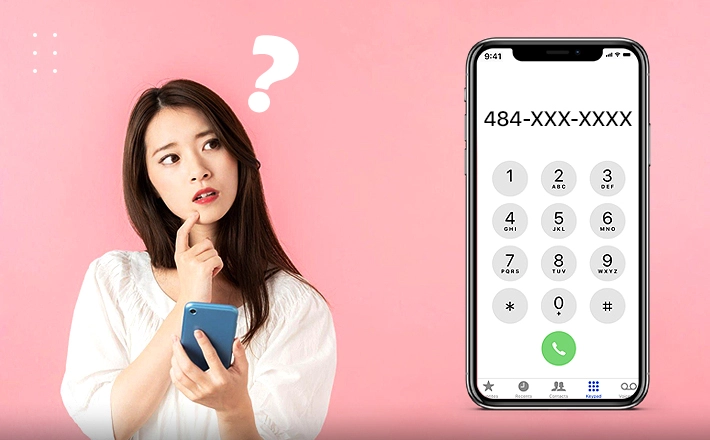 An area code is part of a telephone number in the U.S. that contains a three-digit prefix and indicates the geographic location linked with the phone number. Area code 484 is one of the area codes that serve certain areas in the Northern American Numbering Plan (NANP).
The 484 area code can be recognized as the Allentown area code because it is the major city served by it. Area code 484 was first introduced on June 5, 1999. It is an overlay area code of 610, which means it was created from the 610 area code and both of these area codes serve the same geographical location.
How do 484 Area Code Phone Numbers Work?
When someone dials a number with area code 484, the telecommunication network uses the area code to route the call to the location where 484 is associated. This is primarily how the 484 area code phone number works. Below are more ways how it works.
1. Coverage Across Regions
The 484 area code covers eastern Pennsylvania and major cities like Allentown, Reading, Bethlehem, and Norristown. It serves counties like Delaware, Chester, Montgomery, and Berks.
If someone has a phone number with area code 484, they are located in one of the regions mentioned above.
2. Number Transition
With a process called number porting, it is possible to switch to a different service provider if you have an existing phone number. In this way, you can keep your current phone number without losing it.
3. Long Distance Calling
Any call made outside the 484 area code region is considered a long-distance call. As a consequence, the cost of long-distance travel may be applied based on the specific plan and location.
Contrarily, calls made within the 484 area code region are recognized as local calls, which do not charge any fees. Therefore, area code 484 exempts you from long-distance calling.
4. Number Assistance
Area code 484 really gets helpful while identifying phone numbers when you are uncertain about the user. If the phone number has a 484 area code in it, it makes sure that the number owner is from the Pennsylvania area. It acts as a guide to finding the right information, and narrowing down the search for the phone number owner.
Where is Area Code 484 Located?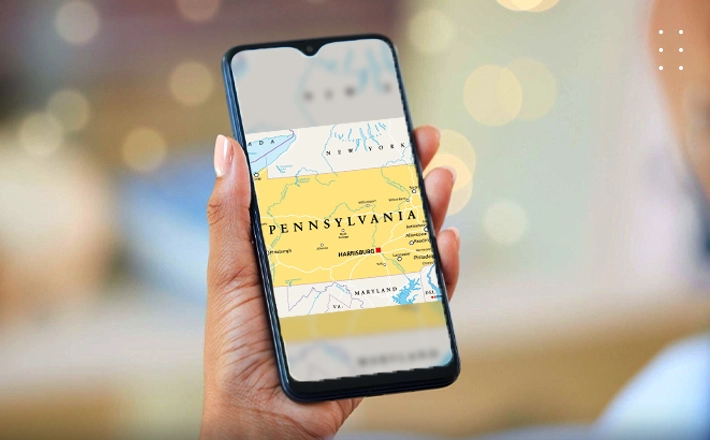 Area code 484 is located in Pennsylvania State, United States. It covers nine counties: Delaware, Chester, Montgomery, Berks, Lehigh, Northampton, Bucks, Monroe, and Carbon.
Area code 484 has an overlay area code, 835 which was created in 2022. Both of these area codes serve the same geographic area.
List of cities in area code 484
484 area code offers services in 50 cities in Pennsylvania State. Allentown is the major city served by this area code with a population of over 126,000. Here is the list of cities that use the 484 area code.
Allentown, PA

Ancient Oaks, PA

Ardmore, PA

Audubon, PA

Bethlehem, PA

Blandon, PA

Brookhaven, PA

Broomall, PA

Catasauqua, PA

Chester, PA

Clifton Heights, PA

Collingdale, PA

Conshohocken, PA

Coatesville, PA

Drexel Hill, PA

Downingtown, PA

Easton, PA

Emmaus, PA

Folcroft, PA

Folsom, PA

Fullerton, PA

Glenolden, PA

Hellertown, PA

Kennett Square, PA

King of Prussia, PA

Lansdowne, PA

Lionville, PA

Middletown, PA

Nazareth, PA

Norristown, PA

Norwood, PA

Northampton, PA

Phoenixville, PA

Plymouth Meeting, PA

Pottstown, PA

Prospect Park, PA

Reading, PA

Ridley Park, PA

Sanatoga, PA

Swarthmore, PA

Trooper, PA

Village Green-Green Ridge, PA

West Chester, PA

Wescosville, PA

Wilson, PA

Woodlyn, PA

Wyomissing, PA

Yeadon, PA
Why does your Business need a Pennsylvania Area Code?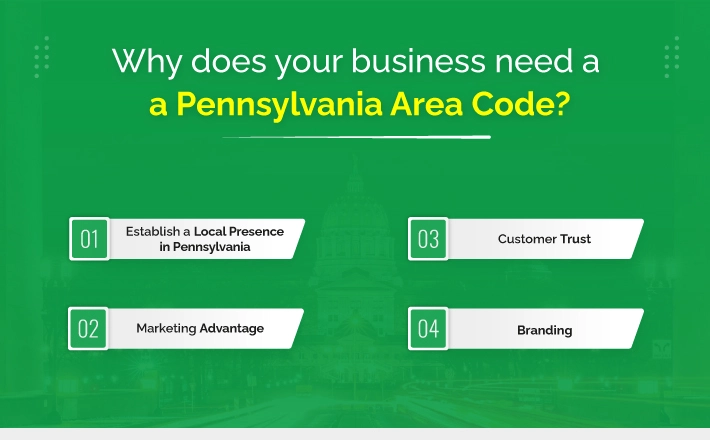 Obtaining a Pennsylvania area code for your business offers numerous benefits. With a Pennsylvania local phone number, you can expand your business in its region and make a local presence there. More reasons why your business needs a Pennsylvania area code are discussed below.
1. Establish a Local Presence in Pennsylvania
484 area code helps your business establish a strong local presence within the Pennsylvania region and its nearby areas. When people see your business phone number associated with the 484 area code, they immediately perceive it as a local brand.
The sense of local familiarity allows you to build good relationships between your business and the local residents of Pennsylvania.
2. Marketing Advantage
Pennsylvania area code helps you to get a marketing advantage as you can include it in your marketing tools such as advertisements, business cards, websites, and similar materials. Doing this will attract a genuine local audience to your business and also simplifies customer's means of reaching you.
3. Customer Trust
A local 484 area code can increase trust because potential customers and leads are more likely to answer calls or engage in a conversation from a familiar area code. Furthermore, customers feel safer and more convenient speaking with the businesses available in their region.
4. Branding
Having a 484 area code can help your business create a strong brand image among the people of Allentown and surrounding areas, as you are giving a local and reliable impression of your business to them. People will perceive your business as a well-built brand because you are associated with the lively culture of Pennsylvania State.
How do I buy a 484 Area Code Phone Number?
You can get the area code 484 phone number from virtual phone number providers. Purchasing it from the virtual service provider is a straightforward process. First, make a list of providers that offer 484 area codes and check their website.
Look for the 484 area code, whether it is available or not. If it is available, look for the features and plans offered by the service provider. If you are satisfied and the plan meets your business requirements, purchase it. The provider's support team will guide you in setting up your business phone number.
Steps to get 484 Area Code Number
Follow the given steps to get the 484 area code number from Dialaxy.
Create an account with an email address.

Provide your business details as required.

Choose USA as the country for the 484 area code number.

Select 484 as your local area code and opt for available virtual phone numbers.

Choose a subscription plan that aligns with your business preferences and complete the payment.
Why choose Dialaxy?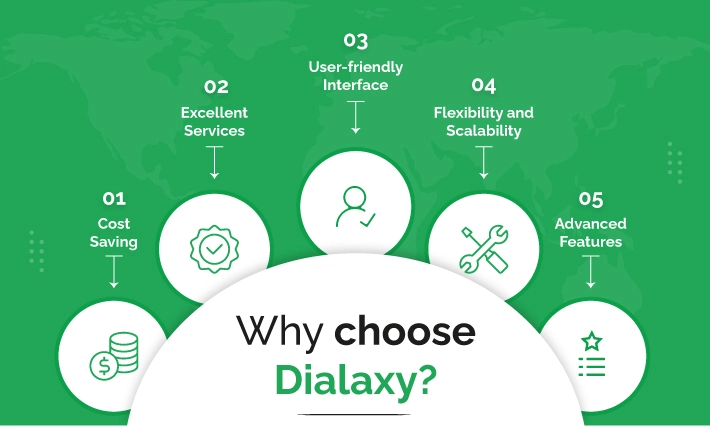 Choosing the right service provider is crucial when it comes to buying a 484 area code number. Dialaxy is a trustworthy virtual business phone service provider that provides many advantages for businesses seeking area code 484. Let's explore the reasons why you should consider buying a 484 area code number from Dialaxy:
1. Cost Saving
Dialaxy offers affordable pricing, suitable for businesses of all sizes. You don't need to spend a huge amount of money on our services. You can choose different plans that suit your business needs and budget.
We provide three subscription options: essential, standard, and enterprise, you can choose a suitable plan on a monthly or yearly basis.
2. Excellent Services
Dialaxy excels at providing high-quality services. We provide services that exceed your expectations. You will experience seamless communication with your customers as we provide crystal-clear call quality.
With our service, you don't have to worry about technical issues. We ensure that every user can enjoy clear and uninterrupted communication with customers. Our reliable service will surely contribute to a positive customer experience.
3. User-friendly Interface
Likewise, we offer simple and convenient services to facilitate every user. You can set up, configure, and manage your 484 area code number effortlessly with Dialaxy's user-friendly interface. Furthermore, you can easily adjust features, change settings, and access call logs.
Because our platform is simple and user-friendly, you don't have to worry about technical complexity.
4. Flexibility and Scalability
Dialaxy knows every business grows. So, keeping that in mind, we have designed our solutions to be both flexible and scalable. We offer solutions to adapt to the growing communication needs of your business.
Furthermore, you can adjust the features and easily add or remove phone lines based on your business preferences because we understand business requirements and choices can change anytime.
5. Advanced Features
We offer advanced features that are ideal for your personal and business use. These features are call recording, forwarding, call and message history, voicemail, and unlimited contacts. With the call recording feature, you can record calls and listen to those calls in the future to make improvements and provide customized customer services.
Call and message history allows you to access past recordings of your calls and messages, which can be used to find mistakes that happened during those interactions or you may need it for different purposes.
Conclusion
Getting area code 484 is a great way to build a local presence in Pennsylvania and expand your market reach in its surrounding areas. With this area code, you can gain customer's trust and improve branding as you are displaying your business as a local business.
You can purchase the 484 area code by contacting different service providers. You can tell them your requirements and they will guide you in the whole process.
If you want an all-rounder provider with excellent services, Dialaxy is perfect for you. Dialaxy's cost-effective, user-friendly, advanced features and scalable solutions help your business thrive in today's competitive business landscape.
FAQs
Who calls from the 484 area code?
484 area code covers Pennsylvania State in the United States. It serves 9 counties and 50 cities. So, if you are getting calls from a phone number with area code 484, the caller is from one of these regions.
What is the time zone of area code 484?
Area code 484 is located in the Eastern time zone, also known as America/ New York time zone.
Is 484 area code a toll-free number?
No, the 484 area code is not a toll-free number. A 484 area code is a telephone area code listed under the North American Numbering Plan (NANP) that identifies a specific geographic region in the United States.
What is the zip code for the 484 area code?
484 area code has many zip codes and it varies in cities in Pennsylvania. Some of these zip codes are 18001, 18101, 19601, 19602, 18015, 18016, etc.
What region is 484 area code phone number?
Area code 484 is for the eastern region of Pennsylvania. It covers Delaware, Chester, Montgomery, Berks and Carbon counties. Cities served by area code 484 phone number are Allentown, Reading, Bethlehem, Norristown, and Chester.